I read today that Wal-Mart (NYSE:WMT) is about to reintroduce layaway, and this bodes well for not only the company, but for the economy and consumers on a cultural level. The very reasons for doing away with it were in part due to the "have it now" mentality that easy credit provided. The lessons learned during the global financial crisis and current economic hardship being experienced at all levels of the community is a sound reason for bringing it back, and it will serve to re-educate consumers that sometimes, it's best to pay with cash or debit instead of credit.
At the time of writing, WMT is trading at $51.75, which is a $5.01 discount (8.8%) to its 52-week high of $56.80 per share. The stock has been trading in a relatively stable price band over the last 52 weeks, with lower resistance at around $50.00 per share and upper resistance at about $56.00 per share.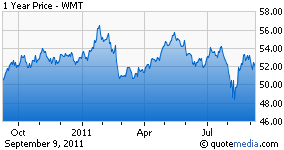 This narrow trading band has suffered key downward pressure points in March and August 2011 (like the rest of the market), but the stock has been quick to regain these losses and resume a relatively stable (given current volatility) trading pattern. In my eyes this is representative of investors seeing value in the stock, the company not being overly committed, and regular cash flow sustained by a loyal customer base.
There is no doubting that WMT offers shoppers value for money, and in pressing economic times, customers will always flock like seagulls to those retail outlets that offer them better value for money over more high-priced chains. WMT's bottom line is also assisted by its sales of groceries and staples – offering customers value-for-money groceries, and everyone needs to eat, no matter how bad things get.
Bringing back layaway is a way for WMT to underwrite its retail sales in difficult times. It allows customers to plan for major holidays like Christmas and Thanksgiving, and family events, and to budget accordingly to pay for their needs. It also teaches those who have forgotten how to live within their means – if you can't get easy credit anymore, and you desperately want that 52" TV and Wii for the kids at Christmas time, they now have three months to pay over time -- with cash -- what they can't afford in one lump sum. Without layaway, WMT would lose these customer's buying power, and ultimately this would lead to reduced retail sales.
With a market capitalization of $178 billion, relative strength in its trading range, and a consistent dividend payment history, WMT may not be the holy grail in seeking alpha, but it may well be a core stock to provide stability to your portfolio in volatile times.
Disclosure: I have no positions in any stocks mentioned, and no plans to initiate any positions within the next 72 hours.
Additional disclosure: Disclaimer: This advice is general advice only and you should seek independant financial advice before making any investments of your own.