Advance Auto Parts (NYSE: NYSE:AAP) is the largest specialty retailer of automotive aftermarket parts, batteries, accessories, and maintenance items in the US. The company operates over 5200 stores in forty states under two segments, Advance Auto Parts and Autopart International. Its customer mix is a combination of general consumers making their own repairs, consumers having the company do repairs and maintenance, and commercial companies purchasing larger inventories.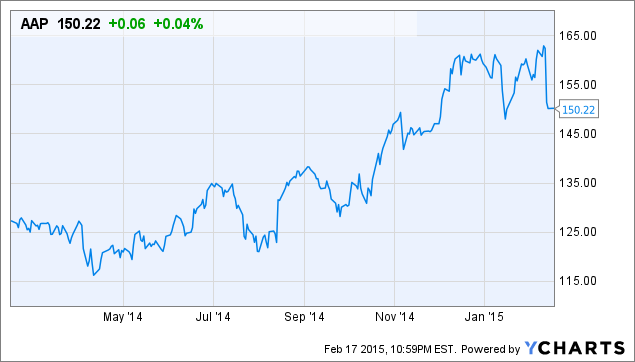 Industry Outlook
While IBISWorld predicts industry revenue to grow at an annualized rate of only 0.1% through 2019, Advance Auto Parts will continue to gain market share and has proven itself able to both growth through new store openings and acquisitions as well as higher same store sales. The company, and industry in general, greatly benefited from an aging US personal auto fleet as consumers postponed new vehicle purchases due to the economic downturn and early recovery. IBISWorld predicts over the next five years this trend to reverse slightly and for consumers to move towards newer vehicles. However, revenues will remain stable and industry consolidation should continue, a benefit for Advance Auto Parts.
Basic Profile and Key Statistics
The company is by far the industry leader for US auto parts sales. It has translated this dominance through several recent acquisitions and a national presence (data source: IBISWorld, chart by author).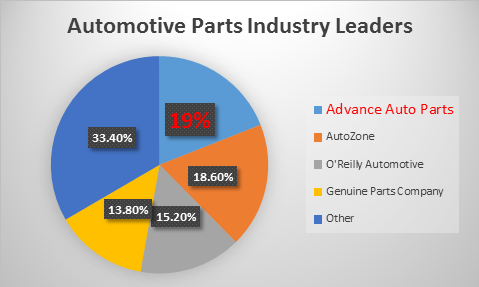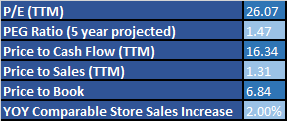 From the company's press release on February 12, 2015, during the fourth quarter it earned $1.37 per share, missing analyst expectations of $1.46 per share (Bloomberg). Revenue climbed nearly 59% to $2.24 billion in the fourth quarter, also short of analyst expectations of $2.28 billion. The company's gross profit rate was 44.9% for 2014, compared to 50.04% in 2013. The company explained this as their sales mix was shifted heavily to commercial sales, which carry lower margins, as a result of the acquisition of General Parts.
Public Comparables Analysis
When looking at industry norms, I selected other North American companies engaged in the same business. Some of these companies are also involved in auto sales, hence whey their market caps and enterprise values are higher than those of Advance Auto Parts, but I kept them in my comparison as I believed they are still fair comparisons due to the amount of business they derive from automotive parts sales.
In terms of using an Enterprise/EBITDA Multiple to put a value on the company, I averaged the minimum multiple from the selected companies, 10.05, and their overall average overall, 12.05. After reducing the implied value by net debt, this gave an approximate share price of $161.47.
I have included tables showing some of the comparable measures I reviewed where the company deviated significantly, either positively or negatively, from the average of the group.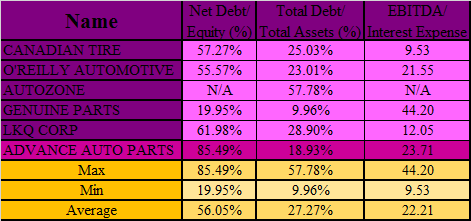 Discounted Cash Flow Analysis
I used a combination of historical financial statements from Bloomberg, company and analyst issued guidance, and company provided information when compiling my data to construct a discounted cash flow statement, which I carried out to fiscal year 2021 before calculating a terminal value. For years in which no guidance could be obtained (FY 2018 to FY 2021), I estimated sales increases. I used the company's long term revenue growth rate of 4.73% (this excludes the one time increase in 2014 of 52% growth in revenue as a result of the acquisition of General Parts) for years 2018 and 2019, before dropping the growth rate to a more modest 3%. Some additional assumptions I made for these future years based on long term averages (again, excluding 2014 as it was an out of the ordinary year for the company) are that tax rates would be 35.28% of EBIT, depreciation and amortization would increase at 2.9% yearly, additions to intangibles would increase yearly by 9.55 million (after a massive increase in both Goodwill and Intangibles in 2014 as a result of the acquisition), and working capital would increase by 56.3 million per year. I used the company's most recently published number of diluted shares outstanding of 73,414,000. I calculated the company's WACC to be 7.78%, based on a weighted average of its cost of debt added to its cost of equity. Based on these estimates, I have the following estimated values per share, shown at varying WACC's and Perpetuity Growth Rates. Their overall average is $167.41.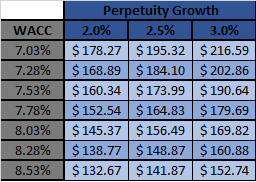 Financial Statement Analysis
Taking a look at the company's Return on Equity (based on the figures disclosed in its recent press release discussing FY 2014), compared to the prior year, we can decompose the changes brought on in its operating ratios as follows: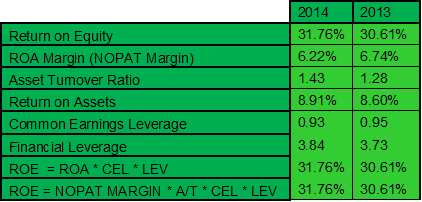 The change in ROE is clearly driven entirely by the improvement of Asset Turnover. As discussed in the company's press release, even though margins have been slightly lower due to increased sales to commercial entities over the prior year, the uptick in sales and efficient use of assets is more than compensating for this effect. As long as the company continues to use its new assets efficiently, the overall effect of the merger will be positive.
Risk Factors
The largest risk factors the company is facing are slowing growth, both from fewer used vehicles on the road if the economic recovery continues, and the inability to fully integrate its acquisition of General Parts and thus failure to achieve the expected synergies. Its fourth quarter and fiscal year miss of predicted sales and earnings certainly gives weight to this concern. However, the sharp drop in today's stock price should assuage some of these concerns as the shares are now more inexpensive and thus a better value.
Summary
Averaging the value obtained for both the DCF and public comparables analysis, I get an expected share price of approximately $164.29, a full $12.87 (8.49%) higher than where the shares currently stand as the writing of this article. This reflects my best estimate of the company's fair share value. Overall, I think the company has done a solid job at incorporating is large increase in assets into its business and this should continue to pay off for the company in the foreseeable future.