I am a big fan of behavioral finance. I find it very useful in dealing with prospective and existing clients and keeping me from some bad investing behavior.

Behavioral finance researchers have pointed out how many investors suffer from recency: Placing too much emphasis on recent events and confirmation bias giving too much weight to data that confirms their closely held beliefs.

Seems like I've encountered a fair amount of it recently, so I have gone to the "videotape" (do they still say that on sports TV?) to look at some longer term data on total returns, inflation and dividends. Those who think higher dividend "dividend growth stocks" change the picture for how their investments would do under high inflation and other economic conditions are free to make whatever adjustments they feel are justified.

Here are data for folks who use the term always with regard to dividends, inflation, price change and total return. Even if you assume your stocks will earn a dividend yield above the S&P 500 the numbers are daunting during high inflation.

Under the "stress test " of high inflation of the late 1970s and early 1980s dividend investors would have found their dividends didn't keep up with inflation, Tbills or very short term bonds would have done the trick and now we have an even better alternative: TIPS.

Let's start the story with the absolute level of dividend yields. They are low and that's not surprising they move in similar direction to inflation and bond yields.

S&P 500 Dividend Yield
Click to enlarge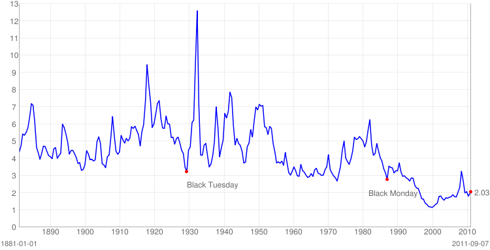 Here below is a graph of dividends vs. inflation. Seems there were plenty of periods when inflation far exceeded dividend payouts for the S&P 500. It seems pretty clear that at least for the S&P 500 it wouldn't have been possible to pull out a steady inflation adjusted 4% cash flow just out of dividends. Did high dividend stocks close that gap?

In the absence of long term data on how the speciic group of dividend growth stocks did historically I would take the S&P 500 data presented here and ask the following:
What has been the historical differential between high yield stocks and the S&P 500? If I look at the data below and see that under high inflation?
Looking at the chart below for the high inflation period one can conclude the following. Those dividend yields on the my pick list of top dividend stocks would have needed to throw off dividends more than twice that of the S&P 500 in order to keep up with inflation.
How confident am I that my dividend picks will produce cash flows that keep up with inflation?
Look at the dates on the bad old days of inflation on the chart below this one, Take another look at S&P 500 dividends on those dates and how they kept up.
Where Returns Come From - Some Perspective

The following table shows average annual results for each decade: Seems that the recent period of dividend returns dwarfing price change as a contributor of return is the exception to the rule for the S&P 500. How much of a difference did high dividend stocks make? Remember this is not inflation adjusted.
In order to calculate real (after inflation) dividend yield one would take the dividend yield and subtract it from the inflation rate.
Looking at the table below real after inflation yields on the S&P 500 in the1970s was -3.1%; in the 1980s it was -.5%.
Based on the table below it is quite clear that there have been many periods when it would have been impossible to pull a 4% inflation adjusted stream out of a portfolio simply by dividend checks from the S&P 500.


As a dividend growth investor depending on a 4% inflation adjusted stream out of my stock dividends, my stock picks would have had to be producing dividends at a much higher rate than the S&P 500.

I

n the 1970s and 1980s my dividend growth stocks would

have had to have a dividend rate twice that of the S&P 500 in order to produce that 4% after inflation cash flow.
Looking at the table below leads me to think that maybe total return really does matter.

Price
Change

Dividend
Dist. Rate

Total
Return

Inflation

Real
Price Change

Real
Total Return

1950's

13.2 %

5.4 %

19.3 %

2.2 %

10.7 %

16.7 %

1960's

4.4 %

3.3 %

7.8 %

2.5 %

1.8 %

5.2 %

1970's

1.6 %

4.3 %

5.8 %

7.4 %

-5.4 %

-1.4 %

1980's

12.6 %

4.6 %

17.3 %

5.1 %

7.1 %

11.6 %

1990's

15.3 %

2.7 %

18.1 %

2.9 %

12.0 %

14.7 %

2000's

-2.7 %

1.8 %

-1.0 %

2.5 %

-5.1 %

-3.4 %

1950-2009

7.2 %

3.6 %

11.0 %

3.8 %

3.3 %

7.0 %
Here's another great one (next chart). It shows the corporate bond yield vs. S&P 500 dividend yield. As can be seen we are in historically unusual times. The recession and Fed policy have pulled bond yields way down. The differential between bond and stock yields is at historically low levels. Will that continue? Looking at the chart it's also easy to see why there is so much enthusiasm for dividend stocks and such lack of enthusiasm for bonds. Are these investors suffering from "recency?"
Click to enlarge



Here is the same S&P 500 dividend yield data Compared to Treasury yields (below).
Click to enlarge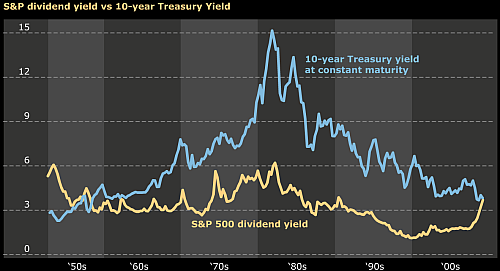 A couple observations
S&P 500 Dividend yields are above that of Treasury yields for the first time since the 1950s.
In those bad old days of the late 1970s and early 1980s high inflation the gap between treasury yields and dividends widened sharply.
During the period of high inflation Treasury bond yields kept up with inflation but dividends did not.
Looking at the gap between bond yields and dividend yields (the blue - yellow line) it does seem that in fact bonds and dividends have very different abilities to throw off an inflation adjusted cash flow.

As a dividend zealot looking at the graph below I would have to ask: will my high dividend portfolio be able to close the gap between the blue and yellow line?


The Message of the Bond Market

The bond market is considered to be a better forecaster of economic conditions than the stock market. The low bond yields indicate a forecast level of economic activity and the picture is not pretty. It also has implications for future dividend payouts.

The bond market is forecasting hard economic times; Companies are currently flush with cash. The high level of cash and uncertain economic outlook are given as one explanation for the high dividend payouts. Eventually the cash runs out if earnings don't pick up, the dividend then needs to be paid out of current earnings. Will the money be there?

And here (below) is a comparison of the total bond index, total stock index, and a portfolio split 50/50 between the two (rebalanced annually) alongside the CPI (inflation). The comparison of the short 10-year results (top graph) and the 30-year results gives a good idea of the need for a balanced portfolio. The format is "growth of a dollar" so it shows the effect of compounding and reinvestment. ( Tip of the hat to Dimensional Fund Advisors (DFA) which furnishes such great software to advisors approved to work with them.)

As for "total return doesn't matter," just the dividend cash flow argument, I'll leave it to the Yale Endowment Annual Report to explain how they look at the return and spending policy, They are generally considered the world's best run endowment. Seems their approach should be relevant to anyone looking at an investment pool and how to look at drawing down on it. Check page 21.

One of the often heard phrases in investing is "it's different this time." Looking at a historical perspective the list would include the following:
Stocks yield more than bonds.
Stocks give a better after inflation return than bonds.
Dividend yield exceeds price appreciation for stocks.
A portfolio of dividend stocks provides a more secure flow of inflation adjusted dollars than a portfolio of stocks or a balanced stock/bond portfolio.
I'm into my third decade of watching capital markets. I have heard the above many many times and the words often come from my lips, I'll admit. I also know that when someone's response is "no it's always the same" I pay a lot of attention. Reversion to the mean is a good long term concept to bear in mind.
Click to enlarge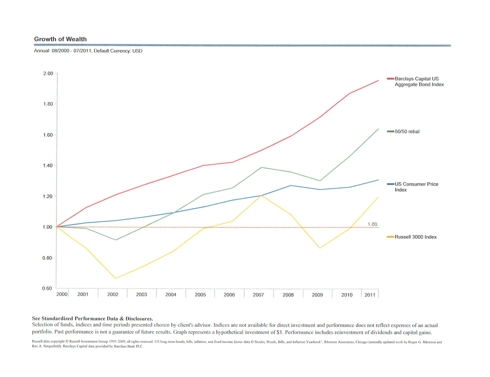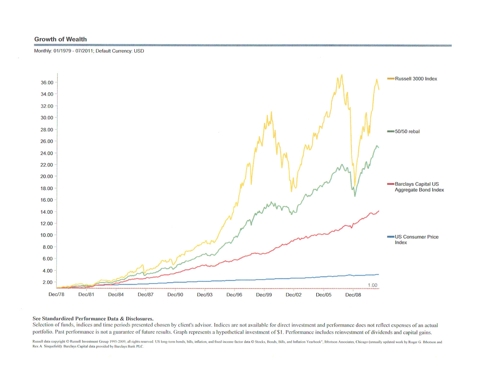 Disclosure: I have no positions in any stocks mentioned, and no plans to initiate any positions within the next 72 hours.