It has been a rough summer for Wall Street firms, as a volatile market has not only hurt revenue and trading profits, but wreaked havoc on their stock prices. The three major independent US investment banks -- JP Morgan Chase (NYSE:JPM), Goldman Sachs (NYSE:GS), and Morgan Stanley (NYSE:MS) -- have seen their market caps drop by 25-45% over the last six months. Here's the ugly chart: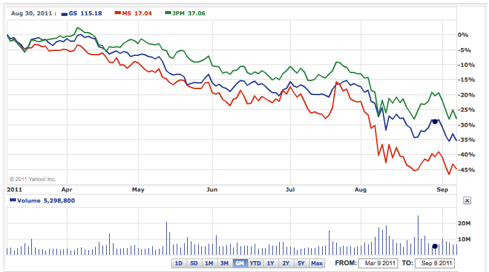 Chart courtesy Yahoo! Finance; JPM in green, GS in blue, MS in red
The reasons for the struggles in the financial industry -- which reach beyond the Big Three into stocks such as Bank of America (NYSE:BAC) and Wells Fargo (NYSE:WFC) -- are clear. Worries about the European debt crisis, fears of a worldwide recession (or worse), and lingering signs of a repeat of the 2008 liquidity crisis are all weighing on the stocks, while Ben Bernanke's "Operation Twist" threatens the lucrative "carry trade" by flattening the yield curve. Litigation risk, declining underwriting revenues, and fears of additional regulation have only added to the selling pressure.
Indeed, to understand just how little confidence the market has in Wall Street right now, one need only look at the following chart:
WallStreetPrice:BookRatios
| | | | |
| --- | --- | --- | --- |
| Stock | Closing Price 9/9 | Book Value | P/B |
| JPM | $32.08 | $46.76 | 0.68 |
| GS | $102.25 | $142.47 | 0.72 |
| MS | $15.28 | $30.95 | 0.49 |
Most notably for Goldman Sachs and Morgan Stanley, they are trading below tangible book value (defined as shareholder equity minus intangible assets and goodwill). The market simply does not trust the balance sheets of these firms, and believes that the listed values of their assets is inflated. The lockstep movement of the three firms' stock prices further shows that the stock prices are being dragged by industry- and world-wide events, rather than company-specific concerns.
The various risks associated with these three major firms make value investors uneasy, at best. But the overall downdraft in the sector has created a buying opportunities for other firms who are not as exposed to the regulatory, legal, and balance sheet risks of the Big Three investment banks. Two boutique investment banks -- Rodman & Renshaw (NYSEARCA:RODM), and Gleacher & Company (NASDAQ:GLCH) -- have been brought down with the rest of the industry, and now trade at depressed levels with a margin of safety. Both firms are highly speculative plays, but have solid balance sheets and a chance at growth should the broad market and/or the investment banking industry finally turn around.
Rodman & Renshaw is an investment bank specializing in two types of private placements: PIPE (Private Investment in Public Equity) transactions, and RDO's (Registered Direct Offerings). Both are used by companies to raise money in the equity markets, and Rodman specializes in small-cap companies, many in the healthcare, energy, and metals industries.
The firm has been very successful in this niche, ranking #1 in the number of deals done annually since 2005. The company's acquisition of Hudson Securities in April expanded the firm's operations in sales, trading, and market making, while the company's legacy investment banking arm has made inroads in the potentially lucrative (if certainly risky) Chinese market.
RODM has shown losses for four of the past five quarters, mostly due to unrealized losses in the company's portfolio of warrants (given as compensation for the company's underwriting business). In fact, the declining warrants accounted for $7.5 million of the $8 million lost over the first 6 months of this year, and free cash flow was essentially break-even.
RODM currently trades at $1.28 per share after a 6.7% jump on Friday, a discount to its book value of $1.41 per share, and just over the company's adjusted book value of $1.13, which represents the net valuation of assets, including the aforementioned warrants and the company's 50% ownership of Aceras BioMedical, an early-stage biotechnology venture capital firm. At current levels, the entire Rodman business is valued at just about $5 million, which seems a bargain considering that the company acquired Hudson for exactly that amount just five months ago. That acquisition has already proved accretive, as brokerage revenue jumped to $6 million in the second quarter from $1 million in the year-prior quarter.
The downside risk to Rodman is the speculative nature of its assets: early-stage biotechnology investments through Aceras and warrants on small-cap technology companies that could continue to create unrealized losses. But that downside risk seems priced in, and any market rebound will redouble for the stock, as investment banking and brokerage proceeds improve along with the company's asset base. The stock has consolidated at a multiple bottom of about $1.20 in recent weeks, and value investors looking to add more speculative stocks to their portfolio should be considering RODM at current levels.
Gleacher & Company is another boutique investment bank, though its primary focus is on trading and selling asset-backed securities, primarily agency mortgage-backed securities such as securities issued by Fannie Mae and Freddie Mac. The company's investment banking unit offers capital raising services similar to those of Rodman and Renshaw (in fact, the two companies recently partnered on a placement for Fibrocell Science), in addition to advisory services for mergers, acquisitions, and restructurings. The company also recently purchased ClearPoint Funding, a mortgage loan origination firm.
GLCH stock has been pummeled as of late, losing nearly 90% of its value over the past two years, and closing Friday at an all-time low of $1.00 a share. Even a restructuring plan announced in late August, in which the company closed its low-margin equity trading division, has not stemmed the bleeding.
To be sure, Gleacher bears some responsibility for its struggles. The equity closure came just over a year after the company aggressively expanded that division. Indeed, the company's overall aggressive expansion plan has been a failure. In its fiscal year 2009 earnings release, the company boasted of growing its headcount by 44 percent. In 2010, staffing grew another 25 percent, with further growth in 2011 as employee count went from 205 at the end of 2008 to over 460 before the company's restructuring was announced. And after an excellent 2009 in which the company more than doubled revenue and earned 53 cents per share, revenue fell some 20% and the company swung to a 17-cent loss, exacerbated by an additional 3-cent loss in the first six months of 2011. In addition, the company's current exposure to the MBS market is no doubt weighing on the stock as well, as proposed federal rules to modify and/or refinance mortgages nationwide could hurt the value of Gleacher's portfolio.
All that aside, Gleacher does offering some promise as a value stock. The company offers 39 cents per share in cash, valuing the enterprise at just $75 million dollars. Tangible book value is $1.86 per share, meaning the trading price of $1/share values the company's assets at a substantial discount. Given that the primary focus of the company's trading is in agency securities, which are considered to be implicitly backed by the US government, this is a considerable discount to the reported value of the securities on the balance sheet.
Essentially, the market is assigning a negative valuation to the Gleacher business. And while he company's earnings have been hit by write-downs in goodwill and compensation charges, cash flow is strong. Free cash flow in 2010 was $50 million, 40% of market capitalization, and so far in 2011, has been $5 million, about 7% of enterprise value.
The sterling numbers offer a cushion for investors willing to take a chance on the company's turnaround strategy. Gleacher is attempting to become a leading investment bank -- perhaps taking advantage of the recently-tarnished reputations of its bigger competitors -- while also using ClearPoint to originate mortgages for its MBS trading desk, which currently accounts for about three-quarters of revenues. It is an ambitious strategy, and Gleacher's initial expansion has been a failure. However, at current valuations, investors with patience may be rewarded for giving the company a second chance.
Disclosure: I have no positions in any stocks mentioned, and no plans to initiate any positions within the next 72 hours.