The market reached an annual low exactly one month ago and closed last Friday at a slightly higher level than we saw one month ago. The S&P 500, for example, closed at 1,154.23 last Friday, 34.95 points or +3.17% higher than August 8th close of 1,119.28. The ecent economic news was mostly bearish. The unemployment rate, the European debt crisis, consumer confidence, manufacture activities, etc all seem to point to a possible double recession.
On the other hand, there are strong indications that the market may have touched an important bottom. One sign is from the BDI index which has gained over 41% since August 9th low of 1,257. Another sign is how the market has reacted from bad small cap earnings reports. If small cap stocks no longer drop after they announced a bad quarter, it usually means the beginning of a bull run. One recent example is the market reaction from Coldwater Creek's (NASDAQ:CWTR) latest disappointing earnings results.
Obama's new job plan and the Fed's possible QE3 plan (the Fed may give its proposal during September 20-21 meeting) may give further pushes to the market in the coming months
The following table lists the 16 top gainers since August 9th low.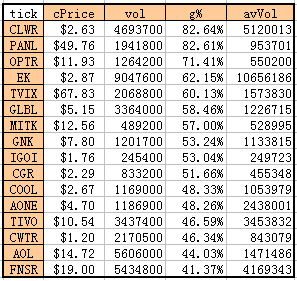 Please be noted that above list has filtered out

- Chinese ADRs;
- Trading volume less than 100k.

Let us look at them in more detail to see what is behind their recent runs.

1. Clearwire (CLWR) – This wireless network service provider is surprisingly the number one gainer (+82.64%) since the August 9th market low. The share price was boosted recently by possible new investment funding from Sprint (NYSE:S). Sprint currently has a 48% stake in this company.

2. Universal Display Corp. (PANL) - This is a high tech company which focuses on the research, development, and commercialization of organic light emitting diode (OLED) technologies and materials for use in flat panel display, solid-state lighting, and other product applications. The stock started its run after its recent quarter earning release. The company has $326 million in cash with no debt.
3. Optimer Pharmaceuticals (NASDAQ:OPTR) - This biotech stock has been on a run since the FDA approved Optimer's first drug, the antibiotic Dificid, for the treatment of clostridium difficile-associated diarrhea (CDAD). Dificid is the first drug to be approved in almost 25 years for the treatment of CDAD and thus targets a market with significant unmet need and it is the only drug that has shown superiority over Vancocin -- the other FDA approved antibiotic for the treatment of clostridium difficile infection -- in sustaining clinical response for CDAD. Dificid was launched in July 2011.

4. Eastman Kodak (EK) – This is a familiar name that is clearly past its glorious days. Its products are no longer hot and sales have dropped in a big way. The stock fell below $2.00 for the first time in the company's history last month. But its stock found life recently after its patents become possible hot assets. The company does have many valuable assets including its brand, patents, etc. But it has to develop a long term growth strategy in order to survive in the current environment. Another Steve Job may be needed.

5. VelocityShares Daily 2x VIX ST ETN (TVIX) - This ETN has benefited greatly from recent much higher market volatility. After breaking out from its double bottom in early August, the stock has gone up from its year low of $16.50 to $67.83 last Friday, a gain of 311% in two months.
6. Global Industries (NASDAQ:GLBL-OLD) - This company is in the heavy construction sector. This sector could benefit from Obama's job creation plan. GLBL is the leader in the gains and a others such as Dycom (NYSE:DY) have also made sizable gains.
7. Mitek Systems (MITK)- A software company located in San Diego. The company's main business is to develop products and provide services related to mobile Imaging applications. This is one of very few companies with projected rapid growth for the next few years. Projected earnings will be $0.24 in 2012, up 800% from this year's $0.03.
8. Genco Shipping (NYSE:GNK) - Stocks in the shipping sector have been among the hardest hit since 2009 recession. Quite a few traded at below 2009 low now such as Excel Maritime (NYSE:EXM), Paragon (PRGN), Eagle Bulk Shipping (NASDAQ:EGLE), etc. But this may change soon. BDI index, now at 1,782, has gained over +41.76% since its August 9 low of 1,257. As a result, few shipping stocks have started their momentum run. Among them GNK leads the way, gained +53.24% since August 9, this is followed by CRU (+41.07%), SHIP (+29.94%), BALT and HOS. DRYS gained +17.81% during this period.

9. iGo (IGOI) - A high tech company in power product area. Its AC-DC power adepter and other type of power adepter are used by many portable devices such as smart phones, portable computers, etc. Its latest break-even quarter results were better than expected.

10. Claude Resources (NYSEMKT:CGR) - As the gold price has sky-rocketed, it is not hard to believe that gold miner stocks should follow. Gold miner stocks as a group have held very well recently. But Junior gold miner stocks are the place to be. Among the 44 gold miner stocks we track, CGR is the top one-month gainer with +51.66% return. Next in the list is Richmont Mines (NYSEMKT:RIC), a +38.51% gainer, having multiple of year highs. Vista Gold (NYSEMKT:VGZ) at an annual high and a +31.21% gain is the third one in the list. Jaguar Mining (NYSE:JAG) is also a notable stock to watch as it gained +24.65% in a month.
11. Majesco Entertainment (NASDAQ:COOL) – This is a multimedia and game software company. It is profitable with $18.48 million in cash and no debt. It is supposed to make $0.42 net profit per share next year and this translates into forward PE of only 6.36. Two analysts give it a one year average target price of $4.50. The stock, at $2.67, is still cheap even after its +48.33% run since its recent low.

12. A123 Systems (AONE) – This a manufacturer of electric-car batteries. The company has been losing money since its public offering and the stock has lost almost 90% of its value after the IPO. But stock has showed its strength recently after GM picked this company for a battery pack contract.

13. TiVo (NASDAQ:TIVO) – This stock has been on fire recently. It shot up first after the company's $100 million share buyback announcement and then after its better-than-expected earnings report. The run seems to not be over yet.
14. AOL Inc. (NYSE:AOL) - This stock took a dive on August 9 after the company reported a worse-than-expected loss. But it recovered nicely afterwards when rumors of possible merge with yahoo surfaced lately.

15. Coldwater Creek (CWTR) - A retailer, apparel catalog and mail order group. This stock has been in a downward trend since a 2010 high of $8.75 and set a new all time low of $0.80 after the company reported worse-than-expected earnings results. But it bounced back strong from that price level and formed a double bottom. The stock closed at $1.20, a 50% gain in 4 days. This stock had a similar pattern in 2008-2009 when it bounced back from $0.91 and went to $8.75 in 10 months. Can history repeat itself?

16. Finisar (NASDAQ:FNSR) - A communication device maker. The company announced its latest quarter earnings results on September 1 and its stock had a good pre-earnings run from $12.50 to as high as $22.30. Other stocks in the same group such as CEINA Corp (NASDAQ:CIEN) and JDS Uniphase (JDSU) both had the same run. FNSR, however had the best run.
The above list is not a recommendation to buy. Doing your own due diligence before investing money into any of these stocks.


Disclosure: I have no positions in any stocks mentioned, and no plans to initiate any positions within the next 72 hours.