Berkshire Hathaway's (NYSE:BRK.A) master stock picker for its investment portfolio is none other than Warren Buffett. Its subsidiary, Geico Insurance holds a comparatively small piece of the portfolio. The stocks in that segment of the portfolio were selected and managed by Lou Simpson until his retirement end of 2010. In the quarterly 13F filings, Berkshire Hathaway reports details about the stocks in its investment portfolio.
The information table in that report provides clues as to which of the holdings fall under the Geico Insurance subsidiary – Geico holdings have a value 10 for column 7 (prior to 2004 it was 8). The pie-charts below compare Geico holdings from the latest 13F (06/2011) to the one from ten years ago (12/2001).
[Click all images to enlarge]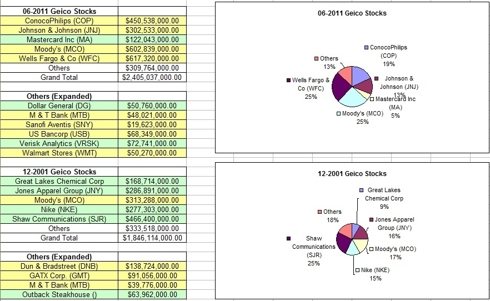 The yellow rows in the spreadsheet above indicate holdings that also (or did) figure in Berkshire Hathaway's investment portfolio; i.e. Buffett also picked the same stocks. The light-green rows indicate holdings that are only in Geico's portfolio. Below are some observations from the pie-charts on Geico's portfolio:
a) The stock count expanded modestly from nine in 2001 to eleven by 2011 while the portfolio grew almost 30% from ~$1.85 billion to ~$2.41 billion. By the same token, during the same period, portfolio stock count of the rest of Berkshire Hathaway changed from 22 to 24 and the portfolio doubled from ~$26 billion to ~$52 billion.
b) Only two stocks are common to Geico's portfolio from 2001 compared to the latest from 2011 – Moody's (NYSE:MCO) and M&T Bank (NYSE:MTB). With MCO, the percentage stake increased from 17% to 25% of the overall portfolio although the share count held steady throughout the decade (including a 2-for-1 stock-split). With MTB, the share count also remained unchanged all through the ten years, while the percentage stake decreased from slightly above 2% to just below 2%.
c) In 2001, from among the Top-5 stocks in Geico's portfolio (that accounted for 82% of the overall portfolio); only MCO was present in the rest of Berkshire's portfolio too. However, the latest June 2011 13F shows a drastic deviation with the Top-4 stocks showing an entry in Berkshire's portfolio too. Among the Top-5 holding, only Mastercard (NYSE:MA) was exclusive to Geico's portfolio. This essentially reflects Warren Buffett taking over Geico's portfolio after Lou Simpson's retirement in December 2010.
The pie-charts below compare the holdings of Geico by sector from the latest 13F (06/2011) to the one from ten years ago: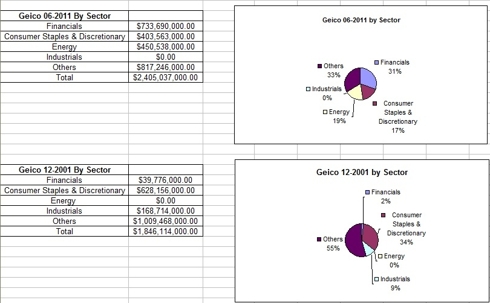 Below are observations from the sector-based pie-charts:
a) In 2001, Consumer Staples & Discretionary sector along with 'Others' accounted for almost 90% of the portfolio. That allocation shifted to just 50% in the latest filing. The stock count held steady at seven stocks in the latest filing like ten years ago. But, MCO survived in the portfolio for ten years. Nike (NYSE:NKE) was sold in 2010 (probably an attempt at cleaning up the portfolio for the new manager after Lou Simpson's retirement) but the rest were all disposed off well before 2006. Jones Apparel Group (NYSE:JNY) and Shaw Communications (NYSE:SJR) which together accounted for over 40% of the portfolio in 2001 were sent on their way out by 2005, indicating a significant bearish bias. Other sells were Dun & Bradsheet (NYSE:DNB) and GATX (GMT) in 2003 and Outback Steakhouse in 2006. The most significant new stake is Johnson & Johnson (NYSE:JNJ) initially purchased in 2009. Its stake was increased by around 20% in 2010 and it now accounts for 13% of the overall portfolio.
b) Industrials accounted for 9% of the portfolio in 2001, consisting entirely of Great Lakes Chemical Corp shares that were sold in 2003. Per the latest report, there is zero exposure to the Industrials sector. Lou Simpson held significant stakes in American Standard, Dover Corporation (NYSE:DOV), Eaton Corporation (NYSE:ETN), Ingersol-Rnd (NYSE:IR), Service Master Company, Trane Inc, Tyco International (NYSE:TYC), and Wabco Holdings (NYSE:WBC) in the last ten years. They were each held for three years or less. Many of them can be labeled opportunistic trades as they were acquired during the 2002 lows and disposed off at significantly higher prices.
c) In 2001, Financials accounted for just 2% of the portfolio, comprising fully of shares on M&T Bank (MTB), a stake that held steady at 546,000 shares all through the ten years. Lou Simpson started amassing a large stake in financials with the acquisition of ten million shares of Wells Fargo (NYSE:WFC) in 2005. At the time of his retirement (Dec 2010), financials accounted for over 30% of the total portfolio with WFC accounting for 25% of the total portfolio and US Bancorp (NYSE:USB) along with M&T Bank accounting for the rest. Lou Simpson turned bullish on financials around 2005 and has remained so ever since.
d) Geico had zero exposure to Energy stocks in 2001. As of the latest quarter, the exposure to energy was almost one-fifth of the overall portfolio, exclusively through shares of ConocoPhilips (NYSE:COP). The stake was initiated with the purchase of six million shares in 2008 which has been kept almost steady since then. Lou Simpson became bullish on Energy in 2008 and has remained so ever since. In 2008, Lou Simpson acquired 7.2 million shares of NRG Energy (NYSE:NRG) which was disposed off in 2010. The timing of the disposal indicates Lou Simpson was taking advantage of the hostile bid for NRG by Exelon (NYSE:EXC) that was on the table at the time. Lou Simpson also nibbled on Petrochina (NYSE:PTR) in 2003. That stake was disposed off in 2007 for a huge profit of over five times.
The number of stocks in Geico's portfolio has varied between nine stocks in 2001 to twenty-three stocks in 2009. For most of the interim years, the stock count in the portfolio stayed around 20. Over the last decade, 51 different stocks appeared in Geico's portfolio although just eleven remained in 2011. Also telling on his trading activity is the fact that only MTB and MCO endured between the 2001 portfolio and the latest one. Although, Geico has a concentrated stock portfolio, Lou Simpson was a fairly active trader, resulting in significant portfolio turnover over the years.
In contrast, Berkshire's rest of the portfolio managed by Warren Buffett had a large percentage of the portfolio value in stocks untouched throughout the ten years. Another subtle difference between Geico's portfolio under Lou Simpson and the rest of the portfolio under Warren Buffett is allocation to small and mid-caps – until the significant stake build-ups in WFC and COP, Geico's portfolio had a number of small and mid-cap stocks. As the size of Geico's portfolio was only ~5% of Berkshire's portfolio, Lou Simpson could build comparatively significant stakes in smaller companies which was impossible for Buffett to do.
Disclosure: I am long WMT, USB, EXC. I have written cash-covered puts on BRK.B (Jan 2012 75) and WFC (April 2012 22).