Investors don't pay enough attention to turnovers, not unless they're rooting for their favorite football teams on ESPN. Yet, inventory turnover helps to separate great companies from the not so great. Companies that can sell their goods quickly have a big advantage over those that can't.
For those unfamiliar with this term, inventory turnover measures the number of times inventory is moved in a year. The figure is obtained as follows:

Inventory Turnover = Cost of Goods Sold / Average Inventory

A high inventory turnover suggests a brisk business. There is a clear advantage to a rapid turnover of goods: lower holding costs coupled with robust sales. A large turnover only works if the company is not unnecessarily discounting, forcing the sales, or running out of merchandise.

Use inventory turnover to evaluate similar companies. For instance, you don't want to judge Tiffany's (NYSE:TIF) turnover by comparing it to McDonald's (NYSE:MCD). McDonald's turns over its goods 147 times a year, Tiffany only 0.8 times a year. I've always felt that Tiffany was more of a museum than a retailer -- the slow turnover confirms that. (Hopefully, your wife / husband feels the same way!) In any case, Tiffany tries to make up for that low turnover with big gross margins.

This piece looks at apparel retailers, primarily in teen or woman's clothing, with this one metric. Clearly, analysis requires a deeper look. I'm merely shining the spotlight on an ignored but important measure. Perhaps, we'll uncover the next "big thing" in the space. Remember, companies within the same space may value their inventories in different ways. Most apparel retailers value inventories at the lower of average cost or market utilizing the retail method.
I'll look at both inventory turnover and operating margins. After all, we don't want retailers that are sacrificing earnings to push merchandise. By including operating margins in the mix, we'll identify companies putting all their goods in the bargain aisle.

Here goes.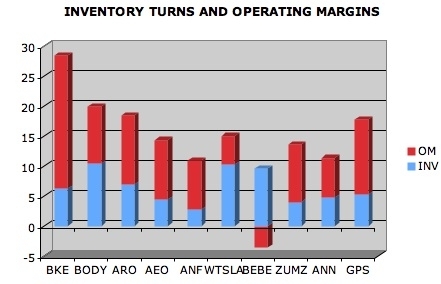 Several retailers have high inventory turns: Body Central (OTCQB:BODY), Wet Seal (WTSLA), and Bebe (NASDAQ:BEBE). However, Bebe is struggling with a negative operating margin. Perhaps it is sacrificing price for sales. Wet Seal isn't bad, although there are better players in the space when you take operating margin into consideration. Body Central looks very good. This newcomer is a rapidly growing retailer. Currently based in the Southeast and Texas, it is quickly moving toward a national presence.
Abercrombie & Fitch (NYSE:ANF) disappoints with an abysmal turnover of less than three, the worst in this space.
If we take a combined inventory turn / operating margin, the clear winners are Buckle (NYSE:BKE) with an enormous margin and decent turns, Body Central, Aeropostale (NYSE:ARO), and the much maligned and undervalued Gap (NYSE:GPS).
All in all, the favorites in this two metric race -- Buckle and Body Central -- dominate the field.

I'd like to give a shout-out to Marc Lichtenfeld whose article inspired this series.

Disclosure: I am long BKE, OTCQB:BODY.
Disclaimer: The opinions in this document are for informational and educational purposes only and should not be construed as a recommendation to buy or sell the stocks mentioned. Past performance of the companies discussed may not continue and the companies may not achieve the earnings growth as predicted. The information in this document is believed to be accurate, but under no circumstances should a person act upon the information contained within. We do not recommend that anyone act upon any investment information without first consulting an investment advisor as to the suitability of such investments for his specific situation.