As defined in several of my previous articles, a ruler stock is one in which earnings, when plotted on a graph, forms a upward sloping straight line, as if drawn with a ruler. In light of my fondness for these types of stocks, I decided to start a series reviewing many of these types of stocks. The following graph illustrates a ruler stock as the green line is the plot of the earnings of this example over the last 30 years.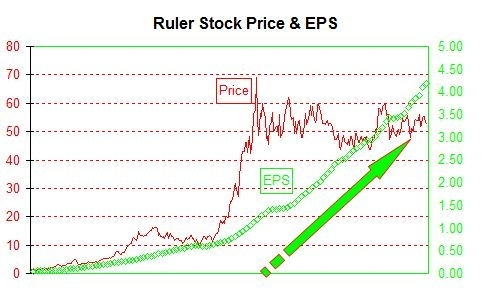 For this new series my first choice is Pepsico (NYSE:PEP), though I have covered other ruler stocks such as Wal-Mart (NYSE:WMT), Abbott Labs (NYSE:ABT), Johnson & Johnson (NYSE:JNJ) in other articles over the last few months. My intention in this continuing series is to present the price chart of each stock accompanied with a price and earnings chart plotted over the previous 25-40 years, though in some cases a smaller history might qualify. Not all of these stocks will necessarily be current buys or satisfy the desired yield for every investor. However, each of these companies should be considered for placement on one's personal universe list.

Pepsico: Incorporated in 1919, Pepsico is a world-wide company that manufactures and sells soft drinks and snacks. Drinks include Pepsi, Gatorade, 7UP, Mountain Dew, and Tropicana. They also market water with the Aquafina brand and as well as Lipton Tea. The company's snack names are Lay's, Ruffles, Doritos, and Cheetos. It also markets products under the Quaker Oats name.

Below is the chart of Pepsico with its earnings and price plotted from 1988 to today. As illustrated, the earnings of Pepsico have grown in a fairly consistent progression with only a small period from 1996 to 1997 that dipped a bit, primarily due to several international bottlers that suffered major financial problems. Earnings have grown from $1.47 in 2001 to $3.91 in 2010. Note how price follows earnings.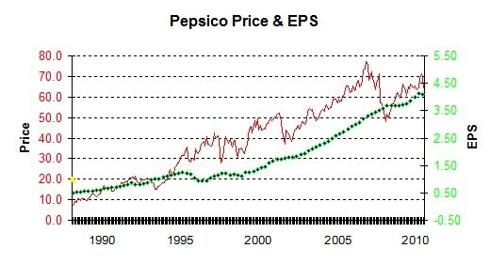 In addition to our look at price and EPS, we need to also consider the price investors are paying for a dollar of earnings. From a 1996 peak of 45 the PE has declined to a present level of 15, which mirrors the previous low levels in the early 1990's. Good value exists based on the current PE level.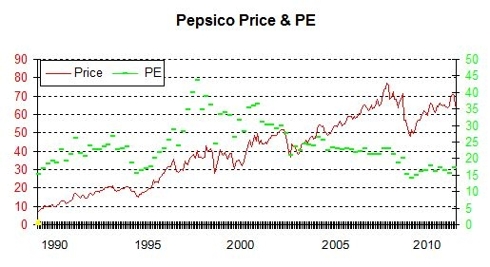 The green line in the chart below plots the dividends per share over the same time frame. In 1988 the quarterly dividend was $0.035 cents a share. That has now grown to $0.515. What we see is that dividends follow earnings and also imitates the straight line that we seek. Current yield is currently 3.3%, which is well above the 25 year yield highs.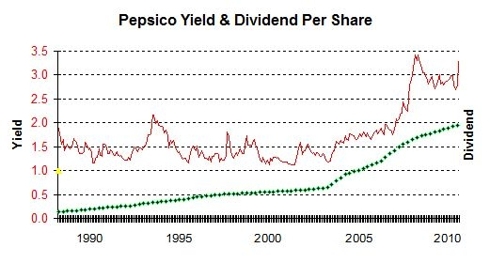 Current consensus earnings projections for Pepsico are $4.50 for 2011 versus a reported $4.13 in 2010. Estimates for 2012 and 2013 are $4.91 and $5.45. The major risk to growth is an economic slowdown in the United States hindering the better growth results in the international operations.

Technical Picture: The shares are on support at the 60 level but in a short term down trend from a recent high at 71. The long term chart shown below is nearly oversold on RSI levels. Over the last ten years levels this oversold level has only occurred two previous times, both of which occurred at major lows.
Pepsico, Inc.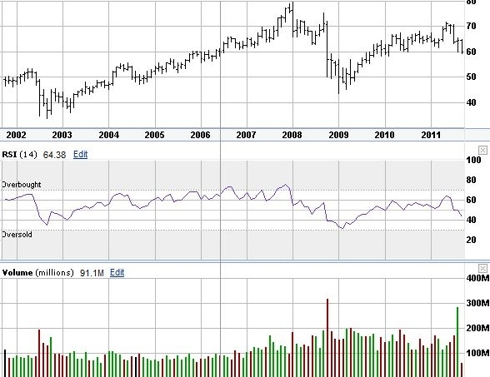 Conclusion: One should view Pepsico on the assumption that good earnings growth will continue, coupled with the opinion that the shares are trading at one of the best levels of valuation in 30 years. A ruler stock, such as Pepsico, always deserves the benefit of doubt when considered as an investment. In the shares of Pepsico, we have a valuation at 25 year lows, a steady stream of earnings and dividends, a current yield perched at 25 year highs, a PE at a level matching other lows over the past twenty five years, and a technical oversold position nearing previous low readings. Given a choice of buy, hold, or sell, I rate Pepsico a buy.

Disclosure: I am long JNJ, ABT, PEP.