"The aim of the wise is not to secure pleasure, but to avoid pain." - Aristotle
Market volatility worldwide continues to be painful for both bulls and bears who are trying to position capital for a trend in either direction. As much as I hear bullish arguments about cheap valuations, the reality is that the day to day swings in the stock market both here and abroad are typical when in a bear market.
Having said all that, I like to occasionally run a screen on my over 1,000 ETFs/ETNs to find those areas of the investable landscape which are exhibiting extreme price behavior. In the following screen, I ranked the top ETFs/ETNs furthest below their respective 20 day (1 month) moving average. The purpose of doing this is to identify if there is a consistent message or theme occurring underneath the market's surface.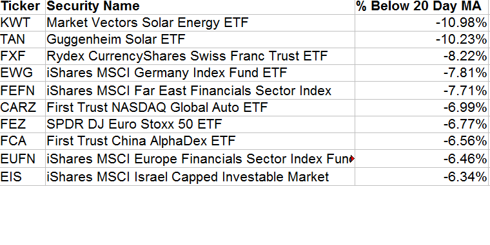 It should be no surprise that all-things-Europe dominate the list. Solar in particular though has gotten slammed, and has been a substantial underperformer. This primarily relates to the (justified) fear that subsidies from European countries, which historically have supported alternative energy companies, will evaporate given the debt crisis and macro risks related to the EU. The Swiss Franc ranks third following the currency floor their central bank decided to enforce. The CARZ ETF is on the list because of exposure to Daimler, Volkswagen, and BMW.
I suspect that should a rally be in the cards, the above list could very quickly show a rebound as a pure mean-reversion play. However, we remain in a very treacherous environment. I can only hope that U.S. markets don't fall as precipitously as Germany's has in the past several weeks.
Disclosure: I have no positions in any stocks mentioned, and no plans to initiate any positions within the next 72 hours. The author, Pension Partners, LLC, and/or its clients may hold positions in securities mentioned in this article at time of writing. The commentary does not constitute individualized investment advice. The opinions offered herein are not personalized recommendations to buy, sell or hold securities.