As an agency mortgage real estate investment trust (mREIT) investor, September is the 3rd quarter dividend month. Investors will receive updates on individual agency mREIT's dividends. Investors can review the leverage and dividends in comparison to their peer group.
Upcoming mREIT News and Dividend Dates
I put together the below graph to highlight a) estimated dividend news dates, b) approximate ex-dividend dates, and c) approximate dividends per share. These estimated dates and estimates amounts are based upon the respective company's 2nd quarter press release data. I expect American Capital Agency Corp. (NASDAQ:AGNC) to announce its dividend on September 12th or September 13th. American Capital Agency Corp. has clearly been the dominant 3-year total annualized rate-of-return company within the agency mREIT industry.
[Click images to enlarge]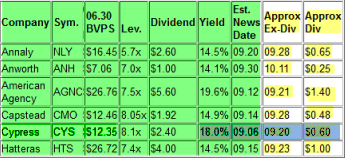 Cypress (NYSE:CYS) First agency-mREIT to Announce its Dividend
As expected, Cypress was the first agency mREIT to announce its dividend. On September 9th, Cypress stated its 3rd quarter dividend is 55-cents per share. The ex-dividend date is September 19th.
Investors should be aware of a Cypress September 12th presentation. The discussion will be part of the Barclays Capital Global Financial Services Conference.
Cypress should have a mid-October conference call to discuss the 3rd quarter results. The 2nd quarter call was on July 21st, so I am projecting an October 21st conference call.
The dividend was a 5-cents short of my expected 60-cents per quarter dividend. Looking at second quarter data, Cypress was on the peer group's high-end of leverage with an 8.1x figure. I assume Cypress was proactive in either increasing hedging possibilities or reducing their leverage. There have been recent events which likely impacted Cypress' portfolio and hedging positions.

Cypress Two-Year Analysis
I wanted to explore Cypress 2-year return data. The returns are still solid with a 7.7% return. Two additional 2011 dividends will impact the yearly returns. The October conference call will address the leverage, net yield spreads, and management's view of the agency-mREIT landscape.
Total Return: mREIT Peer Group
American Capital Agency Corporation continues to lead the peer group in total return. The U.S. Treasury Bond market and yields have provided ideal conditions for agency mREITs. American Capital Agency has produced a 25.3% total annualized rate-of-return over the past 3-years. American Capital Agency Corp. is clearly transparent in its communication to shareholders.
My near-term focus is to identify if American Capital Agency Corporation sustained its 2-year history of $1.40-quarterly dividends. Cypress announced on Friday, September 9th, a dividend decrease from 60-cents to 55-cents.

September 9th Refinancing Update
The Federal Housing Finance Agency (FHFA) released an update on the potential refinancing options. This confirms what the political leaders have been stating.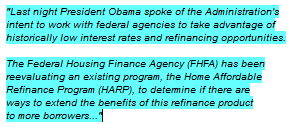 The topic of refinancing options is relevant to the extent that it impacts prepayment of Government Sponsored Entity (GSE) Mortgage Backed Securities (MBS). The GSE-MBS valuations are the core asset, along with net long hedge positions, on agency mREIT balance sheets.
Summary
If agency mREIT's dividends are decreasing, then I have to ask myself if they are a compelling bargain. Here are the key factors in our favor:
The FOMC has stated its intent is to keep the Federal Fund rates low for 2-years. If the deflationary pressures continue, then the 2-year low rate may be extended.
Right now, American Capital Agency offers a 20% annual dividend yield. If American Capital Agency cut its dividend by 50%, the yield would still be an annual 10% dividend yield. This yield beats most equity dividend yields.
At some point, agency mREITs can increase their leverage from present levels. A key factor impacting this issue includes: the euro currency is still a potential negative influence upon repurchase agreements and counter party risks.