In medieval times most castles were protected by large moats that would defend enemies from attacking the nobles and servants. These large fortresses (fortis - derived from Latin for smart) and moats were designed to withstand significant attackers from outside forces. The larger moats could enhance the defensive strategies and allow the royal families to remain competitive in battle.
"In business, I look for economic castles protected by unbreachable
'moats'." Warren Buffett
In business, the moat is also a cornerstone of investing and Warren Buffett uses the moat model to determine whether a company is a desirable investment prospect. An "economic moat" is a defensive component that defines a company's major competitive advantages and that protect companies from its closest rivals or competition. Companies with wide economic moats have a better chance of long-term survival and they also help to protect revenue streams, profitability, and market share. So a larger economic moat is likely to be a steady and sustainable business model characterized by an extraordinarily high survival rate. There are several characteristics that define an economic moat strategy and each of the chains identified below are considered fortress-like brands with powerful operating models.
Starbucks – Strong Brand-Name Leader
With over 16,858 stores across the globe, Starbuck's (NASDAQ:SBUX) is continuing to build a name-brand coffee dynasty. This global consumer coffee brand should surpass $12 billion in sales in 2011 as the company diversifies its store count by adding around 1,000 new stores in China by 2015 (around 470 in China now). In addition, the coffee powerhouse plans to add around 300 new stores in South Korea by 2016 (around 370 now) and plans also include first stores in India and Vietnam by 2013. In addition, the consumer products group will continue to integrate its ready brew products (i.e. VIA ®) into select supermarket and grocery distribution points worldwide. As illustrated by the recent Starbuck's quarterly revenue (below), loyal coffee consumers are a predictable and valuable source of wide-moat revenue:
Conversely, investors see the value in a steady and predictable net income stream. Here is a snapshot of Starbuck's historical quarterly net income results:
And because Starbuck's enjoys a strong brand-name affiliation, consumers will often purchase products by name recognition alone. And in the case of Starbucks, consumers have been willing to pay a premium (hence the "4-Bucks" name) for its high quality coffee products. Here is a snapshot of the company's annual sales history:
And here is a snapshot of the company's annualized Net Income results:
Being a low-cost producer is also a characteristic of an economic moat; however, Starbuck's is not. Clearly the consumer products brand leader has built its moat around the globally recognized and text-less logo of the mythological Norse Queen. In addition, employees can also be considered a valuable intangible asset and Starbuck's is an excellent example. The coffee dynasty employs over 140,000 people with detailed knowledge of the business and the products - making customer service a tremendous asset to success. And companies great at recruiting and retaining smart and happy employees can help build a strong castle and a much wider moat. And over the years, Starbucks has grown its castle in size with products offered in around 50 countries worldwide (see snapshot of asset base below):
And a strong indicator of the moat size is the amount of cash on the balance sheet. As of Q2-11, Starbucks has grown its war chest to around $1.721 billion in cash making its liquidity extremely powerful in growing the brand and defending market share:
Another good most indicator is long term debt. Starbuck's has maintained a $550 million level (approximate) for over three (3) years and the company's current S&P rating was upgraded on August 10, 2010 from BBB to BBB+. This 24.2 % debt to asset ratio is modestly balanced given the massive $ 1.721 billion of cash on the company's balance sheet.
Starbuck's closest competitors are Dunkin Donuts (NASDAQ:DNKN) and Caribou Coffee (NASDAQ:CBOU) and the combined group of 10,359 stores is around 40% fewer the Starbuck's 16,858 store count. Here is a snapshot of the peer group: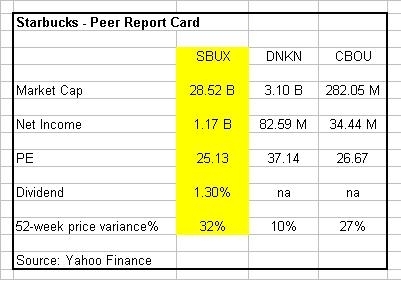 Tractor Supply – Low Cost Producer and Strong Operating Model
With around 1,043 stores in 44 states, Tractor Supply (NASDAQ:TSCO) is one of the fastest growing retailers in the U.S. This Brentwood, TN based retailer should open around 75 new stores this year. Because livestock is a large component to the company's operating model, many of the prototype 15,000 square foot stores are located in smaller, rural trade areas. This specialty retailer carries a diverse product mix that is unlike many of the larger discount chains like Lowe's (NYSE:LOW) or Wal-Mart (NYSE:WMT). Instead, the 73 year-old retail chain boasts a unique low-cost model with a focus on the area farmers, pet owners, and cowboys. Like many customers of TSCO (including me), the diverse product assortment makes it a compelling attraction that results in frequent purchase in many specialized product offerings. The latest quarterly results are a strong indicator of a growing and sustainable niche operating model:
Conversely, the company's earnings of $91.2 million ($1.23 per share) were up 18% from the same period a year ago. In addition, same-store sales were up 4.6% from the previous period last year.
In addition to its competitive operating model, Tractor Supply also employs over 8,000 associates including a knowledgeable team of sales experts. So like Starbucks, Tractor Supply's economic moat is also defined by its intangible employee assets. By training employees to provide high-level customer service for in-depth "feed and seed" products, the customer retention levels and sales are much higher than the peer group. Here is a snapshot of the company's historical sales volumes:
And of course, the wide moat strategy makes the earnings look exceptionally impressive:
Now with assets in excess of $1.5 billion, Tractor Supply has grown into a dominating fortress. With a projected domestic store count of around 1,800 stores, Tractor Supply has plenty of new site inventory with ample opportunity for growth. Here is a snapshot of the company's historical asset base:
And as the castle grows in size, so does the moat. With significant cash on hand of $207 million, Tractor Supply continues to build a dominating cash war chest. Here is a view of the company's historical cash position:
With a well-capitalized business model (with just $1.3 million in long term debt), Tractor Supply should continue to grow its dominating moat. And the low-cost business model driven by knowledgeable sales associates will further enhance the fortress and defend competitors from gaining ground. Here is a snapshot of Tractor Supply's peer group: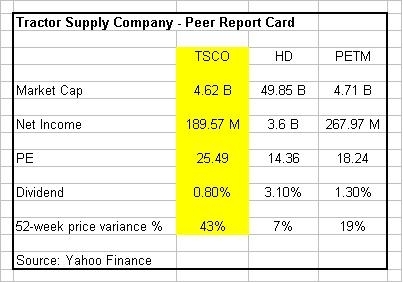 Whole Foods – Network Effect
Based in Austin, TX and with around 309 stores, Whole Foods (WFM) plans to ramp up the new store openings in the quarters ahead. In addition, the natural and organic food supermarket chain plans to open stores in the U.K. and Canada. Once branded by some as the "whole paycheck" grocer, Whole Foods has clearly outgrown that image as many loyal customers perceive the value of the health food alternative. In addition, Whole Foods has become more focused on providing low-cost options to become competitive with the traditional low cost chains. And clearly, Whole Foods recent results are indicative of the power of the health food network:
And with a sustainable 33-year old operating model, Whole Foods has grown to become a reliable earnings driver. Recently (Q3-11), Whole Foods earned $88.5 million ($.50 a share) up from $65.7 million ($.38 a share). With an 11% revenue increase (to $2.4 billion this latest quarter), Whole Foods is performing at near-peak levels and appears to be gaining market share faster than the traditional grocers.
And in 2010, Whole Foods surpassed $9 Billion in annual sales. This record volume is a clear indicator that the chain's wide moat strategy is growing and customers are absorbing price increases over the competitor brands.
With approximately $246 million in earnings during 2010, Whole Foods is on pace for another record year forecasted to be around $ 350 million (in 2011).
Thus far in 2011 (Q3), assets at Whole Foods have already surpassed $4.1 billion. This brand dominance makes the fortress extremely less vulnerable for the competition. Here is a snapshot of the company's historical asset base:
The company's cash balance is also an attractive moat feature with around $376 million on hand as of Q3-11:
Of course, economic moats help protect revenue streams by reducing debt balances. Whole Foods has made the fortress much less invincible by its attention to debt reduction. As of Q3-11, Whole Foods carried just $17.6 million in long term debt, down 96.5% from its debt reported ($508 million) at the end of 2010:
Here is a snapshot of Whole Food's peer group: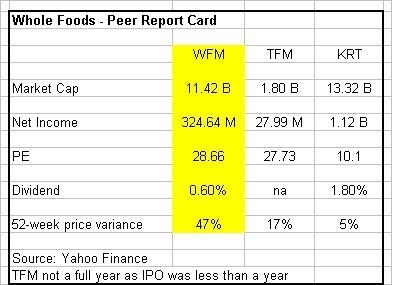 Summary – 3 Strong Castles with Wide Economic Moats
Warren Buffett explained that the wider the business moat, the more likely it is to stand the test of time. Starbucks, Tractor Supply, and Whole Foods are all exceptional brands with strategically designed attributes that defend against highly competitive forces. All three nationally recognized brands have carved out dominating market positions by helping to protect revenue streams and profitability. Because of the focused economic moat strategies, all of these "best in class" brands have built solid foundations with extremely attractive long-term profitability potential. As of September 9, 2011, Starbucks, Tractor Supply, and Whole Foods 52-week stock price variance was 32%, 43%, and 47% respectively. Clearly, the operating models are well protected with high probability for long-term survival.
Disclaimer: I have written Seeking Alpha articles earlier this year on Starbucks and Tractor Supply. I enjoy writing about the real estate strategies for many of the nationally recognized brands and I also enjoy providing real estate investment advice for individual and institutional real estate clients. I am currently engaged in real estate investments and consulting where I obtain compensation as a result of providing net lease advisory services.
Disclosure: I have no positions in any stocks mentioned, and no plans to initiate any positions within the next 72 hours. I own less than 100 shares in SBUX