Tobacco stocks have proven, as wells as most consumer staples, to be less immune to difficult economic environments. I am assuming the U.S. economy is still in a recession. In my opinion, tobacco stocks provide the appropriate risk and reward balance for dividend investors. Consumer staples, such as tobacco and food, continue to sell worldwide despite economic difficulties.
I believe we are in a prolonged period of low interest rates. Pimco's Chief Executive Officer (CEO) Mohamed A. El-Erian stated the U.S. policymakers were starting to understand, for the first time, how serious the economic crisis is. Prominent economists, such as Mr. Elrian and Bill Gross, believe the recovery could take a significant amount of time for a full recovery.
In an environment of low Treasury Bond rates, a recession-resistant Lorillard, Inc. (NYSE:LO) provides the potential for high dividend income and capital preservation.
Lorillard (LO) Analysis
Lorillard, Inc. offers a compelling valuation. The company is the third largest cigarette manufacturer in the U.S. The company's total U.S. retail market share increased 1.5% to 14.1% as of March 31st, 2011. Their business model is primarily focused upon two brand names: premium brand Newport and discount brand, Maverick.
Newport is the United States' number one menthol cigarette. Newport represented over 90% of Lorillard's 2010 sales. Newport is available in non-menthol flavor too. Other brand names, within Lorillard's product line, include Kent, True, and Old Gold.
The 3-year Lorillard performance has delivered an average total annualized rate-of-return of 30.6%. This compares to the SP500's return of 11.2%.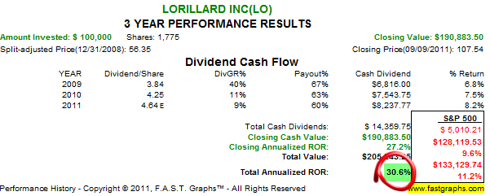 Lorillard Dividend
Lorillard currently pays a $1.30-per share quarterly dividend. This represents a 4.8% annual dividend yield. Historically, the 3rd quarter is when an annual dividend increase is announced.
Lorillard Stock Buyback Plan
On August 12th, Lorillard announced a $750 million stock buyback plan. The company has aggressively bought back shares since 2007.
Lorillard 10-Year Earnings and Dividend Growth
Lorillard offers a compelling dividend stock valuation. This is based upon analyst projections for future earnings and dividend growth. The 2016-estimated dividend per share is $7.21. Based upon this calculation, Lorillard would have an approximate value of $182.81 per share.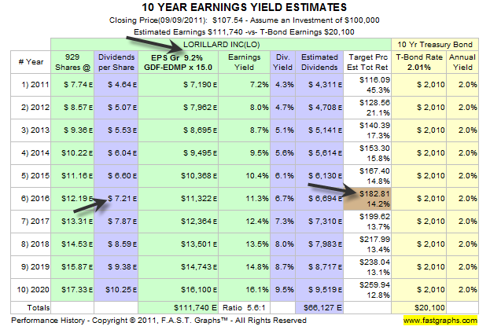 The below Total Return table indicates Lorillard's peer group dividend yields, total 3-year annualized rate-of-returns, debt levels, and growth potential. Lorillard has continued to provide year-in and year-out positive returns.