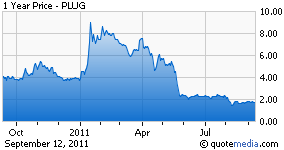 Fuel cell companies have disappointed a lot of investors over the last 10 years. After many years, fuel cell companies are just emerging from the development stage, largely depending on government incentives and concept projects. Investors have earned the right to be skeptical. However one company, Plug Power (NASDAQ:PLUG), is emerging from the darkness with a fuel application that major companies are buying because it works well and it saves them money. Zero pollutants, low noise operation, and greenhouse gas reductions are a bonus.
In the last few years PLUG has sharpened its focus down to one major application – powering lift trucks. Its customers are typically large distribution centers or factories that have 30, 100 or 200 lift trucks in operation. In this application fuel cells work very well, in fact so well that major companies like Wal-Mart (NYSE:WMT), FedEx Freight (NYSE:FDX), Coca-Cola Bottling Co., Sysco Foods (NYSE:SYY) and Central Grocers have been ordering hundreds of these units and the company had a backlog in June of 1,296 units.
Their focus has been working very well. The order backlog is increasing and Plug Power claims 85% market share for fuel cell powered lift trucks.
Why Lift Trucks?
It turns out that lift trucks are an ideal application for fuel cells. Imagine 100 lift trucks running three shifts a day in a large distribution center. The traditional battery powered lift trucks run out of juice over the course of a shift. The batteries either have to be swapped out, or the entire truck has to be parked while being charged. Either way, there is down time involved for the lift trucks and their operators, plus dedicated staff for battery charging and swapping, and large battery charging rooms. Also, as the battery gradually discharges over a shift, the truck itself can slow down.
The alternative? Swap out the battery, and replace it with a form factor equivalent fuel cell.
A fuel cell is a device that runs from hydrogen fuel. Lift truck operators can refuel with hydrogen in two minutes, and go back to work. There is no other downtime for truck operators, as the fuel cell can keep running 24 hours per day. There is no need for battery room or staff to run the battery room.
Clean Operation
Since the trucks are powered with hydrogen, there are no pollutants. The fuel cell converts the hydrogen to electricity and water.
The Business Case
Plug Power claims that the payback for companies upgrading an existing battery fleet of 100 lift trucks to fuel cells is 1.6 years. Their products are drop-in replacement alternatives for lead-acid batteries, so the lift trucks themselves do not have to be replaced. The payback for greenfield installations would be less than one year.

PLUG now has compatible models to replace the batteries in all the types lift trucks typically found in U.S. based facilities. This includes Class 1, Class 2 and Class 3 lift trucks. By covering all the truck types, customers can eliminate the battery rooms and go 100% fuel cell.
Shipment Progress
There is a delay from the time units are ordered and are ready to be shipped. Historically, shipments made against these orders generally occur between 90 days and 18 months from the date of acceptance of the order.
The company expects to ship approximately 70% of the 1,296 units in backlog in the remainder of 2011.
2009

2010

1Q,2011

2Q,2011

Product Shipments*

271

650

217

(over 6 months

Orders

431

986

Backlog**

654

527

1,296
*Includes lease shipments.

The Lift Truck Market
Annual lift truck shipments in the U.S. (according to the by the Industrial Truck Association) for Class 1, 2 and 3 (electric) trucks are approximately 80,000 new units per year. Existing trucks running batteries are also part of the target market. The sales rate of new trucks dropped by about 40% through 2008 and 2009, and recovered part way in 2010. Shipments for 2011 in the U.S. are expected to return to the pre 2008, 80,000 units per year level. The markets for Europe and the ROW are each estimated to be approximately 2x the size the U.S. market.
In addition, PLUG is also able to sell fuel cell replacements to the installed base of battery based electric trucks in use. The Clark brand lift truck alone claims over 250,000 trucks operating in North America.

Plug estimates the fuel cell market for Class 1 – Class 5 fuel cell powered forklift trucks totals $ 19.9 Bln. This breaks down into: North America: $ 4.285 Bln, Europe: $ 5.706 Bln, China: $3.3 Bln, Japan: $ 4.5 Bln, ROW: $ 2.1 Bln.

Some History
Plug Power has been a public company since 1999. It was originally a joint venture between Edison Development Corporation and Mechanical Technology Inc. In 2007, it acquired Power Products, Inc. (Cellex) and General Hydrogen Corporation (General Hydrogen). Plug Power became the first fuel cell company to offer a complete suite of products; Class 1 - sit-down counterbalance trucks, Class 2 – stand-up reach trucks and Class 3 – rider pallet trucks. The launch of our Class 2 product occurred in January of 2010.
In 2008, PLUG hired Andrew J. Marsh as CEO. Previously, Mr. Marsh was a co-founder of Valere Power where he served as CEO from the company's inception in 2001 through its sale to Eltek ASA in 2007. Under his leadership, Valere grew into a profitable global operation with over 200 employees and $90 million in revenues derived from the sale of DC power products to the telecommunications sector.
Plug is focused on proton exchange membrane, or PEM fuel cells, from which multiple products are available. In 2010, PLUG licensed the intellectual property relating to its stationary power products to IdaTech plc on a non-exclusive basis. Plug Power maintains ownership of, and the right to use, the patents and other intellectual property licensed to IdaTech.
Major Restructuring
Since 2008 PLEG has been getting leaner. They have restructured with a focus on reducing operating expenses, and have significantly reduced admin and engineering costs. Part of this benefit comes from reliance on Ballard Power (NASDAQ:BLDP) for the supply of fuel cell stacks.
At the end of 2010 the company had 150 U.S.-issued patents and 21 U.S. patent applications pending. Also as of December 31, 2010, there were 26 pending U.S. patent applications filed on behalf of Honda and one U.S. patent issued to Honda relating to joint development work on the Home Energy Station (HES) and to which the company claims they have certain rights.
On July 15, 2010, PLUG and Ballard Power Systems announced an extension to their existing supply agreement through 2014. Ballard will remain the exclusive supplier of fuel cell stacks for PLUG's GenDrive products. In addition, PLUG will be the exclusive systems integrator for Ballard's fuel cell stack into solutions addressing the material handling market in North America.
Future Challenges and Opportunities
The immediate challenge for Plug is to ship as much as possible from its sizable backlog, while reducing product costs. This should allow them to hold on much of its 85% market share in North America. It takes from 1-15 months from the time orders are received until customers are ready to take shipment. Many of the units already in the backlog should ship in the third and fourth quarters of 2011.
We expect that the time from a new sale until installation will decrease over time as PLUG's customers gain experience. Some customers are expanding from their initial installations in multiple distribution centers. PLUG's sales and fuel distribution partners are going through a learning curve. We expect that as customers and partners gain experience they will get faster at moving from order to installation.
Selling lift-truck power modules in Europe is the next obvious market. The business case for battery replacement could be even stronger in Europe. On April 5, 2011, the company announced that WinCo Foods LLC will use 184 GenDrive fuel cell units to power its electric lift truck fleet at its 800,000 sq. ft. grocery distribution center in Modesto, California. This transaction with WinCo Foods marks Plug Power's first large grocery installation in California. At the same time, the GenDrive units being developed for WinCo's European-style moving mast lift trucks will offer Plug Power a segue into the European material handling industry.
The company believes that it can reduce product costs significantly. From the June 30 10-Q:
"With this increase in orders, and expected engineering improvements that utilize common components across product lines, we expect to drive down material costs by 30% to 40%. Implementation is currently underway and we expect these improvements to begin to impact our financial results by the end of 2011."
Future Articles
In a future article we plan to dive into some details the business case for fuel cells versus battery operated lift trucks. We'll also look more closely into the financials for Plug power. When will the backlog ship and what will that mean for near term revenues?
We think that a little success in fuel cells could be catching, and help the technology progress in other applications. For a longer term perspective we'll be looking at what progress in lift trucks could mean for other apps like fuel cell powered cars, trucks and buses.
Disclosure: I am long PLUG.