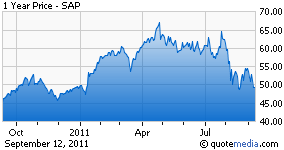 With the euro in free fall because of Europe, the continent's strongest companies are suddenly on sale.
Might someone take a run at SAP (NYSE:SAP)?
SAP is well regarded by many Americans at Seeking Alpha, and just as U.S. assets go on sale when the dollar falls, so is SAP now on sale thanks to the euro.
The problem here is who would buy it? Here are three likely candidates:
Oracle (NYSE:ORCL) is the most logical buyer. It's SAP's closest competitor, it has been hurt in the marketplace, and the company's strategy has always been to buy firms in its niche that threaten its ability to keep prices high. The company is still worth more than twice SAP's market cap of about $60 billion.
A cash-and-stock deal would empty Oracle's vaults, however, and probably leave SAP stockholders with a substantial share in the company, something CEO Larry Ellison may find impossible to swallow. There might also be serious antitrust considerations on both sides of the Atlantic, which would increase the deal's costs and could scuttle it.
IBM (NYSE:IBM) is worth more than three times what SAP is, so a deal would not give SAP shareholders as much control of the parent as Oracle might, but IBM has much less cash than Oracle, meaning stock would have to play a bigger role.
IBM has been moving strongly into software and services for many years. It's big in the enterprise, like SAP, so the two companies may mesh. And there would not likely be the same antitrust worries as with Oracle.
Microsoft (NASDAQ:MSFT) may be in the strongest position to make a move. Its $52 billion cash hoard and $216 billion market cap means SAP would not be a great stretch for the giant of Redmond. SAP's product line does run on Windows as well a several versions of Linux.
But Microsoft would have to be making a huge commitment to the enterprise here, away from consumer markets where it remains strong. The company is very focused on its cloud strategy with Azure, and SAP would not necessarily make a good fit with that.
Of course, there's another way this might work, with SAP the buyer rather than the seller.
Hewlett-Packard (NYSE:HPQ) is now worth 25% less than SAP, at $45 billion. It's highly vulnerable to a takeover, but finding a compatible fit has proven impossible.
But with HP getting out of the PC business, now might be the time for someone like SAP co-CEO Bill McDermott to pounce. Such a deal would replicate Oracle's purchase of Sun, aiming to provide its software customers with a complete hardware-software solution. HP's data clusters may also be attractive as a way for SAP to build a cloud strategy.
Buying into America would also provide SAP with a hedge against further falls in the euro, and end the soap opera involving the HP board and CEO Leo Apotheker, who joined the company after being pushed out by SAP.
While most M&A activity is frozen by the troubles in Europe, that's not entirely true in technology, where Broadcom (BRCM) has just announced the purchase of NetLogic, HP just bought Autonomy, and Google (NASDAQ:GOOG) has bought Motorola Mobility.
So why not put SAP in play?
Disclosure: I am long IBM.