U.S. equity markets started the week on a down note thanks to banking worries in Europe but managed to surge in the final minutes of trading to turn things around for Monday. The Dow managed to finish higher by 0.6% while the S&P 500 and the Nasdaq rose by 0.7% and 1.1%, respectively. Commodity markets also experienced choppy trading, gold was sent tumbling, falling by nearly 2.2% on the day while oil managed to gain, finishing the session up just under 1.9%, putting the benchmark WTI crude contract just over $1.10 away from the $90/bbl. mark. In currencies and bonds, the U.S. dollar was pretty much flat but lost a tad against the euro and the yen. In Treasury bonds, both the 10-Year and the 2-Year saw yields rise marginally, gaining a few basis points each and moving the two year up to the 0.22% mark.
One of the biggest ETF winners on the day was the PowerShares QQQ (NASDAQ:QQQ) which gained 1.3% to open up the week. Today's gains were largely the result of solid performances in the tech sector as giants Oracle (NYSE:ORCL) and Intel (NASDAQ:INTC) both gained nearly 3% on the day. Strength was also seen in some of the more consumer focused names in the fund as top 10 components Amazon.com (NASDAQ:AMZN) and Comcast (NASDAQ:CMCSA) gained 2.5% and 1.1%, respectively, suggesting it was a good day all around for this Nasdaq fund. With that being said, QQQ has still seen weakness in recent sessions, falling by close to 2.7% in the past quarter and 5.9% in the past half year period. Clearly the popular PowerShares fund still has some ground to make up before returning to positive territory for many longer-term investors.
Click to enlarge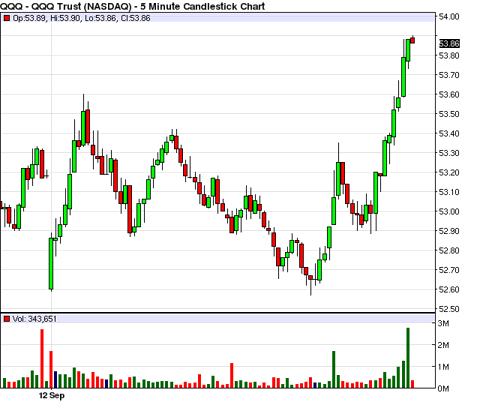 One of the biggest losers in the ETFdb 60 was the SPDR Gold Trust (NYSEARCA:GLD) which declined by 2.2% on the session. These sharp losses, which helped to push gold off of its highs, came as investors cheered a report that China would buy up large amounts of Italy's debt, possibly helping to prevent a contagion from spreading. "(Italy's move) seems logical - when you need money, you go to the guys that have it," said Brian Battle, vice president of trading at Performance Trust Capital Partners. "It's good news that Italy's seeking a solution, but it's bad that they need a solution." Nonetheless, China stepping in as a savior for Italy helped to reduce the demand for safe haven investments, causing gold to fall sharply to open up what could be another volatile week for the precious metal.
Click to enlarge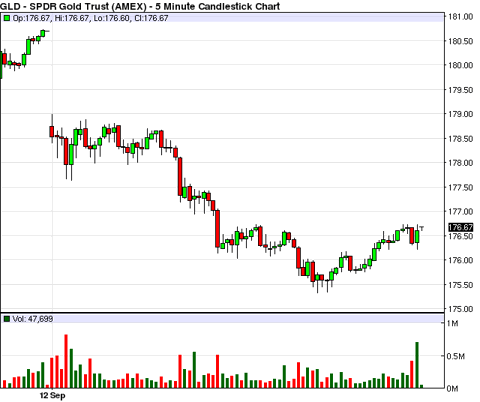 Disclosure: Long gold bullion and IAU.
Disclaimer: ETF Database is not an investment advisor, and any content published by ETF Database does not constitute individual investment advice. The opinions offered herein are not personalized recommendations to buy, sell or hold securities. From time to time, issuers of exchange-traded products mentioned herein may place paid advertisements with ETF Database. All content on ETF Database is produced independently of any advertising relationships.