They have essentially moved in lockstep since the beginning of the financial crisis. When U.S. stocks plunged to the downside, global stocks were plunging along with them. And when global stocks were soaring, U.S. stocks were along for the ride. It is this fact that has made some of the recent market movement highly suspect. For where stocks outside of the U.S. have taken a drubbing, U.S. stocks have held up fairly well. Given the interconnectedness of the global economy and the strong relationship across worldwide stock markets, it's only a matter of time before this performance gap narrows. Something's gotta give.
Since the beginning of the financial crisis, the U.S. stock market, as measured by the S&P 500 Index (NYSEARCA:SPY), and the non-U.S. stock market, as measured by the iShares MSCI All Country World ex U.S. Index (NASDAQ:ACWX), have shared a very strong performance relationship. Overall, these two ETFs have shared a returns correlation of +0.93.
In other words, when U.S. stocks have gained, global stocks outside of the U.S. have also risen nearly all of the time. And during short-term periods, when one cumulative return measure has gotten ahead of the other, this gap eventually narrowed to meet up once again. Thus, one of these stock market segments is not going anywhere without the other for very long.
While this relationship continued to hold for much of 2011, it has suddenly widened dramatically since the most recent market bottom in early August. U.S. stocks have managed to hold flat during this time period, but global stocks outside of the U.S. are down sharply. While some of this performance differential might be explained by the fact that the epicenter of the financial crisis resides in Europe and outside of the U.S., this does not mean that U.S. stock markets won't be deeply impacted by these events in their own right. Just as the rest of the world was not immune to America's problems back in 2008, the United States is likely not immune to the problems currently escalating in Europe.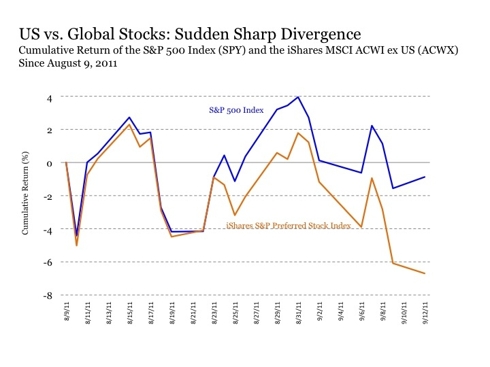 This wide performance differential is not likely to last long. After yesterday's close, the cumulative performance differential between U.S. stocks and non-U.S. stocks since the collapse of Lehman Brothers through today stands at +9.85% in favor of U.S. stocks. This marks the highest absolute cumulative returns differential between U.S. and non-U.S. stocks since December 8, 2008.
As a result, three different return scenarios are likely in the coming weeks:
Bullish U.S., very bullish non-U.S.: U.S. stocks RISE and non-U.S. stocks RISE MORE to catch up
Bearish U.S., bullish non-U.S.: U.S. stocks FALL and non-U.S. stocks RISE to meet somewhere in the middle
Very bearish U.S., bearish non-U.S.: Non-U.S. stocks FALL and U.S. stocks FALL FURTHER to catch up
Looking back to December 8, 2008, we all know how global stocks collectively performed over the subsequent three months – both U.S. stocks and non-U.S. stocks fell by over -20%. And such an outcome is certainly not out of the question this time around given the mounting uncertainties with the European debt crisis.
One final anecdotal point. The fact that the S&P 500 rallied roughly 20 points in the final 45 minutes of trading yesterday is troubling. Not that it wasn't nice to see a day mired in the red throughout the session suddenly make a sprint to the green at the close. But the fact that it occurred on the same day when European markets were down -4% raises an eyebrow to say the least.
And if the rally was really driven by the rumor that China was going to step in and buy Italian debt, this is particularly worrisome. Healthy markets are not driven sharply higher by rumors, and the fact that investors were that euphoric about a news story we've heard time and time again in the recent past, that does nothing to cure the underlying problems in Europe, suggests that we still have a lot of very optimistic stock longs in this market that would be left to wash out if stocks were to take a turn for the worse.
With all of this in mind, I remain skeptical on stocks with the exception of the highest quality names and will likely continue to remain dubious until events truly change in a substantive way.
Disclosure: I have no positions in any stocks mentioned, and no plans to initiate any positions within the next 72 hours.
This post is for information purposes only. There are risks involved with investing including loss of principal. Gerring Wealth Management (GWM) makes no explicit or implicit guarantee with respect to performance or the outcome of any investment or projections made by GWM. There is no guarantee that the goals of the strategies discussed by GWM will be met.