Coldwater Creek (NASDAQ:CWTR) rallied over 10 percent on news that Dennis Ponce, Chairman and CEO purchased over 600 thousand shares at an average price of around 90 cents. This type of purchase is a signal for me to look more into the stock.

What I like most about this purchase was where it was completed. Coldwater Creek is trading at lows that haven't been seen since late 2008. Usually purchases like this are a great sign t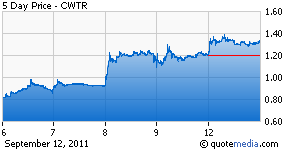 hat insiders who are familiar with their business, are confident that things might be turning around.

Coldwater Creek has seen net sales decrease to $181.4 million compared to $253 million in the same quarter in 2010. Gross profit margins tightened for the quarter as well. Gross profit came in at $45.3 million for the quarter or 25% of net sales, compared with $84.7 million, or 33.4% of net sales in the same quarter in 2010.

These are not good signs yet but the company is trying to adjust to meet the new demands. Coldwater Creek cut costs for SG&A to $70 million compared to $82.5 million in the same quarter in 2010. I expect to see the company continue to cut costs to meet the decrease in sales.

The company recently announced a three part plan to turnaround the company. The key elements consist of a comprehensive brand marketing campaign, retail store optimization and a merchandising revitalization plan.

The retail store optimization program could have the most immediate impact on the company. Coldwater Creek will focus on expense and inventory management in an effort to maximize cost savings. The company will close 35 to 45 underperforming locations over the next two years. I expect these closures to generate about $15 to $20 million in savings for the company.

I will keep an eye on the progress of the company and will look for further signs of the turnaround.

Disclosure: I have no positions in any stocks mentioned, and no plans to initiate any positions within the next 72 hours.