Cinedigm Digital Cinema Corp. (NASDAQ:CIDM) has a long-standing position as a service provider in digital cinema. It has entered a new phase of growth and a new CEO took the helm in 2011. Software and content services are driving revenue and profits. Over time we expect the company to be valued closer to our Intrinsic Value estimate of $6.
Company Update
It was a busy summer for Cinedigm, but many investors have been distracted by macro events. Cinedigm has invigorated its digital cinema business through continued digital conversions and an expansion of software and content initiatives. We especially note:
Revenue growth accelerated to 21% in the June Quarter (from 16% in March) as digital conversions were robust and value-added businesses like software continued to improve profit margins.
Cinedigm licensed its theatrical distribution system to Warner Brothers and Open Road Films (AMC Entertainment and Regal Entertainment joint venture.)
Technicolor and Cinedigm signed a deal to transfer the Cinedigm digital distribution business to Technicolor and for the two companies to collaborate on continued software development for the delivery of theatrical content. This reduces its role in "downstream" delivery and allows it to focus more resources on "upstream" content and software.
Cinedigm also agreed to sell its cinema advertising business (UniqueScreen Media) to Screenvision. Screenvision will also become a distribution partner for Cinedigm theatrical content. The consolidated advertising footprint will be more effective for all parties and offers distribution to over 15,000 screens.
On the content side Cinedigm has been active in the targeted release of content like "The Ward," "The Undefeated," "Life in a Day," and a kind of family content channel with Kidtoons. So far the company is just scratching the surface of what we expect will be a major opportunity in alternative content.
Cinedigm launched "Indie Direct," which is a critical element to its new strategy. This gives content owners a distribution channel into theatrical release that amplifies revenue for them. As this network grows in number and traffic it promises to be a disruptive innovation in the cinema industry. Cinedigm is driving it with this initiative.
A $7M private placement was completed in early July at a share price of $1.60. The additional cash improves the ability for Cinedigm to complete acquisitions on favorable terms.
The management team members are executing as they described they would at the start of this year - divesting non-core businesses while growing their strategic software and content businesses.
The overall decline of the stock market has pushed the shares back below $1.50 which compares to our Intrinsic Value estimate of $6.
(Click chart to expand)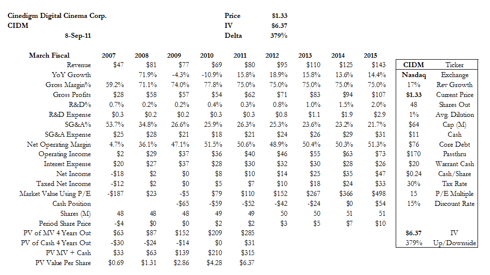 Disclosure:
I have no positions in any stocks mentioned, and no plans to initiate any positions within the next 72 hours.