ETF Spotlight on Health Care Select Sector SPDR Fund (NYSEARCA:XLV), part of an ongoing series.
Assets: $4 billion
Objective: The Health Care Select Sector SPDR Fund tries to reflect the performance of the Health Care Select Sector Index, which includes companies that fall under pharmaceuticals, health care providers & services, health care equipment & supplies, biotechnology, life sciences tools & services and health care tech.
Holdings: Top stock allocations include: Johnson & Johnson (NYSE: JNJ) 13.71%, Pfizer Inc (NYSE: PFE) 11.45%, Merck & Co. (NYSE: MRK) 7.79%, Abbott Labs (NYSE: ABT) 5.22 and Unitedhealth Group (NYSE: UNH) 3.97%.
What You Should Know:
State Street Global Advisors is the provider of the ETF.
XLV has an expense ratio of 0.20%.
The fund has dropped 0.69% over the last week, gained 9.18% over thee last month, fell 5.65% over the past three months and increased 5.57% year-to-date.
Sub-sector allocations include: Pharmaceuticals 49.71%, Health Care Providers & Services 18.70%, Health Care Equipment & Supplies 16.36%, Biotechnology 10.76%, Life Sciences Tools & Services 3.74% and Health Care Technology 0.74%.
The U.S. health care sector is considered a safe defensive play, given the sector's low economic sensitivity. [ETF Chart of the Day: Healthcare]
Potential investors should note that the fund's allocations come from the S&P 500. So investors should be cautions of overweighting the S&P 500 as a whole.
"Historically defensive and noncyclical, the health-care sector is seeing added growth from an aging America," according to Robert Goldsborough, Morningstar analyst. "Demand is relatively stable, since people require treatment regardless of the economy, and baby boomers needing greater treatment make for a compelling secular-growth story."
"The health-care sector has hit a lull in recent years, as some key blockbuster drugs have lost exclusivity, prompting a blitz of competition from generic drug firms," Goldsborough added.
The Latest News
Healthcare reform has been meeting resistance, and Republican lawmakers in New York have recently succeeded in blocking the state from accepting federal aid in setting up its mandatory health insurance exchange, reports Thomas Kaplan for The New York Times.
Since the reform was signed, only 13 states have approved a type of health insurance exchange – a state-run market where participants may buy insurance.
"This has got to set of some very loud alarm bells in the White House," Professor Ross K. Baker commented, in the report. "With a state as visible as New York, for the exchange to be obstructed is a very ominous sign for the ultimate implementation of the Affordable Care Act."
For the week that ended Sept. 7, healthcare/biotechnology funds saw net inflows of $394 million, which increased to a 16-week high "with investors bypassing biotech funds in favor of those focusing on bread-and-butter medical plays," according to fund tracking firm EPFR Global, reports Daniel Bases for Reuters.

Health Care Select Sector SPDR Fund (XLV)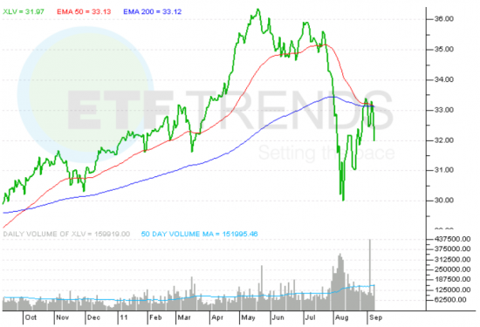 Max Chen contributed to this article.
Disclosure: None