The prophets of doom are out in full force these days.
George Soros thinks
that the Eurozone debt crisis could have more far-reaching effects than the debilitating Lehman Brothers collapse of 2008. Raghuram Rajan, a professor of finance at the University of Chicago opines that there is little the Fed
can do
to prevent a double-dip recession: "People keep acting as if Ben Bernanke has a few more magic tricks up his sleeve ... in my mind the Fed really has very little ammunition left; it's basically fired most of the bullets it had." As for the world's second-largest economy, while the oft-feared hard landing seems unlikely in the near term, exports and service sector growth seem to be running out of steam.
Without addressing the global economics debate, one can still ask how the bulls and the contrarians might proceed in such a pessimistic environment. It would follow that a good investment would be a company that would stand to benefit greatly from an improved global economy and one that is big enough to weather the storm in the immediate future. I believe that Samsung Electronics (
OTC:SSNLF
), the largest technology firm in the world by revenue, is a prime example of such a company. A global conglomerate, Samsung is well-diversified across the fields of telecommunications, Semiconductors and memory devices, LCD Display and Digital Media and Appliances. While demand for LCD-panel TV's has dropped precipitously, leaving a key element of Samsung's business in free fall, revenue growth over the past 4 years has nonetheless averaged 15.44% and has never dipped below 12%. Furthermore, market share in televisions remains upwards of 20%, so any rise in demand would lead to high growth potential. Similarly, The company has maintained a 40% market share in the Dynamic Random Access Memory (DRAM) market and a similar portion of the fast-growing Advanced Processors sector. Memory and Processors are the bread and butter of Samsung's business, consistently producing quarterly operating margins of 20 and 30% over the last two years. Despite the global slowdown in growth, or perhaps because of it, smartphone demand has consistently increased. Samsung has seen extremely high growth in this sector, with over 500% growth year/year in Q2, overtaking Nokia (NYSE:
NOK
) to become the second biggest mobile phone company in the world. While concerns remain over Germany's decision to ban Samsung's new Galaxy Tablet device, the decision will not affect other EU countries and similar legislation would be slow to take hold in other markets.
The strength and credibility of Samsung's ongoing sales presence was reinforced when Swedish-based Modern Times Group (
OTCPK:MDTMY
) announced a strategic cooperation with Samsung, based on cross-platform integration of services, and saw its shares spike 3.1% on the news on August 31st. This was just one week after Universal Display (NASDAQ:
PANL
) saw an 85% surge in share price after announcing a deal with Samsung to sell proprietary materials and license patents.
The chart below tracks the change in operating margin percentage for the four main sectors of Samsung's business over the last 4 years. As demand has slowed, operating margins in LCD Display and Digital Media/Appliances have suffered. The memory/semiconductor business has been losing steam though it has remained quite profitable, while the surging mobile phone business has risen from the ashes to offset revenue decreases in other sectors:
(Click charts to enlarge)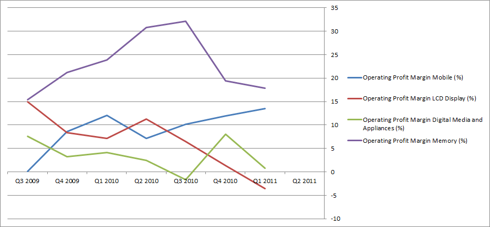 Therefore, it is particularly impressive that the company's return on assets and return on equity did not deviate significantly from their 5 Year averages of 13.1% and 9.65% respectively. At a P/E of 7.28, it is hard to argue the company is overvalued in spite of a general decline in share prices since the beginning of the year. Furthermore, the minuscule .01 long term debt-to-equity ratio demonstrates good fiscal health.
While much analysis of Samsung's stock performance has linked it directly to the KOSPI, a sensible approach since it does not trade on the major American or European exchanges, a chart of the stock prices shows a reasonable correlation to the Dow Jones Industrial, with greater volatility: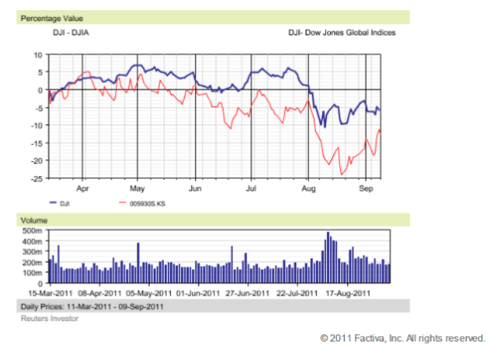 As such, those with confidence in the long-term abilities of the markets would be leveraging their faith in Samsung equity, while those betting on the markets to tank could hedge efficiently.
Disclosure: I have no positions in any stocks mentioned, and no plans to initiate any positions within the next 72 hours.