"The Responsible Business: Reimagining Sustainability & Success," by Carol Sanford, Jossey Bass 2011, is a deeper, more satisfying look at business from the inside by a seasoned management consultant.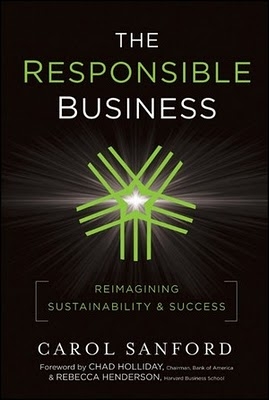 Sanford's methods are holistic and based on systems thinking, unusual for most companies striving to please Wall Street analysts. Sanford's recounting of her daunting work within large corporations, including DuPont (DD), Procter and Gamble (NYSE:PG), and Clorox (NYSE:CLX), shows that significant change, even at the division level of such companies can take decades. These case studies show that reforming capitalism and steering such behemoths in more socially and environmentally responsible directions may take more time than needed by a polluted, environmentally stressed, warming planet.
Sanford's exemplary efforts often assume that capital markets can be reformed – even after their catastrophic role in creating the havoc and recessions since 2008. Sanford exhorts investors to become part of a company's "pentad" of stakeholders – working for win-win results with management, customers, co-creators and communities. My own bleaker view is that global finance is still operating as a casino with investors losing ground daily to high-frequency traders. Today's financiers are still guided by obsolete financial models – of Modern Portfolio Theory, "efficient markets," all driven, as are most business models, by externalizing costs.
I applaud Carol Sanford's ethical, deeply motivated work, trying to align corporate management and activities within frameworks of responsibility to people, communities and ecosystems. Yet, corporations are still puppets of finance, and until financial markets are tamed and downsized, it is hard to see how the reforms Sanford advocates can survive the current making-money-out-of-money, off-shoring of finance and banking in the tax-havens described in Treasure Islands.
When Sanford describes her work with Seventh Generation, Cleveland's Evergreen Cooperatives and the Noisette Company, and other local green businesses, her work is easiest, and she acknowledges learning from such companies and deeply-conscientious leaders such as Seventh Generation's Jeffrey Hollender. But, it is instructive that after taking his company public, Hollender said the Wall Street approach was like "making a bargain with the devil." Hollender and his close-knit group of investors took the company private.
As a retail investor, I have joined the hordes now fleeing Wall Street. We find local and regional companies within our private liquidity networks. We warn them against going public, where they will be hurt by short-sellers, particularly those who prowl the OTC market. We advise them to stay away from traditional venture capital and come back to our groups for second round financing through firms like Entrex, RSF Finance, SJF Ventures, Centerpoint Investment Strategies and the many new green and community banks like New Resource Bank, First Green Bank of Florida and Ojai Community Bank.

Re-localization is the new watchword in Europe, the USA, and leading to state banking's revival, based on the successful Bank of North Dakota and the work of the Public Banking Institute. Local currencies, like "berkshares" in Massachusetts, and in many towns in Brazil, are flourishing. Such a complementary Greek currency is proposed to clear domestic markets and allow Greece to stay in the euro-zone. As one who still teaches at Schumacher College in Britain, the message of E. F. Schumacher, after whom the college is named is still true: Small Is Beautiful.

Disclosure: I am long OTCQX:OJCB. I am an investor in the Noisette Navy Yard project. I am on the advisory board of the Public Banking Institute and was on that of the Schumacher Society (now the New Economics Institute) which instituted "berkshares." I invest with Centerpoint Investment Strategies.