Nuance Communications (NUAN) is a voice recognition software company that seems to be at the right place at the right time and has a price momentum that is at a turning point. Phones, tablets, PCs, laptops and even automobiles are all beginning to use voice recognition software, and this industry is growing. A look at this Barchart of hourly trading activity over the last month shows promise: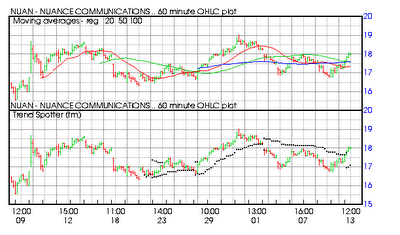 Nuance Communications, Inc.(NASDAQ:NUAN) provides voice and language solutions for businesses and consumers worldwide. It offers dictation and transcription solutions and services that automate the input and management of medical information; and speech recognition solutions for radiology, cardiology, pathology and related specialties that help healthcare providers dictate, edit and sign reports without manual transcription.
The company also provides mobile and consumer solutions and services comprising an integrated suite of voice control and text-to-speech solutions, dictation applications, predictive text technologies, mobile messaging services and dictation services for manufacturers and suppliers of mobile phones, automotive products, personal navigation devices, computers and other consumer electronics.
In addition, it offers customer service business intelligence and authentication solutions for companies in the telecommunications, financial services, travel, entertainment and government sectors to support, understand and communicate with their customers.
Further, the company provides PDF and document imaging solutions to reduce the costs associated with paper documents through the use of scanning, document management and electronic document routing solutions. Nuance Communications, Inc. markets and distributes its products through a global network of resellers, including system integrators, independent software vendors, value-added resellers, hardware vendors, telecommunications carriers and distributors, and it sells directly through a sales force and its e-commerce Website. The company was formerly known as ScanSoft, Inc. and changed its name to Nuance Communications, Inc. in November 2005. Nuance Communications, Inc. was founded in 1992 and is headquartered in Burlington, Massachusetts. (Yahoo Finance profile)
Factors to consider:
Barchart technical indicators:
Although many technical indicators are still on a sell signal, sell signals are getting weaker and buy signals are strengthening
56% Barchart technical sell signal - weakening
Trend Spotter sell signal - weakening
Above its 20 day moving average but still below its 50 and 100 day moving averages
Relative Strength Signal is 50.27 and rising
Barchart computes a technical support level at 17.44
Recently traded at 18.02 which is below its 50 day moving average of 19.10
Brokerage analysts look for sales to increase by 15.50% this year and another 15.10% next year
Earnings forecasts are a robust increase of 12.60% this year, 17.20% next year and an annual increase of 13.00% over the next 5 years
I like double digit increases in sales and earnings and so do the Wall Street brokerage analysts with 8 strong buy, 8 buy and 2 hold recommendations published. There is a sell recommendation out there that seems to be based on a short sell ideas more because of a weak market than on poor company outlook
General investor interest:
Based on the readership of Motley Fool, this is a widely followed stock with over 5,600 readers having the stock on their watch lists
Those readers voted 96% that the stock will beat the market
The more experienced and savvy All Stars agree with a 97% vote for the same result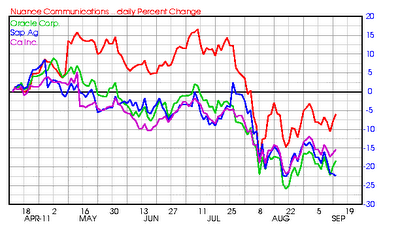 Overall, this has been a very good year for the software industry, and the 1 year price momentum leaders have been Majesco Entertainment (NASDAQ:COOL) 300%, Acceler8 Tech (AXK) 242%, Cimatron (NASDAQ:CIMT) 151% and Simulation Plus (NASDAQ:SLP) 110%: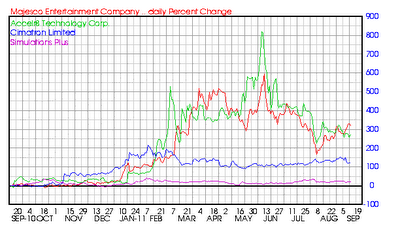 Summary: Nuanace Communication (NUAN) is at the center of the voice communication and voice recognition software industry. We've seen computer go from numbers to words and now to voice/verbal input. I think this is a very timely buy, and predict that an acquisition of this stock at the current price could see an annual total return of 14% to 16% to lucky investors.
Disclosure: I have no positions in any stocks mentioned, and no plans to initiate any positions within the next 72 hours.