Value Investors often avoid the technology sector due to the rapid pace of technological change, and the accompanying disruptive nature of new technologies that can erode a company's competitive advantage. On the subject of technology stocks, Buffett commented at the 1998 Berkshire Hathaway (NYSE:BRK.A) Annual Shareholders Meeting:
I don't want to play in a game where the other guy has an advantage. I could spend all my time thinking about technology for the next year and still not be the 100th, 1,000th or even the 10,000th smartest guy in the country in analyzing those businesses. In effect, that's a 7- or 8-foot bar that I can't clear. There are people who can, but I can't.
Buffett's reluctance stems from the violation of one of his four filters, the "circle of competence."
As a practitioner of value investing, I have also been reluctant to invest in tech stocks, preferring other sectors that offer more stability. But given the recent valuations of technology stocks such as Microsoft (NASDAQ:MSFT), Cisco (NASDAQ:CSCO), Hewlitt-Packard (NYSE:HPQ), and Apple (NASDAQ:AAPL), this sector has been too attractive to ignore, and our analyst team therefore took a deep dive into these companies to bring them within our circle of competence.
Here I report on our stock research and stock valuation for Apple.
Review of the Company, Business Economics, and SWOT Analysis
Apple Inc. has built one of the strongest brand names is the tech industry by building structurally and functionally superior products and marketing them well. Apple derives its competitive advantage from its innovative R&D platform, seamless integration of technology across products, economies of scale, and efficient operational and financial management. Apple's large financial resources also allow large outlays for its aggressive advertising and marketing, campaigns, which remains one of the key areas of focus for its growth strategy. Advertising expenditures increased by 37.9% to $0.7 billion in FY 2010.
The company operates in a number of industry segments with varying levels of competition and barriers to entry. The market for computers (laptops and desktops) is highly fragmented and has low entry barriers, primarily due to the availability of low-cost components. The smart phone segment imposes high deterrents that include licensing and infrastructural requirements, including strategic partnerships with telecommunications companies.
The market for MP3 music players has high barriers to entry due to the requirements of large expenditure on advertising and marketing, distribution networks and channel partnerships, product differentiation through innovation, and continuous product development. In addition, the dominance of the pre-existing brand names makes it difficult for new companies to create a market for their products.
The tablet computer market, so far, has had lower entry barriers due to the availability of open-source operating systems, particularly Android, offering an easy platform for the development of the software required to operate these devices. However, Apple's entry with the iPad in 2010 has proven to be a game-changer. iPad's technology, branding, and distribution are imposing high entry barriers for the new players. Apple's revenues from iPad was slightly less than $5 billion in FY 2010, contributing 7.6% of its top line.
In the year of its introduction, iPad accounted for over 83% of total tablet computers shipments. Though the numbers are stabilizing after the initial euphoria, Apple is still expected to retain its dominance with almost 70-80% of the market share in the current year. The introduction of iPad 2 in March 2011 further boosted sales for the company. Apple's supply of 4.7 million iPads in the last reported quarter could not keep pace with the heavy demand fueled by its marketing efforts and technical superiority.
The latest iPad is one-third thinner than its predecessor, controlled by a Multi-Touch display, fast processor, faster internet access, battery life of over 10 hours, and has several other distinctive features. To consolidate its position, Apple is also quickly tapping in the opportunity by ramping up its international distribution. The device is already in distribution across 59 countries.
The key competitor of iOS is the open-source Android platform, which is used by different manufacturers of mobile devices to create their own operating systems and applications. On the other hand, Apple's iOS comes from a single manufacturer with an integrated platform that promotes common understanding about its functionalities and, consequently, greater user acceptance. This ensures a durable competitive advantage for Apple that benefits all of its handheld products. The iOS platform has already exceeded Android by 59% across all devices.
Apple is also slowly opening up its policies to encourage third-party developers to create iOS-based applications, and the number of such applications has exceeded the number of Android-based software. Apple is enhancing its App Store for the purchase of these third-party applications from any Mac or Windows PC. The App Store is also integrated with the iPhone, iPad, and iPod.
In the MP3 music players market, Apple's iPod holds over 70% of the market share. Similar to its other product lines, Apple leads in this segment due to its elegant design (aesthetics, weight, and strength), features, and ease of use. The company is focusing on continuous development of its offerings, coming up with some innovative features, such as Retina display, FaceTime video calling, high-definition video recording, Game Center, and Multi-touch interface. The newer versions, such as iPod touch, also come with the much-awaited feature to download music directly from the iTunes Store. The popularity of iTunes, as indicated by its revenue trends, has been picking up fast, and it is likely to contribute a portion of iPod sales going forward. Apple's monopoly in this segment is not likely to be challenged in the near future.
Apple's iPhone has been a phenomenal success, growing 113% y-o-y in the last quarter against an overall growth of 74% in the smart phone market. Apart from focusing on the product features, Apple is also concentrating on forging strategic alliances with the telecom service providers across geographies, the latest additions being Verizon in the U.S., SK Telecom in Korea, and Saudi Telecom in Saudi Arabia. Apple is also paying attention to the Asia-Pacific region that grew by 159.7% and 163% in FY 2010 and first half of FY 2011, respectively. The growth was primarily driven by higher iPhone demand with an immense potential for further growth. Apart from partnerships with cellular operators, the company is also increasing its presence in the region through new retail stores and direct sales channels.
The sale of Macs grew by 28% y-o-y in the second quarter Fiscal 2011, against an overall PC market contraction of 3%, indicating the 20th straight quarter where Apple outperformed the markets on the back of MacBook Air and MacBook Pro. MacBooks are increasing their footprints among professional and educational users and Apple is capitalizing on its research efforts geared towards regular updates and improvements in this segment. Apple is also acknowledging the need for efficient and prolific distribution system to promote sales across all the segments.
Retail revenues increased by 47.2% in FY 2010 and 92.6% during the first half of the current fiscal year. These retail stores serve as a point of direct contact with the customers, ensuring more personalized experience for the buyers, better product demonstration, and efficient after-sales services. The company has also started the Personal Setup program, where the sales teams help the customers to personalize their purchased devices. It further plans to open 40 new stores in the current year.
Historically, a prohibitive pricing structure has been Apple's weak point. However, the growing popularity of its products is an indicator of changing consumer preferences from product pricing to product features and dependability. This indicates a positive long-term trend that will help Apple in widening its economic moat.
Strengths
Brand recognition and efficient marketing
Reputation for high-end and technologically superior products
Diverse offerings that can be seamlessly integrated using the Mac OS platform, iOS, and other proprietary software
Strong focus on research and innovation
Brand loyalty and snob-appeal associated with Apple products
Weaknesses
Prohibitive cost of products, deterring wider acceptance
Unsatisfactory corporate governance and shareholder unrest
Restrictive policies that discourage the development of compatible hardware and software by external sources
Concentration in supply sources
Single distribution channel (App Store) for the software used in mobile devices, such as iPod, iPhone, and iPad
Opportunities
Increasing acceptance of products, especially handheld devices
Growth in the mobile devices market
Expanding demand for online transactions related to digital content (iTunes Store, App Store, and iBookstore)
Opportunities for growth in educational services
Increasing footprint in the emerging markets
Threats
Intense competition from Windows PCs (Dell, HP, Sony etc.), Android-based devices, and others
Fast changing technology
Excessive dependence upon external suppliers for components and digital content
More external developers focusing on Windows-based software and hardware
Key Growth and Profitability Metrics
Apple's revenues have shown a double-digit growth rate over the last decade with acceleration in the later years. Since FY 2004, the y-o-y growth rates have been in 30s, except for the peak of 68.3% in FY 2005 and lean rate of 24.3% in FY 2007. Revenues took a giant leap in the last fiscal year with a 52.0% increase over the previous year. Average EPS growth over the last 10 years has mirrored the revenue trend. The highest growth was recorded in FY 2004 and FY 2005 in the low-triple-digits. The growth rates reached close to the pre-recession levels in the last two fiscal years, with 69.4% and 66.9% in FY 2009 and FY 2010, respectively. Long-term growth in book value per share has been in mid 20s, with significant improvement in the later years, increasing by 48.4% to 51.7 in FY 2010.
Average margins have registered an increasing growth trend over the last 10 years. ROIC and ROA remained in the high-double-digits, while ROE has been in high 20s in the later years. Average net margin growth has been on an uptrend, with highest y-o-y growth of 21.1% in the last fiscal year. As indicated by the table, free cash flows have been rather unstable, and therefore our valuation model employs normalized FCF as the opening figure in the forecast period.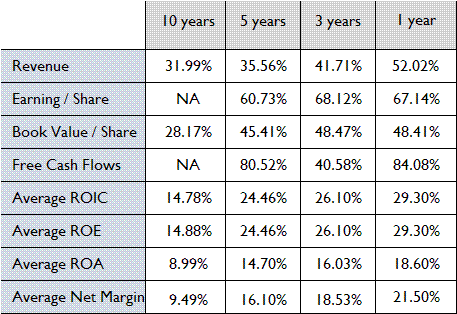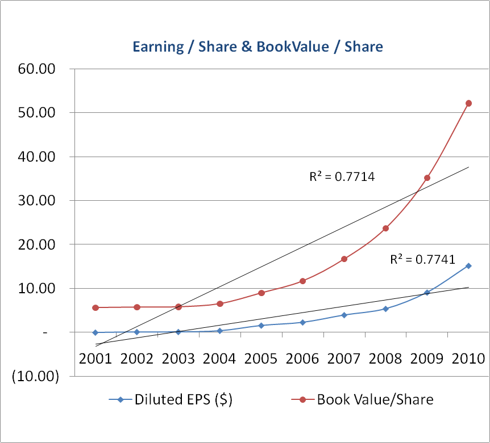 Balance Sheet Data and Financial Health
Apple's financial strength is indicated by its zero-debt position, while the industry average debt-equity ratio is 0.4. The company's cash and cash equivalents and marketable securities were $29.2 billion at the end of second-quarter fiscal 2011 as compared to $25.6 billion at the end of FY 2010. Apple has a consistently maintained healthy current and quick ratios over the last decade and has performed better than the market average in terms of liquidity management. At the end of the last reported quarter, the current ratio was 1.93 and quick ratio was 1.89, while the industry averages were 1.48 and 1.15, respectively. Reading the two ratios together, it is clear that Apple has better inventory management than its competitors.
The company primarily depends upon its cash and investments. Apart from its liquid assets, Apple Inc. had long-term marketable securities of $36.5 billion on March 26, 2011 and $25.4 billion on September 25, 2010. In FY 2010, the operating cash flows and free cash flows registered 83.04% and 84.03% growth y-o-y, respectively. Free cash flows grew by 89.7% to $14.2 billion y-o-y in the latest quarter. The growth was 63.4% over the previous quarter. Net cash inflow in the second quarter Fiscal 2011 stood at $4.7 billion against net outflow of $0.5 billion in the previous quarter. The purchase of investments ($42.2 billion) was more than offset by the operating cash flow ($15.9 billion) and maturities of investment ($31.9 billion) in last reported quarter. The net outflow in fourth-quarter fiscal 2010 was driven primarily by the purchase of investments of $19.6 billion.
Management Efficiency
Over the long term, the receivables turnover ratio has been almost double that of the industry averages in the range of mid-double-digits. The TTM ratio has reached higher than the pre-recession levels at 21.1. Apple has been an outperformer in terms of inventory management, with current turnover ratio of 65.9 against an average of 13.8 for its peers. After a slight deterioration during the recession, the fixed-asset turnover ratio is back to the previous levels, at 18.7 in the last twelve months. Days of sales outstanding has shown improvement over the last decade, from low 30s to low 20s. The TTM ratio is 17.4 as compared to 24.8 in FY 2010.


Co-founder Steve Jobs recently resigned from his position as CEO of Apple Inc. He was also the co-founder and CEO of Pixar Animation Studios until 2006. He has been named as chairman of the board of directors. Former COO Tim Cook will become CEO. An M.B.A. and a bachelor's of science (industrial engineering) from Auburn University, Cook earlier served as the vice president of corporate materials at Compaq and director of North American fulfillment (manufacturing and distribution functions of IBM's personal computer company) at IBM.
Senior VP and CFO Peter Oppenheimer is an M.B.A. from the University of Santa Clara and holds a bachelor's from California Polytechnic University. Before joining Apple in 1996, Oppenheimer was the CFO of one of the four strategic business units of Automatic Data Processing (NASDAQ:ADP). Earlier he was in the information technology consulting practice (management of financial and systems engagement for clients) with Coopers and Lybrand.
To fuel its future growth, Apple Inc. is currently retaining its earnings in the business. Over the last five years, the company has not paid any dividends. In the previous two fiscal years, it did not make any share repurchases. Over a period of three years, from FY 2006 through FY 2008, Apple repurchased shares for $482 million. Considering the company's higher than industry average return on equity, the management's policy of keeping the profits invested the business appears justified. Ironically, the liberal executive compensation policies of Apple have drawn a lot of criticism, including two motions by the shareholders seeking more transparency in the system. While, as CEO, Steve Jobs drew a $1 as annual salary, he holds more than 5.5 million shares of the Apple stock, acquired through stock-based compensation plan. Similarly, other executives have received generous compensation, including discretionary bonus payouts in the past. In FY 2010, Apple's top line grew by 52.0%, while the executive compensation increased by 380.9%, raising concerns over its corporate governance.
Valuation Models
Earnings Power Value: The current EPV for Apple is $306.00. This model is based upon the current earnings and assumes zero future growth, implying that the market is assigning positive expectations on the future growth potential of the company, but not the mid-teens growth that we forecast. The model assumes that the company could maintain its current earnings with 75% of its current SGA, R&D, and capital expenditures and a cost of capital of 10%.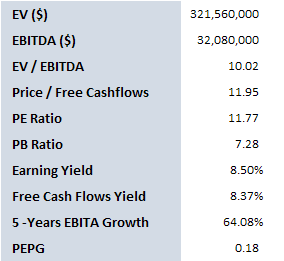 Discussion of Table: At the current PE multiple of 15x, Apple Inc. is trading above the industry average of 13.5x. The multiple is in line with the falling trend, from the peak levels of 250.2x in FY 2002 to low 20s in the last two years. The forward multiple of 11.8x puts Apple more in line with the industry trends. From a value investing lens, the price-to-book ratio of 7.3x is high, also when compared to the industry average of 4.6. Historically, the ratio peaked to 10.3 in FY 2007 and stood at 6.2 in FY 2010. Apple is modestly attractive at its current EV/EBITDA multiple of 9.4x.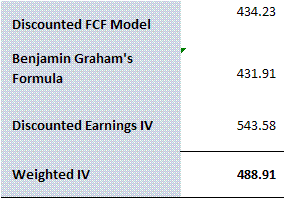 Discussion of Table: At $380, Apple is trading at 23% less than its weighted average intrinsic value of $489. The current stock price is higher than its current EPV, so value investors who refuse to pay for growth will not have a sufficient margin of safety at current price levels.
What's a Value Investor To Do?
For this best of breed company that has secured a durable competitive advantage in a competitive and rapidly changing tech industry, we recommend a margin of safety of 40%, which puts the target acquisition price for Apple at $293, slightly higher than its EPV. Using the EPV model, we would consider slowly accumulating at its EPV of $306 and using Apple's growth as its margin of safety.
Disclosure: I am long MSFT, HPQ, CSCO.