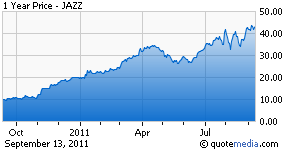 Big pharmaceutical companies are reinventing themselves as nimble players, targeting the pricing power and higher margins associated with niche treatments. This is in homage to smaller players, like Jazz Pharmaceuticals (NASDAQ:JAZZ), which is demonstrating just how much pricing power exists in small markets. For Jazz, the challenge isn't gaining pricing power and margin growth, it's using current growth to build a pipeline beyond its two drugs.
Currently, the company's two drugs are Xyrem for cataplexy suffering narcolepsy and Luvox CR for obsessive-compulsive disorder. The market for narcolepsy with cataplexy, for which Xyrem is the only approved treatment, affects just 0.2% of the global population. The market for Luvox CR for OCD comprises about 1% of U.S. adults.
While neither distinct market is large, revenue from both drugs is climbing nicely.
Last quarter, company-wide net sales rose to $63.5 million, up from $40.5 million last year. And profits increased to $33.2 million, compared to a loss last year. The strength prompted Jazz to boost 2011 full year guidance to $247-$260 million in sales, up from $170 million last year. Xyrem is expected to account for $215-$225 million of 2011 sales, with the remaining $32-$35 million coming from Luvox CR. At earnings per share of $3.15-3.25, Jazz shares are trading at 12.3 times multiple.
In 2012, analysts expect another 31% jump in earnings to $4.41, which means shareholders are valuing the stock at only 9.3 times its earnings potential - the low end of its 5-year PE range.
Can Jazz Overcome The GHB Headwind?
The lion's share of quarterly revenue, some 88%, came from Xyrem oral solution. Xyrem is sodium oxybate, which not only offers relief to many patients suffering from debilitating narcolepsy, but also has the reputation of being known as the drug GHB. While such an association would sink many brands, the challenging nature of narcolepsy with cataplexy, and the lack of alternative treatments, has kept sales of Xyrem climbing.
In the most recent quarter, Xyrem sales were up 67% to $56.2 million; despite its class 1 controlled status. And while Xyrem volume did climb 11.6% in the first six months versus last year, revenue growth overwhelmingly came from price increases last fall and this past spring. The pricing power of Xyrem has been so strong. Jazz has been able to boost prices by 220% since 2008, to $30,000 a year.
The GHB headwind, however, drags on Xyrem's potential growth. The FDA overwhelmingly rejected
Xyrem as a pain treatment for fibromyalgia patients last October. The FDA argued approving Xyrem as a treatment for fibromyalgia, which affects five million people, would significantly increase prescriptions and the risk of abuse. The only bright spot was the FDA agreeing with Jazz that Xyrem
helped alleviate pain in patients. Given 50% of patients enduring pain fail to show improvement on the three drugs currently approved for treatment, there could be continued off-label growth.
What About Luvox CR ... Can Jazz Carve Out A Market Niche In OCD?
There is no shortage of SSRI antidepressant options, including the well known Prozac, Paxil and Zoloft brands. In order to gain market share, brands like Luvox CR are attempting to differentiate themselves as leaders for particular indications. Used to treat depression, social anxiety and other personality disorders, SSRI's are among the most widely prescribed drugs in the world. But with market share opportunity comes substantial competition and risk.
Solvay Pharmaceuticals, which was acquired by Abbott Labs (NYSE:ABT), gained first-to-market advantages with FDA approval of Luvox back in 1993. Over the next two years, some 10 million patients were being treated with Luvox. However, the drug lost its luster in 1999, when Columbine shooter Eric Harris was reported as a Luvox patient. The backlash, and increasing competition, led Solvay to remove Luvox from the U.S. market in 2002. In February 2008, the controlled release version, developed with Elan (NYSE:ELN), was reintroduced to the U.S. by Jazz , which in 2007 had inked an agreement for U.S. marketing and distribution rights. From April 2008 through year-end, Luvox CR generated $5.7 million in sales for Jazz. In 2009, sales of Luvox CR had climbed to $18.3 million. And, last quarter, sales of Luvox CR climbed 25% year-over-year to $7.3 million. While the drug faces an uphill struggle to gain scale against larger rivals, Jazz still benefits from solid double-digit growth.
Is Jazz Running On Borrowed Time?
Sales growth from Xyrem, and to a lessor extent, Luvox CR, is being leveraged against cost controls for cash flow growth. The company's SG&A climbed only $400,000 in the quarter from last year, which helped cost of sales fall to 5% from 8% over the first six months versus 2010. The extra cash allowed Jazz to pay off its remaining $33.2 million in long-term debt while growing its cash and equivalents to $102 million, up from $45 million ending 2010.
A solid balance sheet gives Jazz flexibility for pipeline growth, either organically or through acquisition. It also gives the company resources to protect patents, particularly given generic manufacturers have already filed patent challenges on both drugs. Xyrem, however, has orphan drug protection until November 2012 and patents covering the drug date
from 2019 through 2024. Similarly, Elan's Luvox CR patents expire in 2020.
Jazz's success, therefore, comes despite significant hurdles, including tight regulation of Xyrem, which limits marketing and mandates sole source distribution.
The big question facing Jazz won't be whether it can grow sales and profits over the next couple years, it's whether Jazz can use the significant cash flow it's generating over the next two years to develop or buy a drug pipeline. If it can, then Jazz becomes very attractively priced against rising 2012 Street earnings estimates.
Disclosure: I have no positions in any stocks mentioned, but may initiate a long position in JAZZ over the next 72 hours.