Lately the dollar has been making strong gains against other currencies, especially the euro.
By many counts that is not such a good thing. Clearly one reason for the gains have been the total disarray within the euro zone. But there are other reasons – ones that transcend the European tendency to not root for a strong dollar.
There are strong reasons to doubt American policymakers when they argue that they support a strong dollar. Our take is that whether the dollar remains strong or weakens – which it will do if the Fed starts the printing presses rolling and Europe gets its act together, both of which are likely on a temporary basis once a Greek default is out of the way – the result will be that gold prices will continue to rise. Yes, we think we are now in a world in which whatever direction the dollar takes, gold prices will continue to rise.
If we had to pick a couple of charts to sum up the economic world since 2008 the two below would be top candidates (click on each to enlarge). One is a chart showing how the S&P 500 has performed relative to the euro; the other illustrates the S&P's performance against a large basket of currencies, including the euro.
They both tell the same story: when the dollar rises, the S&P falls – and vice versa. At first, that does not make a whole lot of sense. After all, shouldn't a strong dollar be good for the country, good for stocks, and altogether be an overall sign of economic strength? Indeed, a quick look at post-war history points to the dollar crises of 1978, 1979 and 1987 among others, in which a falling dollar triggered tremendous financial turbulence.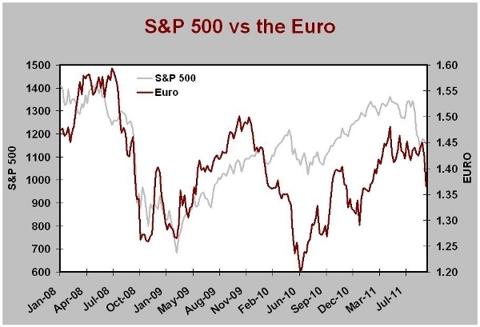 Things have now almost come full circle. In today's world, a falling dollar is a sign that investors are willing to take risks, with bets on stocks being a symptom of that risk- taking. Commodities and lower-rated bonds also do well when the buck drops. By contrast, when the dollar rises it is a sign of fear and stocks fall and bonds rise. Ironically, even when Standard & Poor's lowered the sovereign debt rating of America in early August, the dollar rose. Why? Because the ratings agency's action further increased fears in the market place.
While the dollar's safe-harbor status in financial storms may be somewhat reassuring to Americans – especially in light of the recent political turmoil – there is a very thin line to cross before you have too much of a good thing. Note first that, while the dollar has become a haven in financial storms, it still serves that role poorly compared to gold. Moreover and more importantly, there are reasons to suggest that even if the dollar does continue to get a bid in times of financial stress, there will come a time in which a rising dollar will itself be viewed as a very risky development. America right now is in desperate need of finding avenues for growth. Stoking consumer spending can only get us so far, especially given high gas prices and the still heavy leverage on consumers' balance sheets.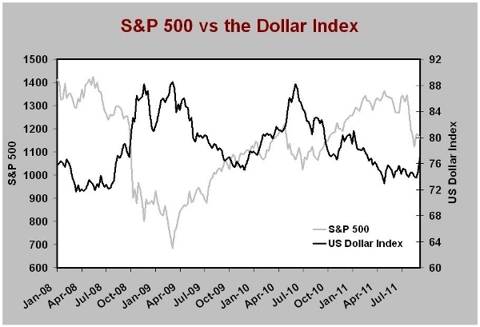 The U.S., in other words, needs to create new industries – industries that develop new products that can be exported, to build up U.S. manufacturing output which has declined by 50 percent in the past 50 years. Consumer spending is no longer a path to sustained growth. And in order to create an export-oriented economy, one that would catalyze new industries, a weak dollar is vital.
Martin Feldstein, the former chief economic advisor to President Reagan, has argued the necessity of a weak dollar (or more precisely, why current conditions virtually guarantee a weak dollar). Part of his reasoning is that without a weak dollar the economy will stagnate, which in itself will lead to a weak dollar. The implication is that if, despite a stagnating economy the dollar remains relatively strong, we are going to have very serious problems – which could involve political turmoil and social unrest in addition to the obvious economic stresses. It would be an ugly picture. Still, one clear beneficiary of a seriously faltering American economy will be gold.
But a weak dollar will bring its own problems. The biggest one will be inflation. A weak dollar will bring higher inflation not only because it will strengthen our demand for commodities, but also because commodities are priced in dollars, which means that if there is a balance between supply and demand for commodities, prices of commodities in dollar terms will rise. And then there's the potential for a vicious circle, in which a weak dollar leads to higher commodity prices, which in turn will require the printing of more dollars to pay those higher prices.
The bottom line is that for the time being, it seems that all roads lead to commodities, and most have shortcuts to precious metals and especially gold. In other words, whether the dollar is weak or strong, rising gold prices will continue to be the consequence.
Which gold investments to consider? The recent correction in gold and the sharp correction in selected gold stocks points to several exceptional opportunities. NovaGold Resources (NYSEMKT:NG) has been very hard hit since announcing that its capital expenditures on its Donlin Creek project will rise from $4.5 billion to $6 billion.
The original figure was from a 2009 study and the increase is in line with the general trend in capital budgets among mining companies. It appears that investors reacted to the recent Barrick Gold (NYSE:ABX) meeting in which the company highlighted several U.S. discoveries and also noted that they planned to increase dividends. Evidently these headlines convinced some investors that Barrick was not going to focus on Donlin (Barrick owns half of the project). But the entire Barrick statement suggested something completely different.
Indeed, Barrick emphasized a litany of positives about Donlin, including a more than doubling of its mineral endowment, its long life expectancy and its potential to produce over a million ounces of gold a year. Also true is that since the last study on capital expenditures gold has more than doubled in price.
In addition to Donlin, NovaGold also has two other major projects, including a copper, gold and silver project called Galore Creek, located in British Columbia. Here the partner is Teck Resources, and the potential, according to a pre-feasibility study of proven and probable reserves, amounts to 6.2 billion pounds of copper, 4 million ounces of gold and over 65 million ounces of silver. And because Galore Creek will be an open pit mine, the mining cost will be quite low.
NovaGold as well as other gold plays, including juniors – e.g., Market Vectors Gold Miners ETF (NYSEARCA:GDX), Market Vectors Junior Gold Miners ETF (GDXJ) and the SPDR Gold Trust ETF (NYSEARCA:GLD), which all remain strong recommendations – could suffer from overall liquidity concerns affecting the entire market. This means that these stocks could fall further. But one lesson from temporary liquidity events is that the upside is tremendous. Our recommendation is to buy now and save powder on the sidelines to add aggressively to positions.

Disclosure: I have no positions in any stocks mentioned, and no plans to initiate any positions within the next 72 hours.