Although European events continue to dominate the financial headlines, American concerns are never too far removed from the front pages as the U.S. economy continues to sputter. Recent readings in the ISM index suggest that the economy is slowing down and may be approaching contraction levels by some measures, while the release of the Fed's Beige Book gave investors little hope for the near term. Furthermore, the employment situation remains a disaster as not only were no jobs created in August, but the most recent jobless claims figures saw a spike to 414,000 for the previous week.
Thanks to this uncertainty in the jobs market, and the somewhat questionable chances of Obama's job package passing both houses of Congress, more weakness could be seen in the retail corner of the investing world. With that being said, today's release of the August retail sales could help to set the record straight on how the consumer economy has been holding up in these difficult times.
Analysts currently expect growth in retail sales of 0.2% in month over month terms although the range stretches from -0.3% to 0.7%, according to Bloomberg. This does represent a decline from last month's report, which saw 0.5% growth, but a 30 basis point growth level would still be better than both the July and June releases. Some analysts think that sales might be a little lower for this period because of the impact of Hurricane Irene on key markets on the East Coast, but yesterday's release of the ICSC-Goldman same-store sales report saw nice growth and rather solid back-to-school sales directly following the storm. As a result, any decrease that can be attributed to the storm in today's report is likely to see a muted reaction from market participants and could help keep the consumer sector afloat should retail sales plunge for the most recent period [ETF & Sector Rotation: Large Cap, Small Cap, Or International?].
Thanks to this report, investors should look for the Consumer Discretionary Select Sector SPDR (NYSEARCA:XLY) from State Street to remain in focus throughout the day. The fund tracks the broad consumer sector, including companies from the following industries; retail, restaurants, apparel, automobiles, and leisure products. Thanks to this broad swath of exposure, the fund is likely to be a good barometer for market reaction to the data release later today. Furthermore, since the fund is so popular, attracting AUM of close to $2 billion and trading more than 10 million shares a day, it could be a good way for traders to play the release with tight bid-ask spreads [see holdings of XLY here].
So far in 2011, XLY has experienced some weakness, falling by about 4.2% year-to-date and close to 5.2% over the past quarter. The fund had performed much better over the longer time horizons– gaining close to 20% over the past three years– but the extreme weakness in the economy and the lack of job creation has hurt the returns of this product in recent trading. As a result, investors will look for continued strength in the retail sales in order to help push this fund higher while a poor showing will likely cause the fund to continue its recent slide and end Wednesday trading lower [see more charts of XLY here].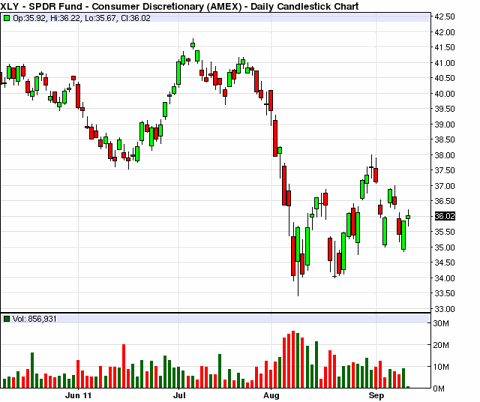 Disclosure: No positions at time of writing.
Disclaimer: ETF Database is not an investment advisor, and any content published by ETF Database does not constitute individual investment advice. The opinions offered herein are not personalized recommendations to buy, sell or hold securities. From time to time, issuers of exchange-traded products mentioned herein may place paid advertisements with ETF Database. All content on ETF Database is produced independently of any advertising relationships.