Luxury goods are toast. If you own a luxury goods company, I would sell it today. If you need a hedge, considering shorting some luxury goods stocks.
During the 2008-09 financial crisis, luxury goods companies' sales, profits and stock prices tanked. During the rebound they have grown dramatically, and many stocks are now above their pre-crisis highs. This situation will not last. I analyzed 7 established companies that sell luxury priced products and concluded that they are very vulnerable right now. The seven are: Estee Lauder (
EL
), Polo Ralph Lauren (
RL
), Tempur-Pedic (
TPX
), Coach (COH), Tiffany & Co (
TIF
), Nordstrom (
JWN
) and Lululemon (
LULU
).
The thesis hinges upon a continuing economic slowdown in the U.S. and Europe. A variety of factors will rein in spending among the wealthy while increasing costs at luxury goods companies:
1) Stock Market Volatility and Decline
The WSJ ran an astute story about
luxury goods sellers
and potential for slowing in demand. The Economist did a roundup of how
market volatility causes economic contractions
. One of the articles referenced by the Economist explicitly predicts a short, sharp recession THIS year. The volatility of 2008-09 was a classic example that these articles are right.
2) The recent renewal in home price declines
Similar to stock declines, there is a wealth effect impact by declining home prices. Given the decline started in 2006, no one knows where the bottom is, so people will assume it is far away.
3) Continued Economic and Political Uncertainty
Republicans vs. Democrats. Tea Party vs. Republican Establishment. Republicans vs. The Fed. Rich EU countries vs. Indebted EU countries. Mideast people vs. Tyrants. Rioting in Greece, England, Israel(!?). Dogs and cats living together - pure anarchy! Our current reality will take some getting used to. People will start to sit on their wallets to see how it will shake out. (Don't get me started on the potential for a hard landing
in Asia in the next few years.)
4) Inevitable Increased Taxes
Higher taxes are coming. The rich have had a great run with low tax rates. In addition to materially higher income taxes, expect higher sales taxes at the state level and eventually a national VAT tax. Every proposal Obama offers includes higher taxes on the rich-- someday soon the Republicans will relent. If not, rates will rise automatically in 2013. The fiscal math just does not go around without higher taxes on the rich. Rich shoppers will begin to factor in their higher future tax burden soon, possibly as early as this Christmas.
5) Higher Input Prices
In addition to headwinds on revenue, costs are rising as well. Over the next few years, these luxury goods companies will have a double whammy of cost inflation. Demand for raw materials has been outpacing supply in the past 5 years -- oil, cotton, gold, silver are all elevated. Wages in the emerging world are growing at the same time that their currencies are rising. The cost advantage of producing overseas is eroding.

Valuations are near peaks
While some parts of the market are inexpensive - even with a recession - companies in the luxury goods sector are priced near their peaks. It is as if the market does not see any chance of declining revenue or earnings. Using six companies (excluding LULU which is relatively new), I created a basket of Luxury Stocks to illustrate their PS and PE trends.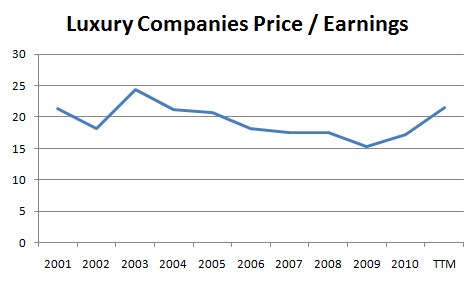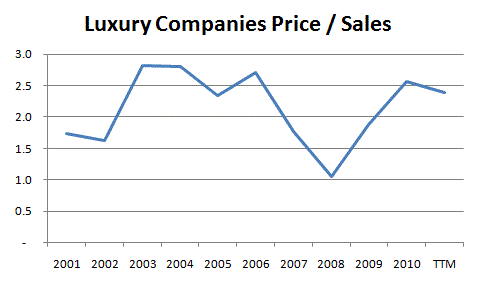 Historical P/E and P/S data from MSN Money.
With sales likely to slip, costs likely to rise and high PE and PS ratios, these luxury stocks
are likely to fall over 30% from current prices
. During the crisis in 2008 and 2009, these companies' earnings fell by an average of 27.5%. In 2009, the P/E ratios averaged 15.3, 29% lower than the current 21.5. Compound these two and stock prices could fall almost 50%. Mind you, 15.3 was the average P/E ratio for the year. In March, 2009 it was significantly lower. A situation akin to 2009 could theoretically bring down prices of this basket by more than 50%. One could perform a similar analysis using the price to sales ratio during the last crisis-- it dropped 61% over two years. Let's hope that the Europe situation resolves itself and all we are faced with is a double dip recession. Even if we only have a mild slowdown, most of these companies are priced well above the past five year PE ratios.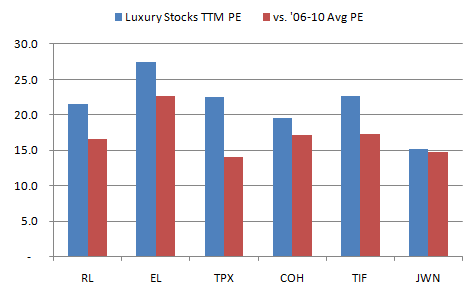 Lululemon - Headwinds, Competition, Fad?
In addition to the six companies in the basket, I will single out Lululemon (
LULU
) for a special shout out. It obviously doesn't have the history of these companies, but its valuation is in nosebleed territory at 52x TTM earnings. In addition to the economic headwinds all these companies face, LULU also faces competition from Gap's (
GPS
) Athleta brand and others. The final unknown for LULU is how much more growth the expensive yoga gear market has -- is it just a long range fad? Regardless, it is certainly priced for perfection.
With all the market uncertainty, it is tempting to ride out your winners. In this case, I would sell EL, RL, TPX, COH, TIF, JWN and LULU and buy something more defensive, or obviously inexpensive. If you have the risk tolerance and knowledge, consider shorting them.
Disclosure: I am short EL, RL, TPX, TIF, LULU.