Electromed reported financial results for the fiscal fourth quarter ending June 30, 2011 on September 12th. For the third straight quarter revenue came in ahead of our estimate, with another strong showing from the Homecare segment. While EPS was $0.01 shy of our number, this was a result of an uptick in R&D spending as ELMD prepares for future growth and a jump in the tax rate (the latter, a one-time event). Meanwhile, both gross margin and SG&A (as % of sales) were nearly dead-on with what we were looking for.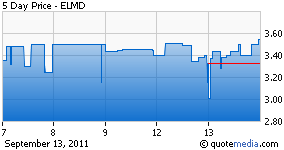 By all accounts Electromed is delivering on its relatively simple plan of growing revenue through increasing the size of its sales force. Revenue grew to $19.0 million in fiscal 2011, up 33% from the $14.3 million posted in 2010. As we outlined when we picked up coverage of ELMD in late 2010, the company is incrementally beefing up the sales force as well as focusing on high quality customer support that is driven by management's genuine interest in improving the quality of life of people that can benefit from HFCWO therapy. These could be significant catalysts to growing revenue over the mid-term. The plan appears to be working and we continue to be big believers in both the SmartVest product as well as management's ability to invest for the future and grow revenues, profits, EPS and cash.
Revenue
Q4 revenue of $4.95 million was up 37% y-o-y (-5% sequentially) and consisted of $4.61 million (+36% y-o-y) from the Homecare segment, $107k (+2% y-o-y) from International and $237k (+101% y-o-y) from Government/Institutional.
Growth in the size of the sales force continues to be the catalyst driving Homecare segment sales - while not specifically mentioned by management, anecdotally we believe ELMD has also been successful in taking share gains against competitors. Electromed currently has 23 sales reps, up significantly from a sales force of only 14 late-2009. Many of these additions were made over the last 6 months and, as we also discussed in our initiation report, it can take two to three quarters to get newly hired reps up to speed and fully productive. As these reps climb the learning curve, their efficiency and productivity should improve - we expect this to be another driver of revenues and margins in fiscal 2012.
Total revenue came in 7% better than our estimate, almost entirely as a result of the beat in the Homecare segment, which accounts for over 90% of ELMD's total revenue.
Gross Margin
Gross margin came in at 72.7% compared to our 72.4% estimate. For the full fiscal year, GM was 72.9%, down from 74.1% in fiscal 2010. We have modeled only very modest improvement in GM in 2012 (to 73.2%), which actually could prove to be somewhat conservative as ELMD could see greater margin benefits as a result of increased sales volumes.
Operating Expenses
SG&A came in at $2.85 million, or 57.5% of sales, compared to our 57.3% ($2.66 million) estimate. We think ELMD could start to see a much more significant improvement in SG&A as a percentage of sales going into 2012 as they begin to realize greater operating leverage from growth in revenue.
R&D expense was $344k in Q4, which was materially higher than our $241k estimate. Management indicated on the call that they have begun to make further investments in product development as they look to the future and implied that the Q4 level of R&D spend may continue throughout 2012. We have made adjustments to our model to account for this.
Net Income / EPS
Net income and EPS were $165k and $0.02, compared to our $253k and $0.03 estimates. The difference, a result of the higher than modeled R&D figure and tax rate of 55% (vs our 40% estimate). Management noted on the call that the relatively high effective tax rate is due to revaluation of investment tax credits - this should not be an ongoing event - we model the tax rate to hover in the 37.5 - 38% range going forward.
Cash
Electromed exited the fiscal year (6/30/11) with $4.09 million in cash and equivalents, compared to $3.95 million at 3/31/11. Cash used in operating activities was $140k in the most recent quarter, but stripping out the increase in working capital (including $361k increase in A/R), operating cash flow was positive $221k. We continue to see no concern with the increase in A/R as long collection times are very typical of the industry and can cause intermittent spikes in A/R (this will especially be the case for a company growing as rapidly as ELMD is). Cash position remains strong and, along with cash from operations and piecemeal draws on the revolver, should provide sufficient flexibility to weather any quarterly variability in working capital needs.
Valuation and Recommendation
We continue to value Electromed using Hill-Rom's (NYSE:HRC) long-term PE/G ratio as a comparable. Hill-Rom's long-term PE/G currently sits at 0.85 (down from 1.64 since our last update as HRC stock price is down about 38% since then). Now that ELMD's fiscal 2011 is complete, we are also now using our 2012 EPS estimate for ELMD (previously using 2011 estimate) for comparative valuation purposes. We also now model out to 2014, instead of just through 2013. We model ELMD to post EPS of $0.43 in 2014, implying four-year CAGR of 35%. Backing this growth rate into the 0.85 PE/G results in a near-term P/E multiple of 30x. We look for ELMD to earn $0.18/share in fiscal 2012 which values the company at approximately $5.50 per share - which leaves our price target unchanged. ELMD currently trades at $3.44/share, implying significant upside in the shares. We are also maintaining our Outperform rating.
Disclosure: I have no positions in any stocks mentioned, and no plans to initiate any positions within the next 72 hours.
Disclosure: I/we have no positions in any stocks mentioned, and no plans to initiate any positions within the next 72 hours.
Business relationship disclosure: I work as a Consultant Analyst for Zacks Investment Research. The article is written by me and is 100% my opinion. I receive compensation from Zacks for writing equity research reports and providing valuation analysis on this company's stock and expect to do so in the future. Zacks receives compensation from the company. Please see the Zacks Disclaimer for further information: http://scr.zacks.com/Disclaimer/default.aspx