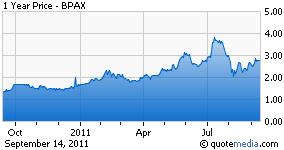 BioSante Pharmaceuticals' (BPAX) successful pharmacokinetic study of its LibiGel (testosterone gel) treatment for female sexual dysfunction, specifically hypoactive sexual desire disorder (HSDD), is adding to the company's overall confidence that its ongoing, long-term safety study also will be favorable, as will its efficacy trials.
"This pharmacokinetic study seems to corroborate our LibiGel safety study, which appears to show the safety of LibiGel versus placebo," CEO Stephen M. Simes says in an exclusive interview with BioTuesdays. "What we're seeing over time, although we remain blinded, is that there does not appear to be safety issues for LibiGel versus placebo in these women. In addition, the blood levels of free testosterone produced in this PK study support the potential efficacy of LibiGel."
An independent Data Monitoring Committee has reviewed the unblinded safety data six times and recommended each time that the study keep going. A seventh review will be conducted in early October.
Yesterday, BioSante said its 63-day pharmacokinetic study indicates that LibiGel delivers free testosterone, bioavailable testosterone and total testosterone to postmenopausal women and brings them to within the normal ranges for younger, premenopausal women.
Pharmacokinetic studies are designed to measure such things as mechanisms of absorption and distribution of an administered drug, the rate at which drug action begins and duration of action, chemical changes of a drug in the body and routes of excretion of a drug.
Mr. Simes says there are several key points in the latest study.
"Testosterone blood levels were similar on days 14, 21, 42 and 63 of the study, indicating there was no testosterone build-up with daily LibiGel treatment," he states. "And whether a woman was taking estrogen therapy or not, there was no estrogen buildup due to the testosterone and no change in estrogen levels due to LibiGel."
The testosterone blood levels produced in the study were very similar to those seen in BioSante's earlier Phase 2 efficacy trial, Mr. Simes said, adding that testosterone levels were very similar to levels reached in transdermal testosterone patch studies, which also demonstrated efficacy in the treatment of HSDD.
In addition to three ongoing pivotal studies of LibiGel, the pharmacokinetic study was conducted as part of the required studies to be submitted in the LibiGel new drug application, which is anticipated by the fourth quarter of 2012. "If we get priority review by the FDA, we could have a potential approval by mid-2013," he figures.
BioSante completed enrollment of more than 500 HSDD women in each of its two Phase 3 efficacy trials in the first quarter this year, with active dosing for the last subject set for this month. The data will then be analyzed and top-line efficacy results released in the final quarter this year.
The safety study, which is measuring rates of cardiovascular events and breast cancer, completed enrollment of 3,656 women on June 2, 2011. At the time of the Data Monitoring Committee review last May, there were only 22 cardiovascular events or a rate of 0.58%, which was lower than anticipated, and reports of only nine cases of breast cancer, or a rate of 0.24%.
The study will continue for a total of five years. However, BioSante will use one-year safety data as part of its new drug submission after the last subject enrolled has completed 12 months of exposure to LibiGel or placebo, suggesting that top-line safety data will be released in the third quarter of 2012. In fact, over 4,500 subject-years of exposure have been accrued to date for a current average of 14.9 months of exposure per subject.
Two months ago, Leerink Swann initiated coverage of BioSante with an "outperform" rating and price target of $6, saying LibiGel has the potential to be the first product approved by the FDA for the treatment of HSDD in menopausal women. The stock closed at $2.75 on Friday.
BioSante's strategy is to develop LibiGel as long as possible on its own to make the product more valuable before partnering in a marketing deal.
Analyst Joseph Schwartz suggests that LibiGel's upcoming efficacy data has been "de-risked by positive Procter & Gamble Intrinsa (testosterone patch) data," following eight successful trials. He figures there is an 80% probability that LibiGel will obtain FDA approval for the surgically postmenopausal HSDD indication and a 70% probability of approval in the HSDD indication in naturally postmenopausal women. Mr. Schwartz writes, "We believe LibiGel addresses a $1.2 billion market opportunity in the U.S."
BioSante had $73.3 million of cash as of Aug. 31, 2011. The company is currently spending about $4 million a month. Mr. Simes predicts the burn rate will drop to $3 million a month toward the end of 2011 and for all of 2012, because the pivotal efficacy trials will be completed. "So, $73.3 million should last us past potential FDA approval of LibiGel," he adds.
"We feel efficacy data will be a good catalyst to get something done, so 2012 is the key year for a partnership," he figures. "On the other hand, because of our finances, we are prepared to go all the way to an NDA and approval, if necessary, to get the best possible deal for our stockholders. I would suspect that something will happen sooner than that, but I wouldn't want to imply that something is about to happen either."
BioSante and its marketing partner, Teva Pharmaceutical Industries (NYSE:TEVA), are expecting a decision on Nov. 14, 2011 from the FDA on a new drug application for their Bio-T-Gel treatment for male testosterone deficiency.
Abbott Laboratories (NYSE:ABT) has sued Teva, claiming patent infringement, but Mr. Simes says Teva purposely changed the formulation of Bio-T-Gel in order not to infringe on the Abbott patents. "In the NDA filing, Teva declared that Bio-T-Gel does not infringe on any other product, and we're hoping to get this dismissed before it becomes an issue."
Still, he declares there is "no downside for BioSante, because if it's delayed, it's delayed. The potential upside is it will be approved by the FDA before the end of the year."
Disclosure: I have no positions in any stocks mentioned, and no plans to initiate any positions within the next 72 hours.