Value investor Mohnish Pabrai has a well know phrase that underlines his investment philosophy when he says he looks for stocks that are 'coin flips'. Ideally he wants a stock that are a 50/50 proposition and will result in a situation where "Heads I win, tails I don't lose much."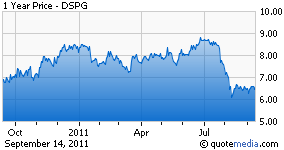 DSP Group (NASDAQ:DSPG) meets this qualification and is a stock that I think has very limited downside and the potential for a nice double digit percentage gain. The downside is supported by a rock solid balance sheet and a very low valuation.
On September 13 the stock closed at $6.47. The company has tangible book value of $6.76 per share and cash and marketable securities of $5.96 per share. I think the cash position is as a potential downside target for the stock. This implies downside of 7.9 percent.
The upside is much more difficult to ascertain because, first, the business is economically sensitive. (The company manufactures electronic components with Sony (NYSE:SNE) and GE being a couple of their customers.) Second, the company may be facing some technology obsolescence issues due to the fact that depreciation has been much more than capital expenditures over the past four years. However, the company has been free cash flow positive for 16 years in a row and management has used a fair amount of cash to buy back stock. (Shares outstanding are down 21 percent since the end of 2007.)
Let's walk through the potential upside for the company. For 2008, 2009 and 2010, the company generated $8.2 mil, $22.1 mil and $18.9 million, respectfully, in free cash flow. This amounts to a three year average of $16.4 million. As of its close on September 13, the company had a market cap of $152 million. As of June 30, the company had $31.1 million of cash and $106 million in marketable securities. If you deduct the cash/securities holdings from the company's market cap, you get an Enterprise Value of $14.9 million. Hence, on an Enterprise Value/Free Cash Flow basis (EV/FCF), you can purchase the company for less than one times the company's three year average free cash flow!
I think a conservative value for this company is an EV/FCF multiple of five. This implies a Free Cash Flow/Enterprise Value yield of 20 percent and a target stock price of $9.37. From this stock price, I get upside appreciation of 44.8 percent. This is significantly higher than the 7.9 percent downside risk associated with its cash and marketable securities per share of $5.96. Each quarter I plan on monitoring their quarterly earnings and balance sheet. If they start burning through cash, it may be time to cut any potential loss and sell the stock. However, given the rock solid balance sheet and very low valuation assigned to the company, from a risk-reward perspective, this is a very attractive stock to own – especially in this market environment. (Note: The one other risk is management uses the cash and marketable securities to do a stupid acquisition.)
Disclosure: I am long DSPG.