Click to enlarge
In the next two weeks, we have a lot of companies that operate their quarters through the end of August reporting earnings. Some big names are going to be giving their updates as to how their companies are faring, and these reports will loom larger than usual for the markets as they can give us a better gauge of just how all this economic uncertainty is impacting different sectors and industries in the market. Here are seven companies that can impact this market with their reports: Research in Motion (RIMM), AutoZone (NYSE:AZO), Oracle (NYSE:ORCL), General Mills (NYSE:GIS), FedEx (NYSE:FDX), Nike (NYSE:NKE) and KB Homes (NYSE:KBH).

We get a mid-season report from tech, consumer tech, automotive, consumer staples, bellwethers, retail and residential construction from industry leaders with these seven companies.

Here is our take on what they may say and what is important to watch for as well as our thoughts on trading them:


Research in Motion (RIMM): Analysts have been doing battle before this Thursday's earnings report. The quarterly report is key for the company, and how they did in this market as well as continuing headwinds from competition. Yet what may be even more important is the company's outlook. How are new phones doing in production? How do they see the market reacting to the new QNX? Further, what were their shipments of Blackberrys. All in all, it is a key quarter for RIMM. The bulls behind the company will be looking for any glimmer of hope. Without it, RIMM may be on its way to the teens. We do not sit in either camp, but did short RIMM last week into earnings. The earnings report is a wildcard, and any move will most likely be quite volatile. A strong report will go a long way in the market.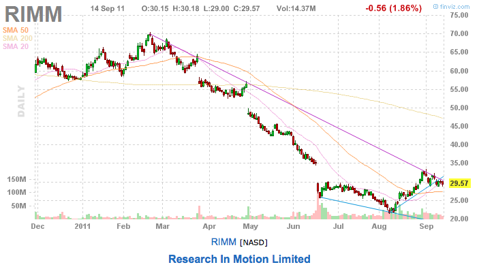 AutoZone (AZO): We are big fans of AutoZone (AZO). We have priced the company at $380 for the next 12 months, and we believe they have what it takes to get there. The company is unrelenting, and it is not because of overvaluation. The company's future P/E sits at just below 15, which actually undervalues the company somewhat. On top of this, they have outstanding growth in a low-growth auto part retail market. They do have a lot of debt, but we believe the free cash flow is strong enough to offset this. We have gone long on the stock this week into earnings, and we see them continuing their run higher. This report is good for the market not because it can move Wall Street but it shows that there are very solid companies that are growing at tremendous rates still and are safe havens during uncertain times.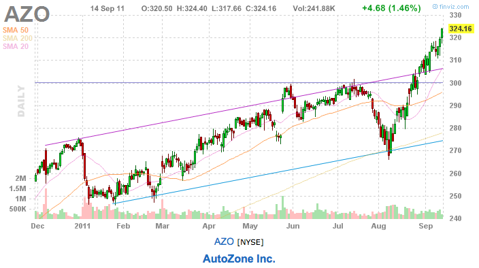 Oracle (ORCL): One of the most important tech earnings coming next week. The company is expected to hit 0.47 EPS, improving on 0.42 EPS from last year. They are also slated to see 10% revenue growth this quarter as well. We have a Buy rating on Oracle with a PT at $48. The company is drastically undervalued at current levels with a 10.5 future P/E. The company's earnings report will be crucial to the tech industry, and we will definitely be interested mostly in the company's outlook and guidance. Given the company's tech bellwether status, their thoughts on the rest of this year and 2012 will be very key to the movement of the tech market. We believe the company is quite undervalued and has analysts getting behind it, moving into earnings. Long ORCL into earnings seems a safe bet, but holding into earnings is risky.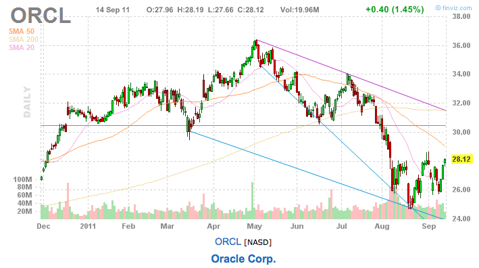 General Mills (GIS): At the end of the day, you cannot go wrong with consumer staples. General Mills will be reporting earnings next week that are expected to show a slight pullback in EPS from 0.64 to 0.62 with revenues at 7.5%. We are interested more in the company's outlook, especially any conversation about possible currency issues and what they see for sales moving forward in global uncertainty. This earnings season is not nearly as important as where this staple believes they are headed. If they are worried, that makes us very worried. We expect them to come out in-line with expectations and cautious but nothing drastic. The company, historically, does not move significantly on earnings, and we can take advantage of that with trading. The company rarely moves more than 1-2% on the earnings report and typically moves 1-2% in the three weeks past earnings. Given that information, we believe selling the $34 puts on GIS is a safe income trade you can pick up going into earnings with a little extra premium with the report looming.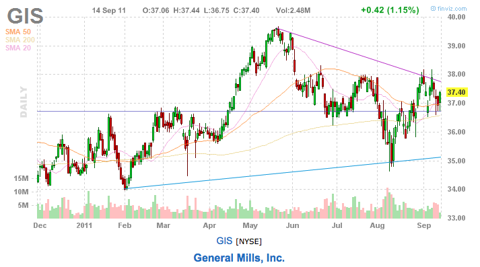 FedEx (FDX): The company is probably the best bellwether out of the bunch for the global economy, and personally we think their report is the most important out of the bunch. The company is obviously not UPS (NYSE:UPS), but they are important. With some good growth in revenue and EPS looming, we are much more interested in their outlook and commentary on how they think their business will fare in this winter season. Do they see much of a slowdown headed in their busiest season? Their commentary will be quite key to seeing how a lot of companies are doing out there, and we believe a report with a lot of gusto in either direction can have a lot of impact on the market.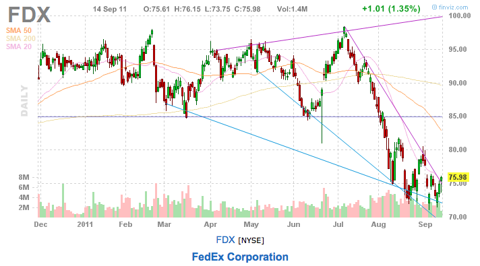 Nike (NKE): Consumers and retail were hit during the hurricane, and retail sales have been weakening/flat as of late. We are really interested to see how Nike's quarter came out, their currency issues, and what they see moving forward as they are a definite retail bellwether. Their quarter was supposed to see EPS at 1.21 and revenue growth of 11%. We are interested to see if they were able to actually hit those goals. Their last report was very good, but we would be cautious moving into earnings. Outlook will also be key and can impact the entire retail sector.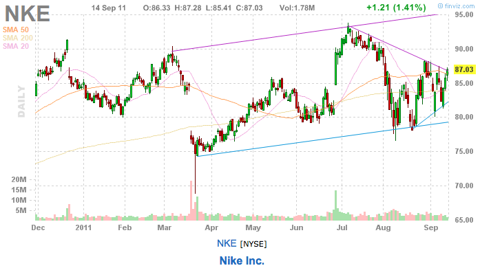 KB Homes (KBH): KB Homes is one of the leaders in residential construction, but a strong quarter is not expected for the company with EPS dropping from -0.02 to -0.19 along with a 24% drop in revenue. Overall, we do not have much in the way of expectations for KBH. We see them as struggling more, but we are curious to hear their outlook. More than ever, the outlook for residential construction looks bleak for an already struggling market. We would like to see what they expect to do, and if they have any hope for their sector. We would be short KBH moving into earnings.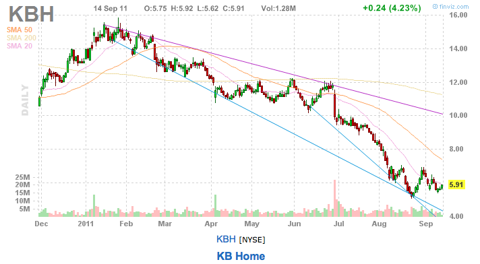 Disclosure: I am long ORCL, AZO.
Additional disclosure: I may initiate an options position shorting puts in GIS.