A couple of months ago, I thought I had something when looking at the following chart: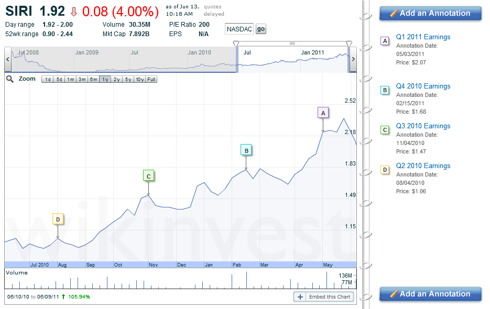 (Click to enlarge; Chart courtesy of Wikinvest)
Clearly, I was wrong. Stocks do not always perform according to pre- and post-earnings chart history.

Just prior to that, I fell into a trap that catches every trader or investor at one time or another. I bought into the emotion-driven and unfounded hype that Sirus XM's (NASDAQ:SIRI) inclusion in the NASDAQ-100 index would actually mean something.

Lucky for me, I ended my long position in SIRI towards the end of July when the stock still traded above $2.00. Granted, I was about two weeks too late; in hindsight, it's quite clear that, irrespective of macro events, the SIRI chart broke down around July 15th and $2.25. Thankfully, I was not emotional enough to be left holding the bag as the stock plummeted to as low as $1.59 toward the end of August.

Wednesday, SIRI received a bounce as the company not only increased its subscription prices, effective January 2012, but it reaffirmed FY 2011 guidance and issued new FY 2012 guidance.

While I expect the stock to retreat and wallow in the $1.70s for the rest of the week, another pop toward the mid-$1.80s would not surprise me. That said, mid- to long-term, SIRI will have trouble ever seeing $2.00 again. The reaction of longs to the price increase and guidance is not much different from my enthusiasm over the chart and the NASDAQ-100 news. The big difference -- I know when to cut my losses. I refuse to go down with the ship in a stubborn blaze of glory.

In the euphoria over the guidance, don't forget a key point -- Karmazin did not even increase revenues over the Capital IQ Consensus Estimates. As Briefing.com's InPlay service noted Wednesday, Sirius XM sees $3 billion in revenue for FY 2011 versus an estimate of $3.02 billion and $3.30 billion for FY 2012 versus an estimate of $3.39 billion.

While these numbers are nothing to sneeze at, they're not necessarily anything to write home about either. It would have been really exciting if Karmazin announced numbers that blew away the estimates; rather, he stopped just short of them. But, most importantly, the type of year-over-year growth Sirius XM expects to experience -- about 10 percent -- is hardly earth-shattering. While it gives terrestrial radio a run for its money, it doesn't match up to the numbers key competitors in the space consistently post.

That said, numbers do not mean everything. As I have noted, the story often supersedes the hard data. And, right now, Clear Channel (CCMO.PK) has stolen the show with its impressive iHeart Radio beta. As terrestrial radio's much-maligned behemoth answers the challenge from Pandora (NYSE:P) and other innovators, SatRad 2.0 will likely come a little too late and as more of a yawner than a game-changer.

If it were not for Clear Channel's debt-ridden balance sheet, I would go long. For months, I've been encouraged by the evolution of iHeart. Something I wrote back on July 8th appears to be coming to fruition:
All of this tells me that terrestrial radio, particularly Clear Channel, has Pandora right where it wants it. As terrestrial stood idly by, Pandora built a massive audience, but, by comparison, it's not as large, loyal or lucrative as the hundreds of millions of terrestrial radio listeners companies like Clear Channel command each week. If terrestrial can offer what Pandora offers - and more - it might be able to lease its life support machine to what could be the IPO swoon of 2011.

And here's where Sirius XM comes in. At the moment, Sirius XM reminds me a lot of terrestrial AM radio when it was dying its slow death. It has its core, heritage business - generating in-vehicle subscribers in Sirius XM's case - and it's sticking with it, regardless of what everybody else does. On the surface, Sirius XM appears to be in that stubborn and static phase.

Just compare the quality of terrestrial radio Internet streams from Clear Channel and CBS Radio (CBS), for instance, to what Sirius XM trots out. There's actually no comparison. Sirius XM's online stream is an embarrassment from a quality and ease-of-use standpoint. And, as I have lamented before, the company seems to have neglected its mobile app, sales and marketing and brand awareness in favor of a monogamous relationship with the automakers.
Clear Channel's aggressive marketing of iHeart (for instance, it was a brilliant move to link the launch up to making a prospective user "Like" iHeart on Facebook) continues to make it incredibly attractive from a story standpoint. Relatively speaking, little has changed from my roughly three-month old longish-term analysis of Sirius XM. It remains uninnovative (new word), looking more like old guard terrestrial than a progressive Clear Channel that finally decided to come to life.

I would go long Clear Channel if it begins an aggressive process of selling off physical properties. Exactly how I would go about that warrants its own article, but to raise cash and pay down debt, Clear Channel should focus on keeping its stations in only the nation's largest markets, while trimming its medium and small market stable down to a package that would remain attractive to big national, regional and local advertisers. It should focus its energy on delivering more locally-relevant content to its listeners via the devices they want to use to listen to it.

If Clear Channel can sell ad space locally, regionally and nationally across platforms -- like Pandora is doing and will continue to do in force (note the mention of national and local ad sales in that link) -- it might not only stave off Pandora, but beat them at their own game. All of this while Sirius XM looks on from the sidelines and, ironically, repeats the complacent history of a medium it claimed it would replace a decade ago.

Disclosure: I have no positions in any stocks mentioned, and no plans to initiate any positions within the next 72 hours.