You have seen the phrase, "Do your own due diligence before investing" many times. We will explore what due diligence means and how you might exercise it in the selection and purchase of securities.
What Does Due Diligence Mean?
In its simplest terms it means the care that a reasonable and prudent person takes in doing an investigation before making a decision. If you have ever purchased a house, you might have gone through a number of steps before you closed on the property. These may have included an inspection of the house by a professional house inspector to check for items that would soon need repair or replacement, such as the roof, wiring or the heating cooling and cooling system. Depending on the location, a termite inspection or measurement of radiation in the basement is wise. An appraiser does a comparative study of recently sold similar properties to estimate that the market value. A land survey determines the correct boundary lines. A search or abstract of the title assures you that the property is free of liens and there are no claims on ownership other than by the person selling it. Depending on circumstances, things such as the flood zone status could be a consideration.
Your Own Due Diligence
In the business world, due diligence is often an investigation of a person, done in the hiring process, or of an asset in the acquisition process. This asset could be anything from used machinery to an entire firm. Due diligence is a measure of prudence or activity properly to be expected from, and ordinarily exercised by, a reasonable and prudent person under the particular circumstances. There is no set rule as to what constitutes due diligence, although banks set their lending standards and there are checklists that might be used in certain circumstances. The investigation of a company before purchase of common stock by individuals is the focus of this article. We will look at a method of doing due diligence concerning the purchase of stocks which you can adapt to meet your own standards and make "your own due diligence".
Your due diligence is the criteria you establish and procedures you follow in order to satisfy yourself that the investment you are considering, typically a stock purchase, is a sound one. Your due diligence should be one that is consistent; a part of your investment plan and portfolio discipline. Doing your due diligence on a given security or company might be quite different that done by someone else. Two equally prudent and successful investors could have very different ideas on the measurement of many factors: market cap requirements, required yield, P/E ratio, insider ownership, debt ratios, and others.
Hurdles
Most investors have minimum standards that every stock they purchase must meet. A list of hurdles at the beginning of our due diligence can be a time saver because we eliminate inappropriate candidates right up front before spending much time on them. These hurdles are only a first cut to eliminate stocks that you will not evaluate further. It is not appropriate to apply the same hurdle values to REITs (Real Estate Investment Trusts), MLPs (Multi Level Partnerships), BDCs (Business Development Corporations) because of their unique structures and tax situations. Regulated Utilities may require additional considerations too. It is outside the scope of this article to address those. The values below are for corporations and are not necessarily the ones you might select, as you may be interested in stocks with a $500M market cap and priced at $5. These are examples:
Price >= $10

US company

Market cap >=$5B

Negative annual cash flow in last 5 years =0

Debt to total capital <=60%
For growth stocks, add an "increase in revenue" hurdle.
For dividend growth portfolios, include the below.
Yield >=3.00% and <=8.00% (Over 8% is a red flag; investigate)

Dividend Growth Rate (DGR) >=5%

Consecutive years of dividend growth >=10

Payout ratio <=70%
You may wish to write a screen with these and other values to search for companies that match your criteria. Or, simply use them to develop your own due diligence check list.
Qualitative Assessment
Two very important factors in determining the success of a company are its business plan and the corporate leadership, which will implement it. Sometimes they are nearly inseparable. One very good thing is that information about both is in the firm's annual report.. I always start by reading the letter to shareholders. This gives you a summary of the company's highlights and provides an opportunity to start to understand the tone of management and their focus. Are these decent and honorable people? You may wish to delve a little into the background of the CEO and other top management. Google should give you direction. A history of prior positions and the results achieved in them provides insight. There are some remarkable people leading large corporations.
The company I chose as an example for this article is Johnson and Johnson. That company did not have a good year in 2010 with product recalls from its NcNeil Consumer Healthcare Products unit getting headlines. These issues, along with the soft world economy, caused a slight drop in revenue over the previous year. The CEO, William C. Weldon, apologises for the quality problems at McNeil and said in the Annual Letter (.pdf) to Stockholders,
Even as we faced challenges throughout 2010, we remained unwavering in who we are as a company. The source of our enduring strength is a fundamental commitment to Our Credo and an operating model that has served us well for decades.
The Credo (.pdf), too long to reproduce here, talks about JNJ's obligation to its stakeholders.
I always like to try to figure out how a corporation treats all its stakeholders. The stakeholders of a corporation include the management, the shareholders, the employees, the suppliers, the people in the communities they operate and the government. If they have adversarial relationships with some stakeholders, the time to short change shareholders may not be far away. Is the company well respected within its industry? Is it thought of or rated as a good place to work? On the other hand, do they have uneasy labor relations? Are they at odds with the EPA all the time, under indictment by the Justice Department or investigation by the SEC? Are they involved in litigation all the time? These things speak not only of the character of management but can cause a firm to lose focus.
Do you understand the business and understand the plan? If you do not understand the business, it is better not to buy the stock. You will be blindsided and miss something important, perhaps before you buy it, but if not, after you own it. You know many things. Your prosperity will be more likely if you stick to those things when investing. There is no shame in not understanding the pharmaceutical industry, the pork business or banks. However, you do not need to know silicon process technology at an engineering level to own Intel. Understanding a firm's place in their industry, place in the market and their plans is probably much more important.
Last, but certainly not least, do they have a sustainable competitive advantage? A company, which sells corn, sells a commodity and has almost no control over the price. A pharmaceutical company (NYSE:ABT) or a technology company (NASDAQ:INTC) has unique products protected by patents and strong positions in the marketplace. Strong brands can also create a competitive advantage. Examples are Tide laundry detergent, Kleenex Tissue (NYSE:KMB), Coca Cola (NYSE:KO) and Band-Aids (NYSE:JNJ). There are other industries where the economic barriers to entry are tremendous, the oil business, led by Exxon-Mobil (NYSE:XOM), for example, or the aircraft industry, led by Boeing (NYSE:BA). These are what Morningstar and others call wide moat companies.
Morningstar says:
Johnson & Johnson stands alone as a leader across the major health-care industries. The company maintains a diverse revenue base, a robust research pipeline, and exceptional cash-flow generation that together create a wide economic moat.
If everything is positive, proceed to the next step.
Quantitative Assessment
We have already eliminated those companies that did not meet certain hurdles. We have eliminated those companies that had businesses we did not understand, or did not have good business plans for the future. We may also have eliminated some because of lack of confidence in the leadership. The desirability of companies with wide moats is considered. Now we look closely at firms that fall into the range of acceptable values. As an example, I will use Johnson and Johnson (JNJ). This is not a recommended list of items to be investigated, nor does it include all quantitative measures available; it is representative of some parameters that many people choose. The notes are my thoughts and opinions and you may see these things differently. That is fine.
I often begin this process by scanning a table of company statistics. These may be found at Yahoo Finance, and the link takes you to the JNJ Key Statistics page. Other sources for data are listed below under resources.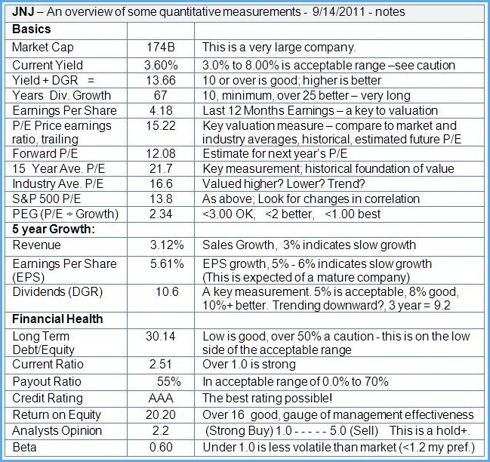 Valuation
With the qualitative study completed and with a satisfactory review of quantitative measures, I am certain that this is a stock worthy of owning. The question now becomes how much is a share of JNJ worth? There are many ways of estimating the value of a company. We will look at a Discounted Cash Flow estimate and an estimate based on Price/Earnings ratios using F.A.S.T. Graphs.
It is a dictum of value-investing that a company is worth the sum of its future earnings. Let us calculate 'value' based on a projection that JNJ will grow at the same rate for the next 5 years as it has for the last 5, and at a slightly lower rate for the 5 years after that.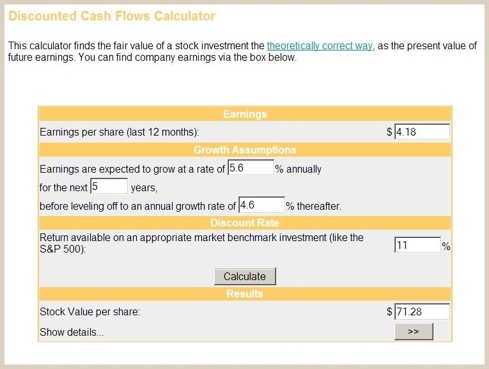 To come up with an ultraconservative estimate of value, or buy price, we could plug in "0" for the second 5 years and thereafter. That gives a value of $47. It is unlikely that JNJ will decline to that price. The last time it traded at a price that low was during March and April of 2009. The S&P 500 closed at 683 on March 5, 2009 and the Dow dipped to 6,594 at the time. The rates used above seem plausible and yield a stock value per share of $71.28.
In the past 52 weeks, JNJ has had a range from $57.50 to $68.05. It was last at the $57-$58 price in March of this year and July and September of 2010. It is currently trading close to the median of its price range. It has a beta of 0.60 so it is less volatile than the market as a whole. The current price, the 200 day MA and 50 day MA are all within 5% of each other. It seems to be closely following the market and I cannot discern a trend.
Next, we are going to seek valuation with a very sophisticated but simple to use visual tool. If you have read articles by Chuck Carnevale on Seeking Alpha then you have seen a F.A.S.T. Graph like this.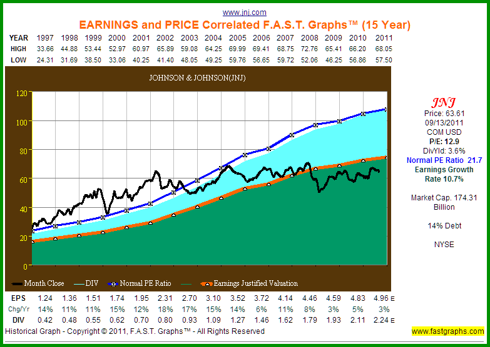 The dark green area indicates earnings and the light blue area indicates dividends. The blue line is an illustration of where the stock would be if it were at its historic normal P/E of 21.7. That is, it would have a price of about $106. The orange line, on top of the dark green area, is the calculated fair value of the company. It indicates that JNJ is worth about 73. The black line is the current price, which is at about $63.60
This stock meets all portfolio hurdles and meets or exceeds the qualitative and quantitative requirements for our Dividend Growth Portfolio. Valuation is $71 to $73. At the current price $63.60, it is at the bottom of a fair value range of 63 to 83. With a share price of $63.60 and value of $72 one could also state that it is undervalued by 12.5%. Due diligence is completed.
Resources
Here are some sources of financial data. There are many more.
Yahoo Finance: Good basic information and customizable charts. Similar services are available from Google Finance, MSN Money, CNN

Morningstar: A standard for data. Includes 5 year or 10 year (Premium) financial data organized in a traditional, easy to scan, format. Other sources include S&P and the Wall Street Journal.

Drip Investing CCC Spreadsheet, by David Fish. Click "Excel Spreadsheet" under US Dividend Champions. A downloadable, sortable spreadsheet of Dividend Champions, Contenders and Challengers. It is unparalleled in its usefulness to Dividend Growth Investors.
These are other helpful resources.
"Top 40 Dividend-Growth Stocks for 2011" by David Van Knapp. This is a downloadable book of 134 pages in PDF format. The first half the book is a practical step-by-step guide to dividend-growth investing. The second half is application of the principles taught in the first part including Easy Rate Score sheets of the 40 companies selected; it simplifies stock selection and due diligence. It is clear and focused and a great reference book and guide for $39. When I got this year's copy I immediately copied it to a disk and had a hard copy printed and bound at a copy center. To paraphrase our President, "You ought to buy it... right away."

F.A.S.T Graphs – This is an extraordinary software package with an immense database which allows you to see stock valuation on a graph. Based on the solid idea that price follows earnings, you can quickly discern when Mr. Market has gone astray and incorrectly valued a company. It allows you do to customization and "what ifs". This is extremely powerful and sophisticated, yet intuitive and very simple to use. This is certainly worth giving a 2-week free trial and it is available after that for a nominal monthly fee.

The Discounted Cash Flow Calculator illustrated in this article is available on the web. One caution, the results are only as good as the data you put into it, so take care.
Disclosure: I am long JNJ.