Cummins Inc.'s (NYSE:CMI) strategy of extending the scope of its business with acquisitions, expansion into related markets, investments in the core business, lowering of production costs through economies of scale, and increasing market share through partnerships has allowed it to expand its revenue base and profits over the years. The company has an extensive global footprint both in developing and developed markets, as more than half of its revenue comes from international markets. Cummins works in four different business segments: Engine, Distribution, Components and Power Generation.
However, due to its diversified business model and penetration in more than 180 countries, the company is exposed to a number of risk factors, including the varying conditions in the on-highway, construction and general industrial markets, along with currency, political, economic and regulatory matters. This is the reason we have seen short-term volatility in its stock price over the years, but the long-term outlook always remains strong due to its resilient business model and innovative product lines. We have seen this trend again in the past few months due to concerns related to the strong dollar and slowdown in the power generating business segment.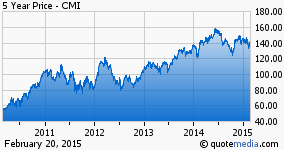 As a result, the company presented a muted outlook for the next year compared to earlier forecasts. In addition, a number of analysts, including Susquehanna and First Global, downgraded their price targets which impacted Cummins' stock performance in the past two months. I believe investors should overlook these short-term issues because the company is still poised to generate mid-single-digit growth in sales, and currency trends are beyond the company's control and always short term in nature. Hence, nothing is materially wrong with its business model.
Excluding the power generation segment, Cummins' other three business segments are going strong and account for 85% of total revenue. Its largest revenue contributing segment - Engine - is likely to keep its momentum in this year on the back of strong demand in the on-highway sector in North America and international markets. This year, its market share in the heavy duty truck category is expected to remain stable, while demand is expected to grow by 8%. Its market share in the medium duty truck category is expected to grow by 1%. As a testament to the strong demand in on-highway markets, in the month of January, Cummins' Class 8 tractor deliveries rose 18.1%, the highest level since 2007. Moreover, the broader group of large trucks has seen sales grow 12.2% to 30,869 units during the month. Heavy demand from China due to joint ventures should offset some of the pressure in the European and Brazilian markets.
Its Distribution business will expand further because of its strategy of acquiring North American distributors. Cummins completed seven acquisitions in 2014 and is looking to make three more this year. In the final quarter of 2014, these acquisitions accounted for 31% of revenue growth for the Distribution segment. As a result, this segment posted record revenue growth of 58% to $1.7 billion. In addition, its Components business generated record quarterly growth of 16% compared to the past year quarter. It is likely to sustain its momentum this year on the back of increased truck demand in North America, together with improved demand for the after-treatment systems in China and Europe due to new emission regulations in these regions.
On the operational side, Cummins' management is focusing on cutting costs with the aim of growing its EBIT faster than sales. In its recent earnings announcement, the company said that this will remain an area of high focus this year. Hence, I believe that it will post better profits in this full year. Along with improved financial results from its three big revenue contributing segments, a double-digit growth in Cummins' dividend would drive its share price performance. Its free cash flows are also providing room for a potential increase. In 2014, it generated free cash flows of $1.4 billion when dividend payments were only at $595 million, allowing wide scope for a potential increase. Management is also looking to return half of its operating cash flows to investors through dividends and buybacks.
In Conclusion
At present, the stock is trading well below its 52-week high of $161/share. Due to this decline in share price and increase in earnings, Cummins looks undervalued to me based on its valuations. Its stock is only trading at 15.5 times earnings and 1.3 times sales, when the industry average is 19 times earnings and 1.9 times sales. Also, its earnings are expected to grow at a double-digit rate, which should give a boost to its stock price. Its debt-to-equity ratio of 0.2 is also well below the industry average of 0.9. Global economic growth is also expected to be 3.8% this year compared to 3.3% in 2014. Further, a double-digit growth in dividend is also likely as cash flows are providing room. All this positive news bodes well for its share price performance in the coming days. Thus, I believe Cummins is a good buy at the current price.