Ted Weschler, manager of Charlottesville, Virginia-based Peninsula Capital Advisors LLC, has been chosen by Buffett to join Berkshire Hathaway (NYSE:BRK.A) early next year. A lot of interest has surrounded Peninsula's most recent 13F filing, but (as always) we believe it's much more instructive to look at a manager's 13F positions over time, especially in this case:

Shares over time [click charts to enlarge]: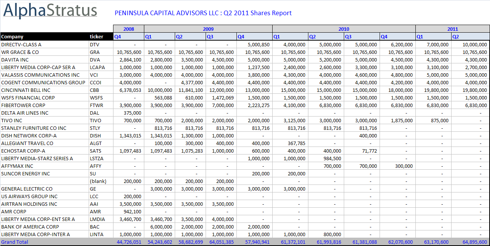 Market Value over time: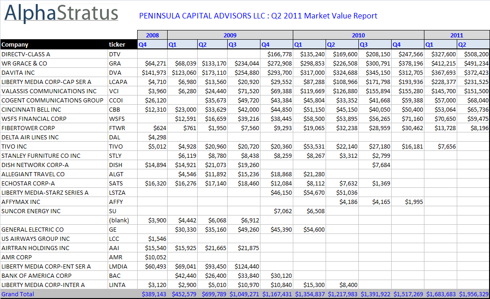 Concentration over time: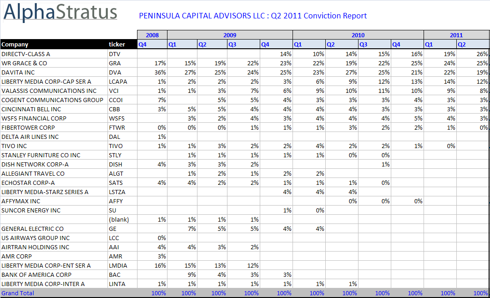 Like Buffett, Weschler is running a very concentrated portfolio of names (with the top two names comprising about 50% of his portfolio) and very low turnover. In the case of DIRECTV (NYSE:DTV), he increased the number of shares in the portfolio by 55% this past quarter which, as can be seen by looking at historical 13F trends, is relatively rare for Weschler. This is a big bullish bet for Weschler and the positive fundamentals for DTV have been noted elsewhere.

Weschler previously worked at both W.R. Grace and WSFS Financial so, in the fashion of Buffett, he seems to stick to what he knows. Also, it's now been disclosed that Weschler was the anonymous bidder for the charity lunch with Buffett the last two years.

Disclosure: I have no positions in any stocks mentioned, and no plans to initiate any positions within the next 72 hours.