The world's leading footwear designer, Nike (NYSE:NKE), has been rumored by the London Times to be reviewing an acquisition of Under Armour (NYSE:UA). Nike currently has over $4.5B in cash with $663M in debt while the enterprise value of Under Armour is currently trading at $3.6B, or a pricey 22.8x EBITDA.
Since September 15 of last year, UA has gone up 88.6% and has strong growth prospects. Consensus estimates for EPS growth for the possible target are 34.3% to $1.80 in 2011 and 25.6% and 28.3% for the following two years. Under Armour is, however, in need of the international exposure that Nike could offer. Almost all of the possible target's revenues came from North America in 2010 (93.8%).
Both companies sell similar products and have strong brands. A takeover would provide revenue synergies, since Nike could benefit from selling new products in its developed global market. Below is a breakdown of Nike's revenue by region/category: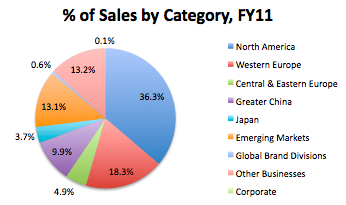 Of the categories, emerging markets is growing the fastest at 24% for 2011, followed by Greater China at 18%. For each of these regions, roughly two-thirds of sales come from footwear, approximately 30% from apparel and the remainder from equipment. Revenue from Western Europe and Japan have declined by 2% and 13%, respectively.
Nike is currently trading at roughly 19.9x past earnings and 15.6x future earnings. EPS is expected to grow by 10% to $4.83 in 2012 and then by 16.1% and 13.5% for the following years. While I believe that the market has mainly factored in the growth prospects of Nike abroad, an acquisition like Under Armour could go a long way to create value through strengthened marketing appeal.
It is also important to consider that the leading footwear-maker already has several brands: Converse, NIKE Golf, Hurley, Umbro, and Cole Haan. These businesss were up 8% in FY11, excluding currency changes. For comparison, revenues grew by 9.7% to $20.9B for the company overall.
With its 3 largest customers accounting for 23% of US sales and a competitive market, Nike needs to provide innovative products to maintain its sustainable edge. Accordingly, I see the acquisition a step in the right direction for the company, which will be facing lower operating margins in light of the approaching Olympics. I expect operating margins to be 13.2% and 13.8% in FY12 and FY13, respectively.
Over the last six years, EPS growth has been roughly an impressive 14% for the company. While many acquisitions fail to add value, I see a win-win for a Nike and Under Armour deal in terms of combined marketing value, revenue synergies, and growth prospects.
Disclosure: I have no positions in any stocks mentioned, and no plans to initiate any positions within the next 72 hours.