Retail sales in August came in softer than expected at a flat rate showing no change. The August figure was below the market median estimate of a 0.2 percent increase.
Although the total retail sales remained constant, sales of electronic products boosted in August. Leading the increase in retail sales were electronics and appliance stores, sporting goods, and hobby and book stores, offset by declining miscellaneous store retailers and clothing stores.
Stocks in the consumer electronics and computer retail industry are attractive because they are consistently driven by new trending products such as netbooks, smartphones, tablet computers, video games and e-book readers. The Consumer Electronics Association (CEA) is projecting a 3.5% increase in overall electronics sales for 2011 to $186.4 billion.
Despite the flat retail sales report, GameStop Corp. (NYSE:GME) and Best Buy Co. Inc. (NYSE:BBY) present two great buying opportunities in the consumer electronics and computer retail industry.
GameStop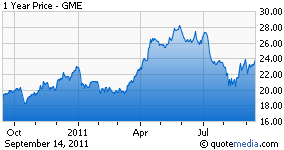 GameStop is a multichannel retailer of video game products and personal computer entertainment software that operates over 6,500 stores worldwide. In the past 52 weeks, shares of GameStop have traded between a low of $17.93 and a high of $28.66 and are currently trading above the 50-day moving average of $22.45.
In the near term, the video game industry is likely to benefit from motion-based accessories and 3D gaming. GameStop's new locations and the evolution in hardware platform technology will contribute to its revenue growth in the long-term.
Investors should keep in consideration that GameStop has a significant amount of its revenues coming from the sales of video games and the video game industry faces a threat from online gaming emerging as an alternative for gamers. Additionally, growth in this company is partly dependent on the timing of new hardware and software releases.
Best Buy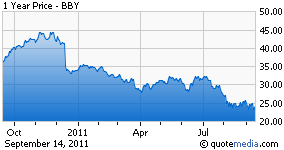 Best Buy is a multinational retailer of consumer electronics, home office products, entertainment products, appliances and related services.
In the past 52 weeks, shares of Best Buy have traded between a low of $22.74 and a high of $45.63 and are currently trading below the 50-day moving average of 25.31.
On Tuesday, BBY reported second quarter earnings of 47 cents per share [see call transcript]. This result missed the 53 cents expectations of the analysts. Following the news, shares of BBY closed down on Tuesday, but managed to gain most of its loss the following day.
On Wednesday, Best Buy declared its quarterly dividend of 16 cents per share, an increase of about 7% over its prior dividend. Best Buy's strong dividend program, its history of profitability, and a strong balance sheet make this stock a good buy.
Best Buy and Game Stop both face threats from weak consumer spending and a highly competitive industry, but have managed to stay ahead of their peers.

YTD Performance of GME AND BBY vs. Peers

GameStop Corp.


1.27%​

Best Buy Co. Inc.


-31.90%​

RadioShack Corporation (NYSE:RSH)

-34.23%​

Tweeter Home Entertainment Group, Inc. (OTC:TWTRQ)

-55.00%​


Disclosure: I am long BBY.