Research In Motion (RIMM), the creator of the widely popular BlackBerry, has fallen on some hard times lately. At today's price it is trading at a P/E ratio of 6 in a market that is trading at a P/E ratio of 13.2. This is a stock that in the past sold at a P/E ratio of almost 37. The price momentum over the last 2 1/2 years on this Barchart graph says it all (click to enlarge images):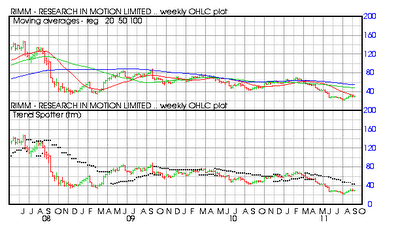 Research In Motion Limited designs, manufactures, and markets wireless solutions for the worldwide mobile communications market. The company, through the development of integrated hardware, software, and services, provides platforms and solutions for seamless access to time-sensitive information, including email, phone, short messaging service, and internet and intranet-based applications and browsing. Its products and services principally comprise the BlackBerry wireless platform, the RIM wireless handheld product line, software development tools, and other software and hardware. The company's BlackBerry smartphones use wireless, push-based technology that delivers data to mobile users' business and consumer applications. Its BlackBerry smartphone portfolio includes BlackBerry Bold series, the BlackBerry Torch, BlackBerry Curve series, the BlackBerry Style, BlackBerry Storm series, the BlackBerry Tour, BlackBerry Pearl series, and the BlackBerry PlayBook tablet.
The company's BlackBerry enterprise solutions comprise BlackBerry enterprise server, BlackBerry enterprise server express, BlackBerry mobile voice system, and hosted BlackBerry services. Its technology also enables third party developers and manufacturers to enhance their products and services through software development kits, wireless connectivity to data, and third-party support programs. In addition, the company offers BlackBerry technical support services, non-warranty repairs, and nonrecurring engineering services.
Further, it provides BlackBerry App World that offers BlackBerry smartphone users an electronic catalogue that aids in the discovery and download/purchase of applications directly from their BlackBerry smartphone. The company markets and sells its BlackBerry wireless solutions primarily through global wireless communications carriers, and third party distribution channels. Research In Motion Limited was founded in 1984 and is headquartered in Waterloo, Canada.(Yahoo Finance profile)
Factors To Consider
Barchart technical indicators:
20% Barchart short term technical buy signal
Trend Spotter buy signal
8 new highs and up 22.418% in the last month
Above its 20 and 50 day moving average but below its 100 day moving average
Relative Strength Index 54.28%
Barchart computes a technical support level at 28.54
Recently traded at 30.10 which is above its 50 day moving average of 27.47
Fundamental factors:
Wall Street brokerage analysts have very mixed forecasts and have issued 1 strong buy, 11 buy, 29 hold, 8 under perform and 6 outright sell recommendations on this stock
Sales projections are for an increase of 2.10% this year and another 8.10% next year
Earnings expectations are for a decrease of 19.60% this year but an increase of 2.00% next year. They look for an annual increase of 4.68% compounded over the next 5 years
The stock has an A+ financial strength rating and has started a very aggressive share buy back program
General investor interest:
The readership of Motley Fool widely follow this stock and 5,577 have it on their watch lists
The readers voted 80% that the the will beat the market
The more experienced and savvy All Stars aren't quite as optomistic with only a 78% vote for the same result
Competitors:
RIMMs major competitors are Apple (OTC:APPL) up 45 % in the last year, Microsoft (NASDAQ:MSFT) up 8% and Nokia (NYSE:NOK) down 38% for the year: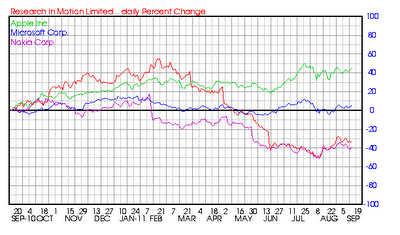 Some smaller competitors that have done very well this year are Orsus Xelent technologies (ORS) up this yeat 600%, Clearfield (NASDAQ:CLFD) up 161%, Polycom (NASDAQ:PLCM) up 71% and Communications Systems (NASDAQ:JCS) up 35%
Summary
Research In Motion has been a high flyer for a long time. With its great financial strength, it should survive. If the sales and earnings projections materialize and the stock returns to a more normal P/E ratio, long term investors buying in at this level could see and annual return of 35% - 39% over the next 5 years. These projections are highly speculative, as the mixed brokerage analysts opinions reflect and have a lot of variables including an economic recovery that need to happen to get that total return. Speculate a little but don't bet the farm on this one.

Disclosure: I have no positions in any stocks mentioned, and no plans to initiate any positions within the next 72 hours.