In an article dated August 16th, I detailed the company's transformation from an appliance retailer only to a major recycler of appliances in a environmentally-sound manner, and my conclusion was that this change will catalyze high earnings growth in the years ahead:
Building on its experience and reputation, the company signed a contract with General Electric (in October 2009) in which GE agreed to have Appliance Recycling recycle all GE's returned appliances from a six-state region in the Northeast United States. This business is handled through a 50%-owned joint venture (Arca Advanced Processing - AAP) in which the other 50% partner provided the recycling facility it was already operating (profitably) outside Philadelphia. As part of this agreement, the joint venture has installed (and is now testing and running) UNTHA Recycling equipment (for which Appliance Recycling is also the exclusive North American distributor).
The following is an update from GE in a press release issued on Friday:
GE is expanding appliance recycling options for consumers and retailers through its relationship with Appliance Recycling Centers of America (ARCA), which is now offering services to customers of The Home Depot by doubling service offerings to 12 states in the Northeastern and Mid-Atlantic regions of the U.S.

Today, 70 percent of consumers want all or part of their appliances recycled, and 82 percent will go out of their way to purchase from a manufacturer that recycles. Sixty-seven percent are even willing to pay more if a retailer offers recycling programs - making an Environmental Protection Agency (EPA) Responsible Appliance Disposal (RAD) Program partnership a desirable goal for appliance retailers.

Currently, about 40 percent of appliances collected by retailers are resold - putting inefficient, used models back on the grid. This summer, The Home Depot (THD) took a leadership role among retailers by becoming a RAD Program partner. Because THD uses GE's appliance delivery and haul-away service, the retailer was able to take the next step with the EPA to establish a RAD partnership, ensuring used appliances are recycled in a responsible manner.

Now operational, AAP's advanced refrigerator recycling technology, the UNTHA Recycling Technology (URT) system:

• Recovers approximately 95 percent of the insulating foam in refrigerators.

• Reduces typical landfill waste of the refrigerator by 85 percent by weight.

• Lowers greenhouse gas (GHG) and ozone depleting substance (ODS) emissions recovered from insulating foam compared to what typically happens in the industry today.

• Recovers high-quality plastics, aluminum, copper, steel, and even pelletized foam from refrigerators that can be used to make new products, such as GE locomotives.
Jack Cameron, President and CEO of Appliance Recycling added: "We have a viable business that has the potential to grow well beyond the 12 states we now serve". I think that this distribution/recycling plant could serve as the model for another nine more around the country. I can envision a scenario in which the joint-venture is IPO'd to finance the expansion. I can also envision a scenario where the company exits the retail business and focuses its efforts entirely on recycling.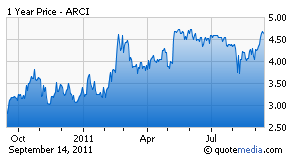 This stock has the ingredients for success as the numbers tell the story:
In the June quarter, revenues from ARCI jumped to $2.6 million from $0.7 a year earlier. Operating income during the period was $185,000, a dramatic swing from the $140,000 loss a year earlier. We look for substantial operating leverage as volume rises and as start up costs related to the new equipment decline.
Appliance Recycling reported EPS of $0.35 compared to $0.13 last year. (Note: this year's quarter included a one-time non-cash reversal of deferred asset valuation allowance of $0.16.) We think that for the full year, Appliance Recycling, benefiting from better numbers at its retail operations and building volume at its recycling activities) will earn about $0.60 a share this year (excluding the one time $0.16 reversal).
This stock has the ingredients for success:
An attractive reported and expected earnings growth rate·

Undervaluation

($24 million market cap vs. over $100 million in revenues, selling at 7X this year's estimated EPS)

Acting well in a down market and a good technical picture
At present, there is no interest in or Wall Street research coverage of these shares. But I think this will change as both GE's and Home Depot's advertising and promotion of their leadership in responsible recycling (which should translate into greater sales for them) brings a heightened consumer and investor awareness of Appliance Recycling and its unique role in association with these two blue chip companies.
Disclosure: I am long ARCI.