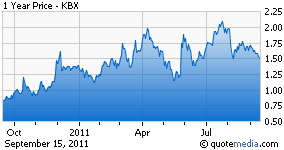 With a market cap of just $140 million, Kimber Resources (KBX) is easy to overlook as a player among Mexican gold miners. But with measured and indicated gold resources of 770k ounces, 39 million ounces of silver, and a lot of exploration left to do, Kimber is at the sweet spot of the junior miner price cycle, as a couple of good drilling results could send the stock significantly higher.
Kimber is not for the faint of heart, as the company currently has no production and has more or less ceased drilling at its other properties to focus on defining the high grade gold resource indicated by its 2011 drilling results at Monterde. Having recently completed a $10 million dollar capital raise, the company has sufficient capital to continue its drill program for the near future. Further drilling should add more high grade resource at depth in addition to identifying attractive new areas for further exploration.
Initial drill results have been very encouraging, pointing to the potential for a high-grade, low cost reserve with a lot of areas yet to be explored. The grade appears to be growing significantly at depth, with highlights including a 5 meter section at 78.4 g/t Au and another 5 meter section boasting 52 g/t Au with over 1000 g/t Ag. Moreover, the Monterde Project is located in the heart of one of the world's most prolific mining districts, encircled by several new projects owned by the majors. Coeur d'Alene's (NYSE:CDE) new Palmarejo project is less than 50 miles to the south. Palmarejo commenced production in 2009 and is expected to produce 120k ounces of gold and 9 million ounces of silver annually at full production, with considerable exploration still underway. Reserves at Palmarejo currently measure 870k ounces of gold and over 71 million ounces of silver. Likewise, Aurico's (NYSE:AUQ) Ocampo project is just to the north, and is currently on track to deliver approximately 250k gold equivalent ounces annually. Ocampo already has 2.1 million gold equivalent ounces of reserves and exploration continues with significant upward revision to reserves likely. Finally, Agnico-Eagle's (NYSE:AEM) Pinos Altos project is also next door and boasts current production of 168k ounces of gold with 3.3 million ounces of gold reserves as well as 92 million ounces of silver reserves. Pinos Altos also commenced production in 2009 and has a number of drilling targets that have not yet been explored.
Obviously, the small size of Kimber and the lack of cash means that the company is going to have to do a significant offering to bring Monterde into production, but continued solid drilling results as well as the likelihood of a positive pre-feasibility in Q4 should help boost the stock price and make capital less expensive. The preliminary assessment for Monterde indicated capex of around $110 million, no doubt a benefit of mining in a jurisdiction with good infrastructure and a friendly regulatory environment. However, in the event that the company has difficulty raising such a significant sum in the market, there are several other options for Kimber to realize its potential. Given the significant amount of silver byproduct in its drill assays, Kimber might consider a royalty agreement for its secondary metal to raise capital. Or perhaps, given the right price, Kimbler might selling itself to one of the area's major landowners looking to consolidate a position. Given the potential shown by surrounding projects, Kimber's land holdings and the potential at Monterde must look attractive for companies poised to benefit from the synergies of operating nearby mines such as Agnico, Coeur, or Aurico.
In summary, Kimbler is certainly a speculative bet, but the history of the area and the high grades already discovered at Monterde point to good things ahead as exploration drilling continues into year end. With drill results and a pre-feasibility study to look forward to, the rest of 2011 promises to be an interesting ride.