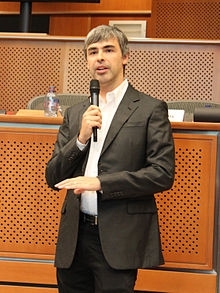 The market believes Larry Page will do great things as CEO of Google (NASDAQ:GOOG).
The stock's PE multiple remains over 19, against 15.5 for Apple (NASDAQ:AAPL).
But since Page became CEO in early April, Apple has thoroughly outperformed, gaining almost 14% in value while Google has lost nearly 9%. The jury is still out.
What is clear is that Page has, after a long apprenticeship under Eric Schmidt, crafted a new strategy for the company. Gone are the free-wheeling days of 20% time turning into cool products that may or may not have performed. Now everything new is strategic. Page wants to build a product-service ecosystem rivaling that of Apple, with a stronger Internet presence leveraged to sell devices, content and software.
By some metrics it's working. Android leads iPhone in the mobile market 41.5-27, according to comScore. Its Google+ social service has passed 25 million subscribers. It's adding more shopping services, like Google Catalogs.
On the other hand, despite recent patent purchases, critics like Florian Mueller call the company highly vulnerable to lawsuit. The Android-based Samsung Galaxy Tab is being banned as an iPad clone in some markets and Mueller insists Google was forced to buy Motorola, that it was a completely defensive decision.
The knocks against Google, in other words, are knocks against Page. Does he have the guts to face down people like Larry Ellison, or outmaneuver Jeff Bezos, or face down a challenge from Steve Ballmer of Microsoft. Not to mention Apple itself.
In other words, does he have what it takes to play with the big boys of tech?
That's precisely the question once asked about Steve Jobs, who returned to Apple at age 41, only slightly older than Page is now. What Jobs had going for him then, what Page doesn't have going for him now, is a legacy of failure.
Yes, failure. The Macintosh did not fulfill its early promise. The NeXT computer wasn't the next big thing. In his exile from Apple Jobs went through some tough times, suffered pain Page just hasn't. What the skeptics fear is that Page will suffer that pain at Google, starting now.
It could happen. No one that I know gets through a career unscathed. But there's another possibility, that Page isn't Jobs at all, but Bill Gates.

By that I mean that he has focused, laser-like, on one key point in the technology world, and is now just about to capitalize on it. In Gates' case, that one thing was the operating system. Control the PC operating system, Gates felt, and you control the world.
In Page's case, it's infrastructure. Provide the lowest-cost Internet infrastructure, the cheapest way to get a question answered, a file transmitted, a computing job done, and you will control the world. Cost per transaction is his operating system. Stay on top of that one thing and everything else falls in place.
Gates was right, for a long time. Page seems right, too – much of what Ballmer's Microsoft is doing seems to be emulating what Google has already done.
But are you willing to bet on Larry Page? That's the question Google shareholders, and potential shareholders, need to ask themselves. Has the next Bill Gates been sitting under our noses all along?
Disclosure: I am long GOOG.