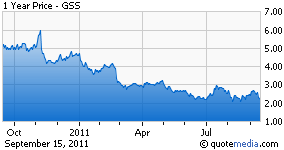 I hold a significant position in Golden Star Resources (NYSEMKT:GSS) and to say that the performance of this company has disappointed me would be a gross understatement. If it had not been for the timely writing of covered calls against my position, I would have lost a bundle. As it stands, the calls have essentially reduced the net cost of my position to an average of less than $2 per share.
This is a company that has been unable to get out of its own way despite the dramatic run-up in the price of gold over the last several years. Earlier this week Golden Star issued a press release lowering their guidance for third quarter gold production. It is the latest in a series of events that looks more like a Monty Python skit than reality. Some company events over the past few years have included:
Major hardware problems in their processing equipment and long delays in getting parts
High diesel fuel costs
Too little rainfall causing use restrictions/cost increases for hydro-electric power
Too much rainfall flooding their mining pit
Increases on government royalty payments
Poor timing on gold futures trading
September 1st the company issues a positive press release
September 14th, Q3 gold production guidance is lowered by 4,000 ounces while re-affirming previous projections for Q4
Combining the 9/14 press release with the pullbacks in the price of gold has created an interesting opportunity for investors looking to turn a quick profit. The price of the stock has dropped from a recent price of $2.78 last week to a price of $2.20 as I am typing. This price drop appears to be an over-reaction to a combination of events - the reduced forecast and the falling price of gold due to positive moves central bankers to stabilize European banks. Today, helping to ease bank fears, it was announced that "The European Central Bank announced plans Thursday to provide banks with dollars in three medium-term loan operations through the end of this year.
The ECB said it had decided to launch the three-month loans in coordination with the U.S. Federal Reserve, the Bank of England, the Bank of Japan and the Swiss National Bank."
The problems with European sovereign debt haven't gone away. There are still fears that the large increases in the U.S. money supply will lead to inflation down the road and there are still many that think that gold will see $2000 per ounce by the end of the year. Can Golden Star manage to benefit from all this?
I think so. But I am not quite ready to say it's a good buy at $2.20. Instead, I like the opportunity to open a covered call strategy. I have just opened a new position buying the stock and selling the $2.50 January 2012 call. With the stock trading at $2.21 asked and the call trading at $0.40 bid, one can initiate a position for a net cost of $1.81. The potential return if the stock is called is 38% in 4 months. If it is not called, there should be an opportunity to sell additional calls at a $2 strike price.
A somewhat safer alternative is to buy the shares and sell the $2 February 2012 call. This call is currently trading at $0.60 bid and the net cost would be $1.61. The potential profit is significantly less - $0.39 - and the yield on net cost is 24% in 5 months.
This is an opportunity to bet on the price of gold, although the risk are different with this small cap company. These are not trades without a certain degree of risk, but they provide a good opportunity for a substantial profit.
Disclosure: I am long GSS. I have executed the strategy in this article on 9/15/11 and may do so again at any time. I may also unwind the position at any time.