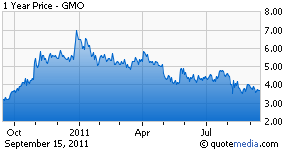 I own a sizable stake in a company called General Moly (NYSEMKT:GMO) which I will use as a proxy for my thesis. When I first learned of it I studied the project and determined that it owned the rights to the Mt. Hope project which is the company's flagship project. I learned that when they received their permit to begin building the infrastructure for the mine that they would be sitting on the world's largest deposit of molybdenum. I also learned that they owned a site called the Liberty project that they would deal with at a later date but from the preliminary analysis they had done they are sure that this project will also produce a windfall amount of molybdenum.
So what's so great about molybdenum? Molybdenum is an ore that is number 42 on the periodic table of elements. When molybdenum is mixed with iron ore one can create lightweight, incredibly strong stainless steel that is impervious to high degrees of temperature and pressure. I concluded that this would make it an essential ingredient for building oil rigs and nuclear reactors as well as basic infrastructure. I also learned that while China exported 97% of the world's rare earth elements (that has subsequently changed) they were actually net importers of molybdenum.

My next step was to learn about the management team. I read everything I could find on the management of this company and was very pleased to learn that CEO Bruce Hansen had amassed an amazing team that was not looking to be acquired but instead was looking to take this company into the arena of being the suppliers of molybdenum to the world.
What did their balance sheet look like? They had received a loan from one of the largest producers of steel in the world, a South Korean company called Posco. They had also received financing from a Japanese company called Sojitz and finally they had received a bridge loan from a Chinese company called Hanlong for the amount of $50 million with the promise that when permitted they would receive an additional $665 million loan to fast track the project into production. Make no mistake - the South Koreans, the Japanese and the Chinese were not being benevolent. They do not want the loans paid back in dollars. They want the loans paid back in molybdenum.

To say that this project has endured its fair share of Black Swans would be an understatement. There has been an issue with the water rights which were granted and then appealed by two ranchers that are not even impacted by this project. Well yesterday out of nowhere appeared yet another dark cloud. Yesterday as the market was on a tear at about 2 p.m. one stock stuck out like a sore thumb - General Moly (GMO). With the Dow up 277 points General Moly which has been range bound and going nowhere for the last three months was up $0.03 and closed the day down $0.05 at $3.70. Please see the chart below.
Click to enlarge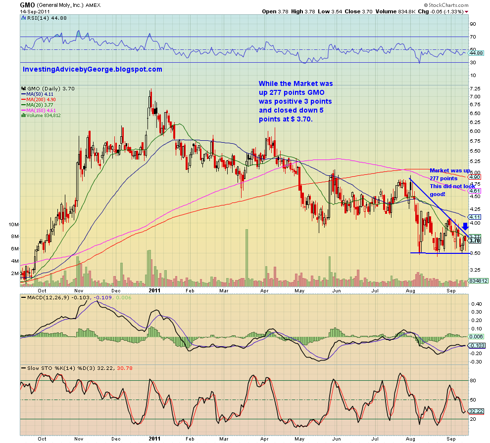 A look at this chart will show that since mid July when it was trading at about $4.90 until today when it closed at $3.70 it has put on a firm level of support at $3.50 but has put in a series of successively lower lows. I thought this must have something to do with the water rights appeal, which by the way Eureka County has spent close to $3 million litigating on behalf of two farmers whose property will not even be impacted by this mine.
I'm not sure these two incidents below are related but with the anemic trading of GMO today I certainly believe it is worthy of reporting.
Yesterday, Hanlong mining chief executive Mr. Steven Hui Ziao, was prevented from leaving Australia after being accused of insider trading allegations. He is suspected of being guilty of insider trading activities in relation to Bannerman Resources and Sundance Resources.
Coincidentally, yesterday General Moly (GMO) announced that Nelson Chen, Chief Operating Officer of Hanlong Mining, will replace Steven Xiao, Managing Director of Hanlong Mining Investment as Hanlong (NYSE:USA) Mining Investment's designee to the General Moly Board of Directors, pursuant to the Hanlong transaction announced in March 2010. Mr. Chen will serve on the Technical committee.
Mr. Chen has served as Chief Operating Officer of Hanlong Resources in Australia since March 2010. Mr. Chen has served as a director of Hanlong Resources in Australia since June 2010 and has served on the board of Moly Mines as an alternate director to the principal of Hanlong Group since April 2010. He also represents Hanlong on the Eureka Moly Management Committee of General Moly. Prior to joining Hanlong, Mr. Chen was an Associate Director at the Sydney, Australia, office of PricewaterhouseCoopers. Mr. Chen has 11 years of audit and M&A transaction advisory experience with PwC. He was involved in a large number of financial due diligence and acquisition advisory transactions with a focus on leading engagements servicing Chinese clients. He has extensive experience in many industries including mining, manufacturing, consumer products, financial services and real estate.
In conclusion, at this point I have absolutely no knowledge if these two incidents are related but it certainly raises a suspicion as with a 277 point move up in the Dow, GMO was up $0.03 and closed the day down $0.05 at $3.70. I hope to get further clarification on this today because it appears at first glance that General Moly is simply guilty by association.
Disclosure: I am long GMO.