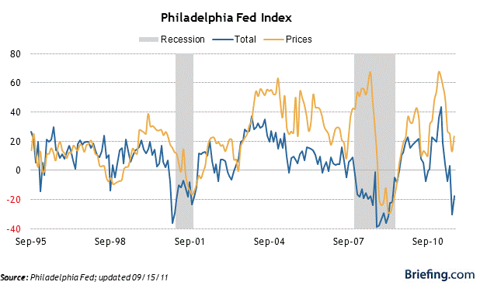 Click to enlarge chart
The market continues its strong run-up on day four of the rally, and things are looking strong for the market. Continually buying any small dips and closing higher than opens gives us a warm, fuzzy feeling. Yet we need to be realistic with this market. The data out today was overshadowed by Europe and ECB, but that does not mean the data should be ignored. We had weak jobless claims, Philly Fed, Empire Manufacturing and Continuing Claims. The only decent data point was Industrial Production.

Europe was strong, though, and it continues to give us our signals. The ECB is getting help from the U.S. and other economies for liquidity as we are trying to save our sick friend across the pond. The news was positive for European markets, and the relief gives us a move to the upside. Yet, let's take a look at this data. Jobless claims at 428K came in below the 410K target. CPI was at 0.4%, which shows inflation is hitting the consumer more than expected and more than producers. Empire Manufacturing came in at -8.8 vs. a -4.0 expectation. And the Philly Fed came in at -17.5 vs. -10 expectations.
So you let me know if an ECB liquidation move or the continuation of weak growth, rising prices and high unemployment is more important. All in all, the fundamentals still are too weak to sustain any long rallies, and this rally looks like more of a place to start short sells rather than buy.


Upgrades were not significant, but we got some good ones. Applied Materials (NASDAQ:AMAT) was upgraded by Oppenheimer. Peabody Energy (NYSE:BTU) got a nice bump from Deutsche Bank with a Buy, and Union Pacific (NYSE:UNP) got a solid upgrade from UBS with a Buy as well. There were no significant downgrades, and at these levels, analysts can upgrade easily.

We had another fun day here as we were able to exit a few positions on the day. We got out of a Joy Global (JOYG) Bull Put Spread we had been holding before earnings for 70/67.50 strikes for a 10%-plus gain. We also exited some SPDR Financial (NYSEARCA:XLF) for a gain of 5%-plus for a weekly trade that we put on by selling the $11 puts. We did take a loss of 1.9% on an equity position in Ultrashort Proshares DJ-UBS Oil ETF (NYSEARCA:SCO). We also are long AutoZone (NYSE:AZO) going into earnings and have Oct 22 Bull Put Spreads on Apple (NASDAQ:AAPL) and McDonald's (NYSE:MCD) with 335/330 and 80/75, respectively.

We entered two new positions today. Moving into earnings, we are liking General Mills (NYSE:GIS) to hold up, and we entered a 35/34 bull put spread. Read our analysis from yesterday. We also continued to short oil, and we picked up USO $34 puts for next week, looking for USO to breakdown into next week.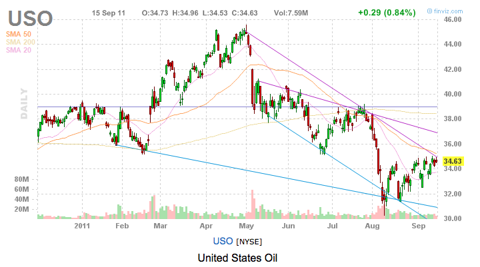 Moving into tomorrow, the market is nearing some pretty crucial technical levels that will provide resistance. If they are broken, this rally will be a restart of a bull market. At the same time, those levels could just provide points for resistance that will bring about pretty significant corrections back downwards. Given the economic situation is not improving, we tend to lean towards the latter, but its better to wait and see than think you know. Follow the trend rather than make it.

Here are some great ideas for shorting that we like:

Best Buy (NYSE:BBY) - After a weak earnings report that said more of the same about a business that is resembling more of Circuit City everyday, BBY fell apart on another good day in the market on Tuesday. Over the past two days, the stock has rallied to its highest level since the August pullback. We do not see the fundamental story changed here, and this rally looks more like a chance to short rather than believe in a fundamental turnaround that will lead to a breakout. The 50-day MA looms large as resistance 26.00.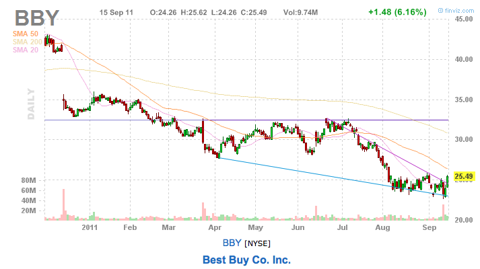 Concur Technologies (NASDAQ:CNQR) - Concur is not participating in today's rally, and the CRM-esque cloud company has struggled for awhile here. The stock is in a downward price channel, but it is back to its August top, and this is either the make or break point. The stock got batted back down below the 50-day MA intraday, and unless we have another big day in store or a longer rally, this could be it for Concur.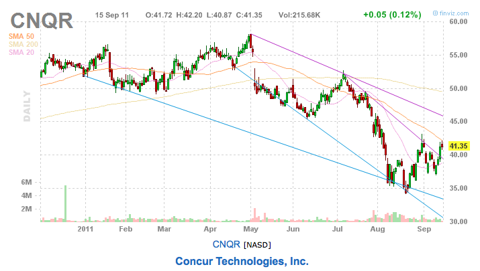 Cracker Barrel (NASDAQ:CBRL) - A decent earnings report for CBRL that had a nice EPS but weakening revenue has been helped by a strong market, and now CBRL is back at the 50-day MA ... and not breaking it. We believe CBRL's upside is limited from here. Fast stochastics are nearing a top, and it is definitely not the time to believe CBRL is going to breakout of what has been a year-long downward price channel.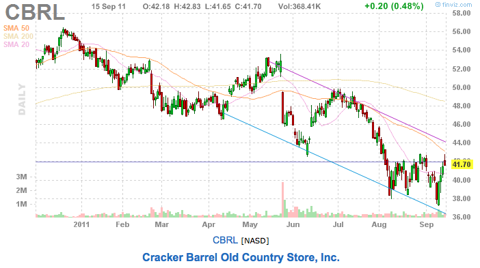 First Solar (NASDAQ:FSLR) - First Solar and solar as a whole just has no strength. A great market rally barely got a pop out of FSLR, and the stock failed its 20-day MA. We see very little strength in First Solar, and more downside appears in this very strong downward price channel. While the end game for solar seems positive to us, we believe going long on these is a trading nightmare.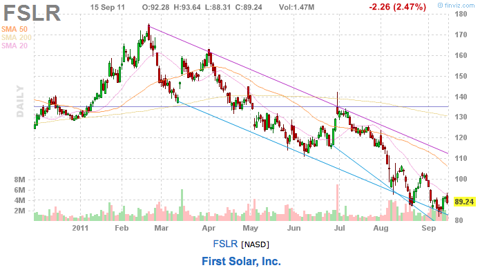 Disclosure: I am long AZO, AAPL, MCD, GIS.

Additional disclosure: I am short USO.I am looking to enter a short in CNQR, BBY, CBRL, and FSLR.