The Hong Kong exchange traded fund rose Thursday amid growing talk the city may remove the Hong Kong dollar's peg to the U.S. greenback.
The iShares MSCI Hong Kong (NYSEARCA:EWH) was up 1.3% at last check.
The city has been under growing pressure to allow the Hong Kong dollar to appreciate against the U.S. dollar as inflation levels rise, according to AFP. Talks began after HSBC chief executive Stuart Gulliver announced last month that the bank will consider linking the HK dollar to a basket of currencies, which mirrored the sentiments of other economists, who have urged for a shift away from the peg.
"It makes more economic and financial sense but I don't think they will do it because the bureaucrats would not want to upset the status quo," Francis Lun, managing director of Lyncean Holdings, stated in the report.
William Ackman, founder of hedge fund Pershing Square Capital Management, placed a bet that would benefit if Hong Kong decides to remove its peg against the U.S. dollar, reports Katherine Burton for Bloomberg.
Ackman is purchasing Hong Kong dollar call options. He believes that the best way for the government to allow the currency to appreciate would be to shift the peg to HK$6 against the U.S dollar, or a 30% rise, and then switch the link to the Chinese yuan over three to six years.
"It's a small trade, but if it's successful, it will be our most profitable," Ackman remarked. In an investor letter last month, Ackman hinted on an "attractive standalone investment and one that offers significant hedging benefits for [their] portfolio. For a modest amount of capital commitment, this investment offers the potential for extraordinary profits."
However, the Hong Kong Monetary Authority "has no plan or intention to change the system as it continues to serve Hong Kong well."
iShares MSCI Hong Kong ETF (EWH)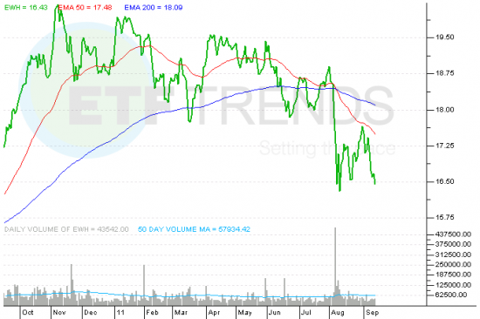 Max Chen contributed to this article.
Disclosure: None