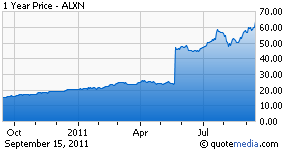 Alexion (NASDAQ:ALXN) takes doing one thing well to new levels, leveraging its sole product, Soliris, for future growth. The company remains laser focused on expanding its Soliris label beyond treating
paroxysmal nocturnal hemoglobinuria ("PNH").
Next quarter, Alexion expects the FDA will conclude its priority review of Soliris as a treatment for aHUS, an ultra rare disease with a very high mortality rate. A positive outcome could mean a hundred million or more in additional Soliris sales each year. The sales growth provides additional margin boosting scale. And greater sales and bigger margins provide Alexion with more cash to build its franchise.
Atypical
Hemolytic Uremic Syndrome ("aHUS") is an ultra rare disease. In fact, HUS itself, typically caused by e-coli infection, is rare in itself. But aHUS, the cause of which remains unknown, is a recurrent version of HUS and only affects about 300 people in the United States.
Instead of the fast progression found in typical HUS, aHUS develops slowly and becomes chronic. The disease, which shatters red blood vessels, eventually causes kidney failure by clogging the kidney's blood vessels.
Currently, there is no go-to treatment option and some 60% of patients require dialysis, a kidney transplant or die within a year of being diagnosed. Of those who get transplants, about 90% fail. The disease, its rarity and prognosis all suggest a very good market for Soliris and its hefty half million price tag.
The use of Soliris for aHUS also suggests there may be upside in treating HUS itself. This past summer, Germany suffered its worst e-coli outbreak in history with more than 3,000 cases. As a result, doctors began using Soliris in some of the toughest cases. This sparked Germany to approve a 400 patient STEC-HUS trial, the results of which should be available in Q1, 2012. If favorable, it opens up yet another market for Soliris.
Soliris has opportunity beyond aHUS and PNH. This week, results were released of its Phase II study for the treatment of myasthenia gravis, an ultra rare debilitating disease interfering with messages sent from nerves to muscles. The disease can affect a patient's ability to swallow and their ability to breathe.
The study exceeded its primary endpoint by showing an improving trend in patients quantitative disease severity score ("QMG"). The study was small, with only 14 patients. But, the results for those patients were impressive.
All patients had moderate to severe muscle weakness despite prior treatment with immunosuppressants. In the first treatment period, 86%, or six of seven Soliris patients, achieved a three-point reduction in their QMG score after 16 weeks. This came in contrast to only four of seven seeing such an improvement using the placebo. The improvement was also achieved more quickly than in the placebo group, further supporting its efficacy. As investors should expect, the company plans to advance Soliris as a treatment for severe and refractory myasthenia gravis. Given there are only five to 14 cases per 100,000 people, and there is no cure for the disease, the market opportunity for Soliris is solid.
Additionally, and covered in more detail in my
Alexion article back in April
, the company is planning to launch a study on the use of Soliris in treating Acute Humoral Kidney Rejection ("AHR") and has opportunity tied to its first quarter acquisitions of Taligen Therapeutics and Orphatec Pharmaceuticals.
Given Soliris revenue and profit success as a treatment for PNH, and its potential for label expansion as soon as next quarter as a treatment for aHUS, shareholders already have a good reason to be buying stock. The additional potential from future markets including HUS,
myasthenia gravis and AHR make the story even more compelling.
Disclosure: I am long ALXN.