As defined in previous articles, a ruler stock is one in which earnings, when plotted on a graph, forms a upward-sloping straight line, as if drawn with a ruler. In light of my fondness for these types of stocks, I decided to start a series reviewing many of them. The following graph illustrates a ruler stock, as the green line is the plot of the earnings of this example over the last 30 years.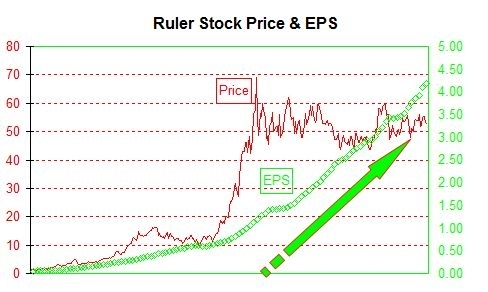 Today's article is Clorox (NYSE:CLX). There are three issues to be considered:
Fundamentals and growth
Value
Carl Ichan and his "tender" offer.
Clorox manufactures and markets consumer products sold primarily through food and large retail stores. Products include bleach, trash bags, and the brands Glad, Hidden Valley and Kingsford Charcoal.
Fundamental Factors: Recent earnings releases have come in below Wall Street estimates and most analyst have lowered expectations and growth targets for the year, down to $3.85 from earlier projections as high as $4.10. The company has an 80% exposure to the slow-growing U.S. market, in addition to high commodity price exposure. In addition, 26% of sales are to Wal-Mart, which has an extremely heavy hand in demanding price concessions. Clorox, however, has a splendid long term earning record, has shown on the following chart.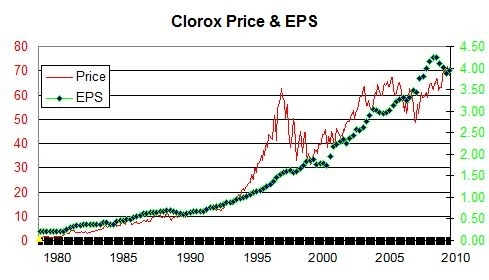 Valuation: The shares currently yield 3.4%, which is about 75 basis points less than the highs of the early 1980s. It is a decent yield and I would rate the shares well for yield valuation. The company does have a very good history of increasing the dividend, having done so every year since 1977.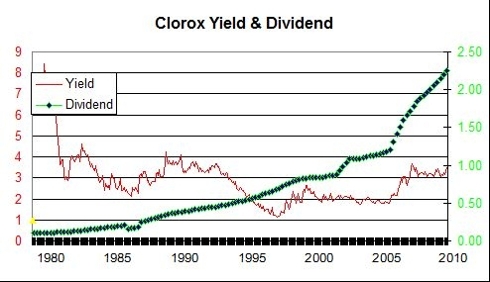 The current P/E of the stock is 17, not a bargain, but not overly expensive either.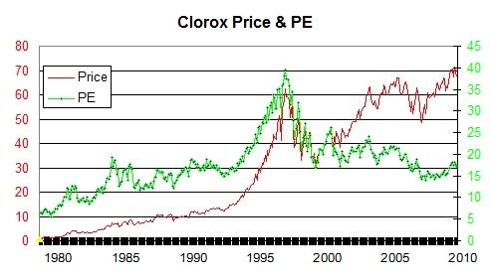 Technical Picture: The longer-term chart has been trapped in a trading range since 2005. A Carl Ichan quasi-tender spiked the shares, expanding the trading range up to the 68-72 area. Presently shares are overbought on an RSI scale on the monthly chart.
Clorox Price/Volume/RSI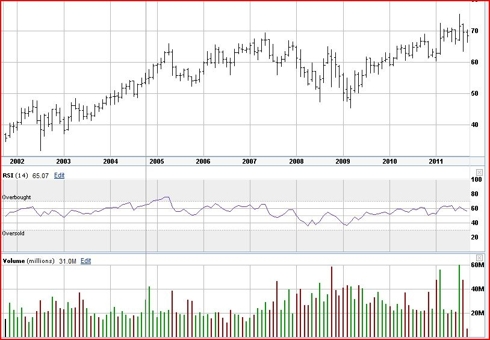 Tender Offer: Carl Icahn holds 9% of the outstanding shares, and is attempting to seat his own board of directors while seeking a buyer at higher prices. Bloomberg reports that Icahn said that he would have a auction for the sale of Clorox, and if the sale did occur, he would pay $78 for the company, As Mr. Ichan has made several offers on other companies, often with failed attempts or later withdrawals, I cannot put much faith in this tender offer or willingness to tender for all shares.
Conclusion: I would rate Clorox a hold at present. The shares will largely trade on any Icahn news, making it difficult to gauge value. If the offer is withdrawn and drives shares down to the $60-$62 area, I would be a buyer with a yield approaching 4%.
Disclosure: I have no positions in any stocks mentioned, and no plans to initiate any positions within the next 72 hours.