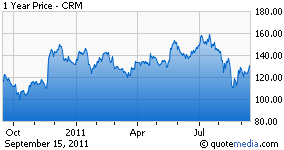 Salesforce.com (NYSE:CRM) is an über-equity. Not only has it been a meal ticket for investors since it went public in 2004, but it also has the goods with its spoil of riches to make it the leader in the technology counter-revolution against companies of yesteryear in what is being dubbed as the turf battle for Cloud 2.0. The company has upped the ante by making many acquisitions in the past three years to bolster its offerings in the social media space for the enterprise. Jigsaw Data, Heroku, Dimdim, Manymoon and, Radian6 are all recent newcomers to the expanding Salesforce.com family.
Conference calls are a lot like performance art, and Salesforce.com CEO Marc Benioff is quite the orator with a fountain of information. In the May 19th, 2011, Q1 Conference Call, and, the August 18th, 2011, Q2 Conference Call, he gives his no-holds-barred opinion of the direction the company is taking. I got a real education in some of its new initiatives in Cloud 2.0. He also takes potshots at the competition, specifically companies like Microsoft (NASDAQ:MSFT), Oracle (NYSE:ORCL) and, SAP (NYSE:SAP). Really spices up the presentations. For the majority of this posting, I will quote liberally from the two most recent earnings transcripts.
First of all, we need to set the record straight as to what exactly Cloud 2.0 is. Cloud 2.0 is Salesforce.com's strategic decision to bring social, mobile and open cloud technologies to the enterprise. They do this with a new service called Chatter. Chatter channels its inner Facebook and Twitter and brings them to corporations. As the "mad scientist" of the cloud, Benioff explains: "I'm thrilled to tell you more than 100,000 companies are now actively using Chatter, making it our most successful product introduction ever. We believe that Chatter is the largest, most actively used social network in the world. These aren't 100,000 trials, these are 100,000 active social networks."
Chatter was released in June of 2010, and, ramped up very quickly because of Salesforce.com's base of over 100,000 clients that utilize their existing product portfolio of business software. The company has lofty horizons, too, because of their dominant position in enterprise software-as-a-service: "Of course, we're going to be the biggest cloud player, but we want to be one of the top five software companies in the world. That's our next goal. You've seen us pass $2 billion, you're going to see us pass $3 billion," ays Benioff, who is the co-founder, chairman and chief executive officer. He wears a lot of hats, and he's not shy about throwing them in the ring.
Benioff talks more about Chatter as a selling tool to obtain his elevated ambition: "There is no sexier demo and no more exciting place to enter a company than with Chatter. We did not have a product that CEOs were using before. And when you see those CEOs using that product on their iPads, that is the kind of positioning we want that we want to be able to go into the C-suite with a strong clear message of, "How do increase your productivity, get your company going faster and get greater alignment and collaboration?" That's what Chatter is all about. But in terms of building a social enterprise, well, it's much more than just Chatter, it's about the Sales Cloud, the Service Cloud and Force.com, Heroku, Radian6 and all the other technology that we have."
Chatter appears to be an incredible product, but has some limitations because it's an intra-organizational social media tool. However, the newly acquired Radian6 expands the Salesforce.com tentacles by not only amalgamating with Chatter, but, by increasing its functionality because it's an extra-organizational social media platform. Benioff articulates: "We completed our purchase of Radian6, the leading platform for monitoring, engaging the millions of conversations happening every day on Facebook, on Twitter, on social communities, on websites. Soon, customers will be able to monitor and join in these public conversations from within our products, including Chatter."
Later in the Q1 Q&A session, he goes on to say: "I think that Radian6 is a super-exciting product. I think we are extremely fortunate to be able to acquire this company. It's on a revenue tear, as you know. It's probably the fastest-growing of all the cloud computing companies that I've ever seen." Fast-forward to the Q2 Q&A session, Benioff continues his praise for the newly absorbed company: "Radian6 is the first company we've bought where we really feel like it's transforming the company. But what Radian6 did was it opened our eyes to the opportunities in the social enterprise."
In the conference calls for both Q1 and Q2, the CEO had choice words for his competitors. As an example, here is his assessment of Microsoft: "Our flagship, Sales Cloud, continued to crush the competition in the quarter. Microsoft's desperate strategy of underfunding, pricing with undifferentiated and highly proprietary products basically has had the same impact on our business as the Windows tablet and Zune did against the iPad and iPod. We call Microsoft's strategy, "the Zune strategy" ... Customers continue to want visionary products that give them a competitive advantage, not the me-too Zune-type products locking them into these old, proprietary, desktop-driven platforms that are dying off." Benioff expresses similar sentiment toward technology elder statesmen Oracle and SAP. Essentially, he's saying "put that in your pipe and smoke it."
I originally covered Salesforce.com on February 17th, 2011 in an article titled Valuations Sky High For Cloud Leader. And as the title suggests, I thought that investors would have to pay a price premium for the stock. I did not recommend buying it. At the time of the writing, the stock was selling at $140/share. It currently trades at $126, 9.6% below what it was going for in February. It did get as high as $160 this summer, but has since sold off along with the overall market. I prefer to own stocks for a number of years, not a number of days, so the month to month gyrations of the market aren't as critical to me as a short-term investor.
Looking at its current consensus earnings estimates on Yahoo Finance, we get $1.31/share, which gives it a P/E Ratio of 97. With an estimated five-year CAGR (compound annual growth rate) of 28%, we get a PEG ratio of 3.5. That's very pricey, but we're heading into 2012, so let's look at the estimates for next year's numbers. For 2012, earnings are projected to be $1.83/share, which breaks down to a P/E Ratio of 69 and a PEG Ratio of 2.5. I still think that's too expensive, even for a quality company like Salesforce.com.
As far as analyst opinions on Yahoo Finance are concerned, 27 give it a buy or a strong buy, 11 say to hold the stock (which is not an endorsement), and three go out on the limb and say to sell it. Cloud software stocks are hot right now, so you may want to play this sector. However, if you are more value oriented, and still want to take advantage of a nascent industry, look to the infrastructure plays. Both NetApp (NASDAQ:NTAP) and F5 Networks (NASDAQ:FFIV) are selling at very reasonable valuations these days.
Disclosure: I have no positions in any stocks mentioned, and no plans to initiate any positions within the next 72 hours.
Additional disclosure: Am short the market with inverse ETFs.