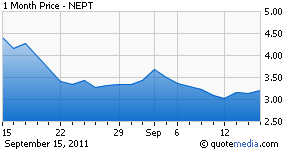 Over the last 5 weeks, shares of Neptune Technologies & Bioressources Inc. (NASDAQ:NEPT) have been dealing with 3 non-fundamental -- some might even say "artificial" -- sources of downward pressure, one after the other. All 3 should be now be behind them, and that fact alone is likely to be a catalyst for another strong upswing for NEPT. If we combine that with expected catalysts over the near term, the move I'm anticipating in the stock could be powerful, so keep an watchful eye on this one.
Neptune shares had been holding up extremely well under the initial onslaught of the market weakness in August, actually hitting new recovery highs (cresting $4.40 twice, on August 1 and again on August 15) in the midst of the S&P 500's first test of 1,100. Since then, on top of the continuing market pressure, there were 3 sources of non-fundamental pressure which hit the stock in succession, as follows:
The shares from the $12.5 million financing in April became free-trading on August 18. This impact was obvious, as CIBC World Markets sold about 450,000 shares on the TSXv exchange in Canada, relentlessly pounding bids for 7 trading days starting August 18. This pressure has almost certainly passed; we know that most of the shares from that deal went into very strong hands, including the lead $4.5 million order from one of the most highly regarded healthcare funds in the US.
Some investors may have become worried that Neptune might be subject to the same patent risks as Amarin (NASDAQ:AMRN), which was hit very hard starting on August 17, on reports that a key Amarin patent application was rejected by the US Patent and Trademark Office. If finalized, the rejection of AMRN's patent would be based primarily on the fact there is arguably a lot of prior art in the area Amarin is seeking to patent. Fortunately this is not a problem for Neptune; many of its most critical patents have already been granted, and, since Neptune is the original pioneer in krill oil, there is no prior art for the USPTO to use as grounds to disallow its pending patents.
Just as it seemed NEPT had started rebounding (ie., the stock was up about 7% on good volume on September 1, back to $3.68), another source of non-fundamental pressure hit: the rights offering for Acasti, Neptune's pharmaceutical subsidiary. Rights offerings almost always put significant pressure on the stocks involved. In this case, any investors holding NEPT on the ex-rights date of July 5 ended up receiving Acasti rights. And, on or around September 1, it appears some NEPT holders started selling NEPT so they could buy shares of Acasti as part of the rights exercise. Thankfully, that pressure should be out of the way, as the last of the rights-related selling clears up over today and tomorrow.
NEPT was doing phenomenally well when the only source of non-fundamental pressure was the market; even in the face of brutal markets, it looked like Roth Capital's research report on NEPT (with a $9 target) was going to help carry NEPT into the $5-$6 range on its own. It was really the two NEPTUNE-specific non-fundamental factors which brought the stock to where we find it today -- the shares from the financing came free-trading, and then the pressure from the rights offering showed up. With those pressures now just hours from being behind it, we think NEPT can start fighting back, just like it did in early- to mid-August, as it hit new highs in the face of a dismal market.
If anyone requires fortification of their resolve on NEPT, dig up and read Roth Capital's analyst report with a $9 target; keep in mind that the $9 target includes nothing for NeuroBio Pharm, Neptune's division that did the Alzheimer's trial, results of which should be out this fall.
I would also refer readers to our $25+ sum of the parts valuation from our original April report on Neptune. Fundamental developments since April have been nothing but positive, and reinforce our conviction that NEPT can be a stock with a much higher valuation--especially if it gets trial results highlighting Neptune Krill Oil's efficacy in Alzheimer's. Keep in mind that this firm is fast on its feet, and that we should be entering a very strong period of positive news flow.
Disclosure: I have no positions in any stocks mentioned, and no plans to initiate any positions within the next 72 hours.