SYNOPSIS
Dialogic Corporation (OTCQB:DLGC) delivered more record-breaking results in Q2. With the merger of Veraz and Dialogic complete, the company has successfully regained traction and is heading toward tremendous growth. The company now has an unparalleled product portfolio and is poised to profit from the explosive growth of global mobile data and video traffic. One caveat: The company is on the verge of liquidation if it doesn't straighten out its liabilities.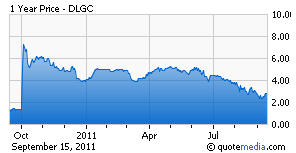 On the face of it, Dialogic has been consistently growing revenues, expanding its product portfolio, and is well positioned to capture global demand for next-generation communications. Digging through all the fluff, we find a $90 million liability that the company won't be able to continually sweep under the rug come January. The loan that helped facilitate the Dialogic/Veraz merger had several covenant agreements based on improbable growth patterns. Dialogic has breached two of these agreements and will breach another in Q3. Explained further in the Risk section, this $90 million liability could dramatically tip the risk reward scale.
PROFILE
For over 25 years, Dialogic has been providing communication platforms and technology to enterprise and service provider markets (40% enterprise and 60% telecom service provider). The merger in October positioned DLGC to take advantage of the growing demand for video streaming and bandwidth optimization within growing international markets. The company's global presence reached over 80 countries and 650 customers. Many of their products were integrated into other solutions that reached over 3000 end users.
Second quarter revenues came in at $55.8M up 25% from Q1. This represents the third quarter since the merger and the company's highest revenue in a single quarter ever. GAAP EPS anticipated for Q3 and Q4 are $.23 and $.54 respectively (versus net losses in Q1 and Q2 of -$.68 and -$.36). Revenue guidance for 2011 is slated to come in between $220-$230 million compared to $100 million in 2010 (225% growth).
GROWTH POTENTIALS
Breaking out Q2 geographic data, 45% of revenue came from the Americas and 55% came from Europe, Middle East, Africa, and Asia Pacific (36% EMEA, 19% APAC). Macro trends show considerable growth in the emerging markets, specifically the BRIC (Brazil, Russia, India, and China) regions. Within these regions there is a lot of growth activity, especially in the telecom space. DLGC customers include 23 of the top 25 telecom networks in the world. Mobile network subscribers rates for the BRIC nations are as follows: Brazil 174M, Russia 230M, India 670M, and China 747M.
Based on industry trends and channel checks, a lack of fixed infrastructure will spur mobile data and mobile broadband in emerging markets. 3G and Long Term Evolution (LTE) will make up 43% of all mobile connections by 2014. The Telecom Regulator Authority of India (TRAI) reported that the number of Indian subscribers capable of accessing data services more than doubled in 2010 from 127 million to 274 million subscribers (that still leaves about 400 million subscribers without data services). This year, India has more cell sites coming online than all of the US and UK combined. Intense competition amongst telecoms for 3G is prompting some to roll out LTE services. In either case, Dialogic stands to benefit from the accelerating demand for mobile bandwidth.
The merger not only expanded the company's product portfolio and market opportunities, it also brought cost reductions. Annual operating rates are expected to come in at $120M (Gross margin of 60%). The scalability of DLGC's operating structure will allow revenues to exceed $300M while maintaining current operating expenses.
As a stand-alone company, Dialogic is in position to modestly grow revenues. However, in a space already notorious for mergers and acquisitions, at its attractive price, Dialogic is a target. Considering the company's liquidity position, it is unlikely that it will be the one acquiring another company. Unified communication leaders Broadsoft (BSFT), Acme Packet (NASDAQ:APKT), and Adtran (NASDAQ:ADTN) would gain more footholds with the acquisition of Dialogic. Not only would the company gain enterprise customers, it would broaden its international carrier exposure.
Sonus Networks (SONS) and Audiocodes (NASDAQ:AUDC) are two companies that would gain market share if merged with Dialogic. Sonus especially has been seeing declines in its legacy products in recent quarters and is looking to reinvent itself in the mobile space. With roughly $400M in cash, Sonus is likely to look outside for growth. Dialogic would be a perfect match with its media gateways and mobile backhaul.
INVESTOR HIGHLIGHTS
Dialogic has an enterprise value of $182 million and a market cap of $75 million at its current price of $2.39. When considering an appropriate enterprise value, I use an adjusted EV, as opposed to a traditional net-cash-derived EV. This is because an adjusted EV more properly reflects the net-value of non-essential assets and liabilities. DLGC currently has negative net tangible assets of -$107M due to a notes payable that mature in 2013 (Maturity has temporarily moved to 2012 until the release of a covenant breach).
PRODUCTS
Dialogic's products include its legacy TDM products and its next generation IP and IP-enabled products.
The company's legacy TDM products include media processing boards that range from analog interface to T1 and network interface boards. These boards provide service providers and enterprises with a variety of media processing features. Features including conferencing, voice play and record, VoIP, video, and fax.
Next-Generation products contain IP and IP-enabled products. These include both call control and multimedia processing infrastructure products and platforms. ControlSwitch, a call control product, supports service providers through the IP transition process and optimization of their existing TDM networks. Multimedia processing infrastructure products include PowerMedia HMP software, BorderNet 3000 Session Border Controller, and a portfolio of media gateways. PowerMedia HMP software performs multimedia processing tasks using existing APIs and does not require any additional hardware. Tasks include voice and video conferencing, video transrating, and more. BorderNet 3000 Session Border Controller provides mobile and fixed VoIP networks a security and session management platform.
Dialogic's media gateways interconnect different types of media to create end-to-end paths for voice, data, and video within enterprise and service provider environments. These gateways include server provider, voice, and video gateways. Server provider gateways can support IP-to-IP transcoding for network peering and optimize bandwidth. Bandwidth optimization gateways allow service providers to gain more bandwidth with their existing infrastructure. I-Gate 4000 SBO Mobile Backhaul solution can gain 50% additional bandwidth. Voice and video gateways support video and voice-only calls simultaneously. This allows for efficient integration into a carrier network's environment.
COMPETITION
The communication platform and technology market is highly competitive and rapidly changing. The market has many players: Acme Packet, Alcatel-Lucent (ALU), Audiocodes, Cisco Systems (NASDAQ:CSCO), Genband, Huawei Technologies Co., Radisys Corporation (NASDAQ:RSYS), and Sonus Networks, among others. There are currently no market leaders. Dialogic believes the company is winning major deals due to its proprietary technology, reliability and pricing.
On the other hand, some of the company's competition has significant selling and marketing power as well as the ability to undercut pricing or offer generous financing terms. This poses a risk to Dialogic who counts on its high margins. In Q2, the company admitted to getting beaten up on two deals. If the acceptance of lower margins continues, then the guidance of 60% plus margins cannot be sustained.
RISKS
Although the company has been seeing its legacy TDM product revenue decline, that is due more to a change in technology than it is the current economic turmoil in the US and EURO markets. The turmoil has not led to any major hiccups in the Dialogic revenue stream. The fast growth of its next generation products is expected to offset any revenue loss stemming from the decline in its legacy product.
The $90 million loan that remains on the company's balance sheet consists of minimum liquidity, minimum EBITDA, minimum interest coverage ratio, and maximum consolidated total leverage ratio covenants. The company breached the minimum liquidity covenant in Q1 and although there was no mention of it in the Q2 earnings call, they breached it again by almost $10 million. Looking ahead to Q3, it looks as though the minimum EBITDA covenant will be breached as well.
Dialogic has confirmed the Term Loan Lenders will not accelerate the maturity date prior to January 15, 2012. That being said, the loan will soon start to cause considerable stress on the company's balance sheet. Here are three scenarios that could play out.
1. In the first, but unlikely scenario, Dialogic finds a new lender to extend them $90 million with manageable terms. Covenants of minimum liquidity, minimum EBITDA, minimum interest coverage ratio, and maximum consolidated total leverage ratio must fit Dialogic's current growth patterns. With a new lender, Dialogic could continue with business as usual. Guidance for 2011 and a revenue multiple of 2 would peg the stock price at $7.40.
2. In the second scenario, the company continues on the current path, ignoring the breaches until January 15, 2012. In January, the current lender will accelerate the maturity date on the $90 million to within days. Dialogic doesn't have the money and will be forced into bankruptcy and the stock price falls to $0 or an acquirer comes in at the last minute and buys them, makes major cuts and begins to turn profits. The acquiring company will likely pay in the neighborhood of $1.30 per share based on a 1x P/E on annual profits.
3. The third scenario could be playing out behind closed doors. Dialogic would start to branch out looking for acquirers while the company still has some leverage (time being their leverage). M&A would cut costs and turn a reasonable slow growing profit. Using adjusted assets and a 5x P/E on annual profits would warrant a stock price of around $4.
SUMMARY
There is upside potential in DLGC's shares. The merger has successfully gained the company market share and a strong operating margin. Mobile data and mobile broadband within emerging markets is in its infancy and DLGC is a good way to play the current telecommunication boom. At today's stock price of $2.39, covenant breach concerns will continue to drive the stock lower.
Considering the three scenarios listed above, there is great risk that the stock falls to $0. On the other half of the equation, there is an even greater reward if Dialogic gets out of its financial mess. Dialogic has a well-built product and has strong demand. Bankruptcy fears will continue to drive the stock closer to $1. However, once those fears are dispelled, the stock will soar to $4.
Disclosure: I have no positions in any stocks mentioned, and no plans to initiate any positions within the next 72 hours.